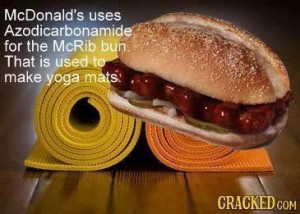 It's 'McRib season', and thousands across the nation are scrambling to use online websites like the 'McRib locator' to stuff the McDonald's McRib sandwich down their throats. A sandwich that is not only full of genetically modified ingredients, a medley of toxic fillers and preservatives, but also some ingredients that are actually banned in other nations around the world. But honestly, are you surprised?
The McRib is the result of intensive marketing by McDonald's. Utilizing the basics of supply and demand through creating scarcity over the McRib by only unleashing the culinary abomination for a fraction of the year that is only known once it is released, McDonald's fans have been known to 'hoard' McRib sandwiches and eat them in extreme excess. It's even a topic of the popular documentary Super Size Me, where filmmaker Morgan Spurlock (who gorges himself with McDonald's for 30 days only to find serious health consequences) encounters 'McRib hunters' who actually travel the country eating McRib sandwiches.
McDonald's even made McRib fans sign a petition to 'save the McRib' online, bringing out a conglomerate of fans to bring back their favorite franken sandwich.
What's Inside a McDonald's McRib Sandwich?
But what's really inside the McRib specifically that makes it such a food abomination? Containing over 70 ingredients, the McRib is full of surprises — including 'restructured meat' technology that includes traditionally-discarded animal parts brought together to create a rib-like substance. Here's some of the disturbing substances found within the McDonald's McRib sandwich:
A flour-bleaching agent used in yoga mats
Out of the 70 ingredients that make up the 'pork' sandwich, a little-known flour-bleaching agent known as azodicarbonamide lies among them. At first glance, this strange ingredient sounds concerning enough to look into. After a little research, you will find that even mainstream media outlets have generated content revealing how azodicarbonamide is actually used in the production of foamed plastics. Foamed plastics like yoga mats and more.
What's more? In Australia and Europe, the use of azodicarbonamide as a food additive is banned. In Singapore specifically, use of this substance in food can result in a $450,000 fine and 15 years in jail. Thank you McDonald's for supplying the nation with such healthful ingredients.
'Restructured Meat' from Pig Heart, Tongue, Stomach
McDonald's McRib is famous in some circles for utilizing what's known as 'restructured meat' technology. Since McDonald's knows you'd never eat a pig heart, tongue, or stomach on your plate, they decided instead to grind up these ingredients and put them into the form of a typical rib. That way, consumers won't know what they're putting into their mouths. As the Chicago Mag reported, the innovator of this technology back in 1995 said it best:
"Most people would be extremely unhappy if they were served heart or tongue on a plate… but flaked into a restructured product it loses its identity.Such products as tripe, heart, and scalded stomachs…"
So in other words, it's not actually a rib. Instead, it's a combination of unwanted animal scraps processed down in major facilities and 'restructured' into the form of a rib. Then, 70 additives, chemicals, fillers, and GMO ingredients later, you have a 'meat' product that tastes like ribs.
Source: http://naturalsociety.com