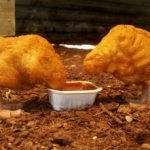 Frying chicken is fairly simple, if a little messy. You dip pieces of chicken into a mix of egg and milk, roll them around in flour and spices, then cook the chicken in sizzling hot oil until the pieces are brown, crispy and delicious.
But wait! Don't forget to add a dash of dimethylpolysiloxane, an anti-foaming agent made of silicone that is also used in Silly Putty and cosmetics.
Now add a heaping spoonful of tertiary butylhydroquinone (TBHQ), which is a chemical preservative and a form of butane (AKA lighter fluid). One gram of TBHQ can cause "nausea, vomiting, ringing in the ears, delirium, a sense of suffocation, and collapse," according to A Consumer's Dictionary of Food Additives. Five grams of TBHQ can kill you.
Sprinkle on thirteen other corn-derived ingredients, and you're only about twenty shy as many ingredients as a single chicken nugget from McDonald's. And you were using pulverized chicken skin and mechanically reclaimed meat for your chicken, right?
No one in his or her right mind would cook chicken like this. Yet every day, hoards of Americans consume these ingredients in Chicken McNuggets, which McDonalds claims are "made with white meat, wrapped up in a crisp tempura batter."
However chicken only accounts for about 50% of a Chicken McNugget. The other 50% includes a large percentage of corn derivatives, sugars, leavening agents and other completely synthetic ingredients, meaning that parts of the nugget do not come from a field or farm at all. They come from a petroleum plant. Hungry?
Scariest perhaps is the fact that this recipe is a new and improved, "healthier" Chicken McNugget launched in 2003 after a federal judge called the deep-fried poultry bites "a McFrankenstein creation of various elements not utilized by the home cook." Also terrifying is the fact that these McFrankenuggets are overwhelmingly marketed to children who love their fun shapes and kid-friendly size.
While McDonald's is of course the poster child for fast food ire, if you look at the nutritional information for chicken at any fast food restaurant, the ingredient list will be dozens of items longer than the egg, flour, chicken and oil recipe you might use at home.
Eating fast food is a habit, but it is one that you can break? No doubt you rarely plan to have a delicious meal at Arby's for dinner, a lingering lunch at Carl's Jr. or a special breakfast at the Burger King in the airport. It just happens. You are late, tired, hungry, broke, or all of the above. You have no time, and you must find something to eat before you crash. All of a sudden a bright, friendly sign beckons from the side of the road: Drive-through!
In five minutes you are happily chowing down on an inexpensive, filling meal. But don't be fooled – the true cost of fast food does not come out of your wallet, but out of your body, your health, and your years on this earth.
You can break the unhealthy fast food habit: educate yourself about the true ingredients of fast food items, plan ahead for your meals, carry healthy snacks like nuts to ward off hunger and cook healthy chicken recipes at home. Convince yourself that fast food is the most disgusting stuff on the planet and is harmful to you and to those you love. After reading this, that shouldn't be too hard.
Full ingredient list for a Chicken McNugget (from McDonald's website):
White boneless chicken, water, food starch-modified, salt, seasoning (autolyzed yeast extract, salt, wheat starch, natural flavoring (botanical source), safflower oil, dextrose, citric acid, rosemary), sodium phosphates, seasoning (canola oil, mono- and diglycerides, extractives of rosemary). Battered and breaded with: water, enriched flour (bleached wheat flour, niacin, reduced iron, thiamin mononitrate, riboflavin, folic acid), yellow corn flour, food starch-modified, salt, leavening (baking soda, sodium acid pyrophosphate, sodium aluminum phosphate, monocalcium phosphate, calcium lactate), spices, wheat starch, whey, corn starch. Prepared in vegetable oil (Canola oil, corn oil, soybean oil, hydrogenated soybean oil with TBHQ and citric acid added to preserve freshness). Dimethylpolysiloxane added as an antifoaming agent.
Source:http://www.thelibertybeacon.com/2013/09/23/whats-in-fast-food-chicken-hint-its-not-chicken-12459/