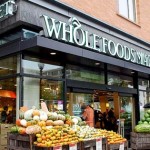 Non-GMO transparency will be a minimum benchmark for products sold in Whole Foods Markets with the ultimate goal being to transition more companies to organic, says Errol Schweizer, Whole Foods' executive global grocery coordinator.
"Looking at organic and beyond"
"Non-GMO is a line in the sand for us. It's the start of the discussion, not the end topic. We are looking at organic and beyond: biodynamic, heritage, and heirloom," Schweizer says. "It's about true sustainability and product identity."
Getting Whole Foods' suppliers to become non-GMO verified is the first step in persuading them to transition to organic, Schweizer says.
Some organic experts have expressed concerns that the Non-GMO Project label will hurt sales of organic products. Is that happening in Whole Foods stores?
"The two labels are different but are connected. We don't see them as competing but as complementary and necessary for each other," Schweizer says. "We see customer preference for both labels."
As an example, Non-GMO Project verified eggs are the top growth segment in the egg category at Whole Foods. "But it's not hurting sales of organic eggs, which generate more sales by far," he says.
Products that are organic, Non-GMO Project verified, and products that have both labels are all seeing strong sales growth in Whole Foods Markets. The two latter categories are the fastest-growing product categories in Whole Foods, according to the company's quarterly sales figures.
"Our customers see Non-GMO Project verified as an additional level of assurance," Schweizer says.
He emphasizes that organic is still the priority for Whole Foods. "Organic accounts for 40% of our sales growth in the grocery department."
Further he says, "Organic is the best way to avoid GMOs."
More supply will be needed to handle non-GMO and organic growth
Whole Foods has a growth plan to reach 1,000 stores. To meet that goal, and shoppers' demand for its current product mix, more acreage of both non-GMO and organic crops will be needed. Whole Foods wants to partner with other companies in the industry to increase production of both types of crops.
"To meet our goals, we are going to need more companies to transition to organic. This really needs to reach the farming community," Schweizer says.
Especially needed are growers and suppliers of non-GMO feed.
"A big trend is chicken and egg suppliers getting Non-GMO Project verified," Schweizer says.
Last March Whole Foods announced that it will require its suppliers to label all products containing GMOs by 2018.
"We see the 2018 deadline as a work in progress with hundreds of products getting non-GMO verified every month," Schweizer says.
Further, he anticipates that many product categories sold in Whole Foods will be fully transparent regarding GMOs well before the 2018 deadline.
Whole Foods supports the efforts of the Non-GMO Project. "We are helping them with their verification capacities," Schweizer says. "We want them to grow in their ability to certify and audit."
Whole Foods sees the Non-GMO Project as the standard for non-GMO. "It makes sense to have one standard instead of three or four different types of standards, which fair trade has. It's easier for consumers," Schweizer says. "If you want non-GMO there is the Non-GMO Project."
Other supermarkets may also require GMO labeling
Will other supermarket chains follow Whole Foods' lead in requiring labeling? "Some will have to take action," Schweizer says. "As awareness of GMOs grows and some of these state GMO labeling initiatives pass, they will follow suit. They will have no choice."
Looking at the big picture, Whole Foods wants to provide more than just non-GMO transparency, according to Schweizer. "Non-GMO prevents intrusion of GMO crops. But what are we for? Suppliers want to bring back rare heirloom fruits and vegetables. Our customers could have access to hundreds of different rare apples. That's what's exciting."
Source:http://organicconnectmag.com/whole-foods-looks-beyond-non-gmo/#.UkcRKOzfpHg