Dr. Benjamin Carson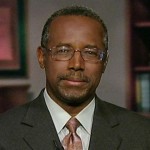 , a retired pediatric neurosurgeon has gained a lot of attention this past year  criticizing President Barack Obama and his failed policies.  One reason  Carson has received so much attention because he is black, even though it  shouldn't matter, it does.
This past Friday, Carson was speaking at the Values Voter Summit in  Washington.  Other speakers at the summit include Sen. Ted Cruz (R-TX),  Sen. Mike Lee (R-UT), Sen. Rand Paul (R-KY), Sen. Marco Rubio (R-FL), Sen. Tim  Scott (R-SC), Rep. Paul Ryan (R-WI) and former Sen. Rick Santorum (R-PA),  former  Governor Mike Huckabee (R-AR) and former Sen. Jim DeMint (R-SC).
But no one was as harsh and as openly critical of President Obama as Carson  was.  He compared Obamacare to slavery and as being a critical step to a  socialist government.  In his address, Carson  told the audience of 2,000 that Obamacare is:
"The worst thing that has happened in this nation since  slavery."
He went on speaking about Obamacare, saying:
"It is slavery, in a way, because it is making all of us subservient to the  government.  It was never about healthcare. It was about control."

"That's why, when this administration took office, it didn't matter that the  country was going off the cliff economically, all forces were directed toward  getting this legislation passed."

"Why did they want to pass it so badly?  He said that socialized  medicine is the keystone to the establishment of a Socialist state. That's the  problem."

Referring to our personal health, Carson  told the crowd:
"It is the most valuable thing you have.  Everything else pales into  insignificance, compared to your health. And that's the reason why your health  should be controlled by you and not the government."

"It's really time for the people, we the people of America, to stop being  afraid of the government and put it in its place."

"Government plays a very important role when, in fact, it believes in the  Constitution. That's the problem. When they begin to neglect the Constitution,  when they begin to impose their own will."
Some people have been urging Carson to consider a run for the presidency in  2016.  The combination of his conservative views, attacks on Obama and his  being black would make him a formidable opponent for any Democrat including  Hillary Clinton.  Carson  addressed this in his speech, saying:
"[Running for president] is not something I have any desire to do whatsoever,  but I certainly listen.

"If the circumstances were to evolve in such a way that that seemed to be  what God was calling me to do, I would certainly do it.  And I would never  turn my back on my fellow citizens, if there was a hue and cry for  such."
Looking at the conservatives that appear to be the leading candidates at this  time, I could find myself taking a serious look at Ben Carson for the GOP  ticket  in 2016.  Perhaps a ticket with Carson and one of the other leading  Republicans could make a winning team and help regain the White  House.
Source:http://www.thelibertybeacon.com/2013/10/14/black-doctor-says-obamacare-worst-thing-since-slavery-13050/