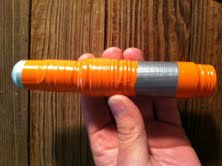 Improving on a great idea is what I tried to do.
The idea for my last fishing kit for my bug out bag came from Dave Canterbury. It was made of PVC, which was very sturdy, but weighed more than I liked. This summer I wanted to trim the weight on my BOB. It's not going to be ultralight, but every pound I trim only makes humping that thing easier. So the first piece I tackle is my…um…my fishing tackle.
Step A: Assemble materials. I looked for a lightweight tube for a couple of weeks. I didn't want glass. Plastic would work. Aluminum would be even better. I found a plastic tube that held a watch on a shopping trip with my wife. I bought it for $5.oo and ditched the cheap watch. The problem with the plastic tube is I would not be able to use it for boiling water in a survival situation.
Then we stopped by the adult beverage store for some wine. This place also has a nice humidor with a great selection of cigars. *Aha Moment*
We spent the next five minutes rummaging through stogies looking for the perfect candidate. I needed it to be long enough and with sufficient diameter to hold the necessary fish-catching supplies. I found a cigar, which I enjoy from time to time, with a great tube. It measures 1 inch in diameter by 6 1/4 inches long tube. Being aluminum, I can use it to boil water in a pinch. The picture below shows the difference in sizes of the old PVC kit (bottom) and the new one completed.
Old PVC kit vs. New Cigar Kit
Here's what I used to assemble my kit: Cigar sleeve, duct tape, bank line, electrical tape, 10# fishing line, strike anywhere matches, fire starter (more details about this item later), dry flies, artificial lizard, non-lead weights, 3 types of fishing hooks, metal leader, swivels, 2 floats/bobbers, and a snack size zip-lock baggie.
Material needed
Assembly Process
Step A: Wrap the screw end (or non-rounded end) with about 3 or 4 feet of duct tape. Do I even have to tell you about all the uses for this miracle survival material?  I keep strips of it in my cars, wallet, desk, almost every where I go. Duct tape may not help you catch fish, but I'm sure it's possible with a little creativity. It's a utility player that should be on and in every preppers gear and bags.
Step B: Tie a slip knot on the end of your bank line (don't forget to burn the nylon end to prevent unraveling) and tighten it around the tube next to the duct tape. Wind about 50 to 100 feet of line onto the tube. I used closer to 50 feet to keep the profile of the tube even. Bank line can be used for limb hooks and trot lines in a true survival situation. This allows for passive fishing while you attend to other tasks. [NOTE: Check your local fishing and game laws during times of rule of law before using these methods.]
The bank line can also be used for a makeshift fly rod (and other cordage needs). Simply cut a sapling about 8 feet, attach 10 feet of bank line to the end, add a piece of mono filament line to the bank line with one of the dry flies in the kit and you have a hillbilly fly rod rig. When no bait is available for your hooks, use this rig to catch smaller pan fish to use for bait on limb hooks. This is very enticing for larger fish and turtles.
Step C: Secure the bank line to the tube with a couple of wraps of electrical tape. Again, more tape to use as needed.
Step D: Now you're ready to add the mono filament fishing line. I used 10# line. I wouldn't recommend anything below 6# line. In a survival situation, the last thing you want to see is a decent sized fish run with 4# line and snap it off. An old technique I've used for years is to lay the line inside a book and reel the line onto the tackle. I did this for the cigar tube as well. Tie a slip knot on the end of the fishing line and secure it to the tube where you taped off the bank line. Start rotating the tube to add line. I guess you could wind the line on the tube with you free hand. I prefer to roll the line on by rotating the tube with my finger tips from both ends of the tube. I'm a little OCD. I think the line might accumulate more kinks if you wind it on with you free hand.
Add line until you get within one inch of the rounded end of the tube, then double back over the existing line. I added about 50 feet of line to my rig. Next, add a layer of electrical tape to secure the line to the kit. A wide rubber band might work, but I like the tape.
50 feet of mono-filament line going on
Below is the finished exterior of the kit. By the way, if you haven't purchased and read "Boston's Gun Bible", do so now. It's one of my top go-to books for prepping.
Fishing line taped
Step E: Place the strike-anywhere matches, fire starter (more details about this item later), dry flies, artificial lizard, non-lead weights, 3 types of fishing hooks, and swivels in a snack size zip-lock baggie. Squeeze the air out by rolling it toward the top of the bag. Seal the bag and slide into the tube.
Contents in a zip lock bag
Step F: Screw end-cap onto tube and wrap with electrical tape for a water-tight seal.
Screw cap taped
Fire Starter Note: I made the fire starter a few years ago. It's jute twin that was saturated with paraffin wax. It literally only takes a spark to get a flame going. Just cut a one inch piece, unravel, and "fluff" to create more surface area for your spark. Another added bonus is that it even lights in wet conditions. I have bundles in all my bags. You never know when you'll need to cook up those fish you just caught with your new Cigar Survival Fishing Kit!
The only modification I'd add is to make a paracord loop extending from the end of the cap. I'll add pics when that happens.
Got any suggestions to make this better? Please add them in the comment section. Thanks!
Source:survivalsherpa.wordpress.com