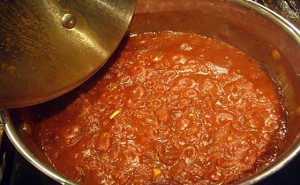 A very effective way to preserve and store fresh garden grown tomatoes is to dehydrate them. Here's one thing you can do with them afterwards during the winter while you crave the fresh taste of homegrown tomatoes…
Make tomato sauce!
There really is no right or wrong way to make tomato sauce, because it really depends upon your own tastes, preferences, and your willingness to experiment with what you have in the pantry!
Here are a few recipe conversion assumptions that I use for dehydrated tomatoes…
1 typical size fresh garden tomato will result in about 6 slices, each about one-quarter inch thick – excluding the end pieces.
1 typical 'can' of diced-stewed tomatoes from the grocery store is equal to about 30 slices of tomato. (This will vary widely depending on the size of your tomatoes

)
For example, when a recipe calls for 4 cans of diced tomatoes, I will substitute about 120 slices of dehydrated tomatoes. Or just 'eyeball' it…
Keep in mind that re-hydrating dehydrated tomatoes will not be as 'pretty' as the original, but, believe me, most of that original flavor will be there, just a bit mushy instead. For sauce, it doesn't matter!
Tomato Sauce Recipe Using Dehydrated Tomatoes
Dehydrated Tomato Slices (equivalent to about 4-cups, about 120 dehydrated slices), cut into smaller pieces if desired, re-hydrate in 4-cups water for about 30-minutes, strain – save 3 cups strained water for the recipe
Water (3 cups) from strained tomatoes
Tomato Paste (optional, thickness to taste, 3 cans… 6 oz. cans)
Garlic (8 cloves – chopped)
Onion (1 – chopped)
Sugar (1/4 cup)
Worcestershire Sauce (1/4 cup)
Parsley (1/8 cup – dried, or 1/4 cup fresh chopped)
Basil (2 tsp.)
Oregano (1 tsp.)
Sage (1 tsp.)
Marjoram (1/2 tsp.)
Salt (1/2 tsp.)
Pepper (1/2 tsp.)
Olive Oil (1 Tbsp.)
If you have any of your own ideas for what to do with your dehydrated tomatoes, we would love to hear from you… leave a comment and let us know…