Learn how to make a self watering rain gutter grow system. Be the envy of your neighbors and grow the best vegetables with minimal effort and watering on your part! Larry from YouTube shows us how.
Having a garden is every preppers dream. Some are more fortunate than others and have a lot of land to grow what ever they like! I have a small back yard and only can dedicate a small quarter to my food garden. (We have dogs)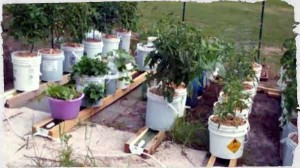 Watering even a small garden can be a chore, some of us just forget or literally have a hose ban stopping us from doing so in the height of summer.
This awesome DIY project utilizes the use of rain gutters and 5 gallon buckets to help your garden grow.  The great thing about this project is when it rains your garden gets watered so you don't have to. Also you can connect a hose to a water tank and water your garden when it isn't raining. Check out the project …


Source: shtfpreparedness.com