If an ice storm can cause this much panic in our major cities, what will a real crisis look like?  The biggest news story in the United States right now is the "historic ice storm" that is hammering the South.  Travel will be a nightmare, schools and businesses will be closed, and hundreds of thousands of people will lose power.  In fact, it is being projected that some people could be without power for up to a week.  But at the end of the day, the truth is that this ice storm is just an inconvenience.  Yes, the lives of millions of Americans will be disrupted for a few days, but soon the ice will melt and life will be back to normal.  Unfortunately, it doesn't take much for people to start behaving like crazed lunatics.  As you will see below, the winter weather is causing average Americans to ransack grocery stores, fight over food items and even pull guns on one another.  If this is how people will behave during a temporary weather emergency, how will they behave when we are facing a real disaster?

This is a perfect example that shows why it is wise to always have emergency food supplies on hand.  According to CNN, all that is left on the shelves of some grocery stores in Atlanta is "corn and asparagus"…
As the skies turned heavy, Atlantans cleaned stores out of loaves of bread, gallons of milk, bundles of firewood and cans of beans and beer. In some stores, all that was left were the apparently less-popular corn and asparagus.
And according to an Infowars report, some people down in Atlanta were actually getting into fights over basic essentials such as milk and bread…
Atlanta residents ransacked neighborhood grocery stores in frantic preparation for their second major snowstorm of the year, waging fights over food items and leaving destruction and empty shelves in their wake, a stunning precursor to what will ensue once a major crisis impacts the U.S.

After three inches of snow shut the city down two weeks ago, causing major havoc and leaving miles of cars stranded on immobile roadways, the residents of Atlanta took heed and shopped early.

According to people who Tweeted photos of barren store shelves, residents went crazy over essentials like milk, bread, water and eggs, and in some cases "people were fighting. Yes fighting," alleges one user.
The photo that I have shared below was posted to Twitter by Kris Muir.  It shows what the bread aisle at a Kroger in the Atlanta area looked like as the storm approached…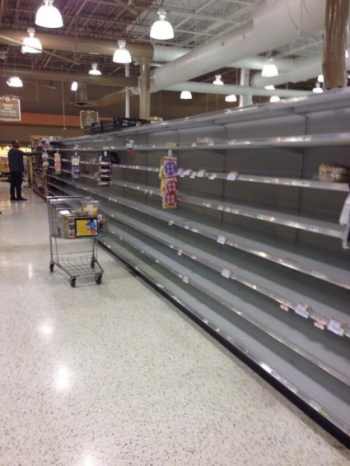 So what would happen if this was an extended crisis and you had not stored up any emergency supplies for your own family?
That is something to think about.
And just like during the last major winter storm in the South, there are reports of hundreds of vehicles being abandoned on the side of the road in major cities.  For example, just check out what has been happening in Raleigh, North Carolina…
"I live and work in downtown. I was able to get from my office back home. My wife works in Morrisville, about 25 minutes away. She left the office at 12 p.m. and is still on the road. I am coaching her home with Google Maps. It appears that, from WRAL TV, the ramp from Wade Avenue to 440 is blocked by abandoned cars. That is a HUGE ramp (downtown Raleigh to highway)."
We are also seeing quite a few reports of "snow rage" as this cold, snowy winter drags on.  In fact, on Sunday someone actually pulled out a shotgun and threatened to shoot a snow plow driver on Long Island…
As CBS 2's Carolyn Gusoff reported Tuesday, people have found themselves fed up with the hassle of plowing, shoveling and salting. In fact, they have been pushed to the edge, to the point where they have been taking out their frustrations on plow drivers.

Eric Ramirez, a snow plow driver on Long Island, said an irate man went so far as to rack a shotgun Sunday and threaten to shoot him because he was piling snow in front of the man's Manorhaven home.
And a similar incident involving a pistol was recently reported in Union Township…
The incident happened Monday afternoon along Underwood Street in Union Township.

Police say Eckert became angry when the self-employed driver, John Abraham, accidentally pushed some snow into his yard while cleaning a neighbor's driveway.

"I went like this to put it in park and there was a gun right here in my face," Abraham said.

Eckert is then accused of taking a .22-calibur pistol out of his coat, and pressing it against Abraham's cheek, telling him to remove the snow.
As I write about so frequently, the thin veneer of civilization that we all take for granted is starting to disappear.  A whole host of surveys and opinion polls have shown that Americans are angrier and more frustrated than ever.  Our society has become a ticking time bomb, and it isn't going to take much for it to explode.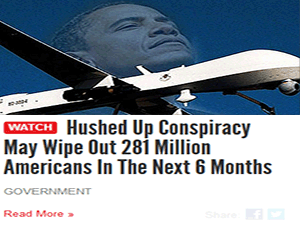 When it does explode, most people are going to be depending on the government or someone else to take care of them.  The following is a brief excerpt from a recent article by Mac Slavo…
Despite warnings from FEMA, as well as the prevalence of popular preparedness TV shows, Americans still don't seem to understand how susceptible we are to a complete destabilization of life as we know it. It boggles the mind that most people seem to think that when disasters strikes they'll be able to depend on someone else to provide them with assistance.
Fortunately, at least a few people seem to be learning some lessons about the importance of being prepared from these winter storms…
"Last time I was totally unprepared, I was completely blindsided," said Lisa Nadir, of Acworth, who sat in traffic for 13 hours and then spent the night in her car when the storm hit Jan. 28. "I'm going to be prepared from now on for the rest of my life."
What about you?
Are you prepared?
We live at a time when our world is becoming increasingly unstable, and it doesn't take much to imagine a bunch of scenarios in which this nation would be facing a major crisis for an extended period of time…
-A major eruption of Mt. Rainier or the Yellowstone supervolcano
-The "Big One" hits California
-A massive earthquake along the New Madrid fault line
-A highly infectious pandemic that kills tens of millions of Americans
-Hackers bring down the Internet or crash the banking system
-A massive tsunami hits either the east coast or the west coast destroying numerous major cities
-A major war erupts in the Middle East and the United States gets involved
-A crisis involving North Korea sparks a major war in Asia
-A terror attack that specifically targets our power grid
-A terror attack involving a weapon of mass destruction in one of our major cities
-A terror attack or a major natural disaster causes one or more nuclear facilities in the heart of the United States to experience a "Fukushima-like crisis"
-A massive EMP blast that fries our electrical grid and our communications systems
-Last but certainly not least, a massive economic collapse that fundamentally changes life in America on a permanent basis
So what do you think?
Are there additional scenarios that you would add to the list above?
Please feel free to share what you think by posting a comment below…

Source: theeconomiccollapseblog.com