Are you ready for bone-chilling cold this winter? The Old Farmer's Almanac and other weather forecasters that rely on solar activity as a factor in their weather forecasts are projecting that this upcoming winter will be bitterly cold. Solar activity is at a 100-year low, and even though we were supposed to be in the midst of a solar maximum this year, our sun has been eerily quiet. So precisely what in the world is going on?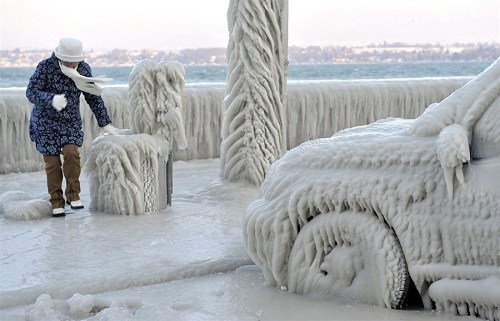 There have been other periods throughout history when solar activity has been extraordinarily quiet, and those times have corresponded with periods of extreme cold.  For example, the "Maunder Minimum" which stretched from 1645 to 1715 corresponded with the most bitterly cold period that the earth experienced in the last 1000 years.  So could we be heading toward another "mini-ice age"?  That is a question that some scientists are now beginning to ask.
Clearly, something unusual is happening with our sun.  The following is from a Universe Today article that was posted back in July…
Our nearest star has exhibited some schizophrenic behavior thus far for 2013.
By all rights, we should be in the throes of a solar maximum, an 11-year peak where the Sun is at its most active and dappled with sunspots.
Thus far though, Solar Cycle #24 has been off to a sputtering start, and researchers that attended the meeting of the American Astronomical Society's Solar Physics Division earlier this month are divided as to why."Not only is this the smallest cycle we've seen in the space age, it's the smallest cycle in 100 years," NASA/Marshall Space Flight Center research scientist David Hathaway said during a recent press teleconference conducted by the Marshall Space Flight Center.
In a previous article, I noted that scientists are absolutely baffled by this.  So far, nobody can explain why this solar cycle is so weak…

The Sun is acting weird. It typically puts on a pageant of magnetic activity every 11 years for aurora watchers and sungazers alike, but this time it overslept. When it finally woke up (a year late), it gave the weakest performance in 100 years.
The good news is that this kind of thing has happened before.
The bad news is that when solar activity slows down dramatically it tends to correspond with extremely cold weather as the Times of India recently explained…
Predictions that 2013 would see an upsurge in solar activity and geomagnetic storms disrupting power grids and communications systems have proved to be a false alarm. Instead, the current peak in the solar cycle is the weakest for a century.
Subdued solar activity has prompted controversial comparisons with the Maunder Minimum, which occurred between 1645 and 1715, when a prolonged absence of sunspots and other indicators of solar activity coincided with the coldest period in the last millennium.
Certainly solar activity is just one of the factors that influences our weather and many other factors are involved as well.
But it is undeniable that during the last "Little Ice Age" in Europe there were very few sunspots…
Times of depressed solar activity seem to correspond with times of global cold. For example, during the 70-year period from 1645 to 1715, few, if any, sunspots were seen, even during expected sunspot maximums. Western Europe entered a climate period known as the "Maunder Minimum" or "Little Ice Age." Temperatures dropped by 1.8 to 2.7 degrees Fahrenheit.
Conversely, times of increased solar activity have corresponded with global warning. During the 12th and 13th centuries, the Sun was active, and the European climate was quite mild.
And the lull in solar activity that we are experiencing now is causing many, including the Old Farmer's Almanac, to project that we have a bitterly cold winter ahead of us…

The Farmers' Almanac is using words like "piercing cold," "bitterly cold" and "biting cold" to describe the upcoming winter. And if its predictions are right, the first outdoor Super Bowl in years will be a messy "Storm Bowl."
The 197-year-old publication that hits newsstands Monday predicts a winter storm will hit the Northeast around the time the Super Bowl is played at MetLife Stadium in the Meadowlands in New Jersey. It also predicts a colder-than-normal winter for two-thirds of the country and heavy snowfall in the Midwest, Great Lakes and New England.
"We're using a very strong four-letter word to describe this winter, which is C-O-L-D. It's going to be very cold," said Sandi Duncan, managing editor.
That doesn't sound very fun.
So has the Old Farmer's Almanac been accurate in the past?
According to their website, they claim an 80 percent accuracy rate…
The Old Farmer's Almanac, first published in 1792 during the first term of George Washington, has always watched the weather. Our famous long-range weather forecasts are traditionally 80 percent–accurate.
We will see what happens this year.
For North America, the Almanac is predicting that we will see "below-normal temperatures" and "above-normal snowfall"…
According to the newest edition of North America's oldest continuously published periodical, a decline in solar activity combined with ocean-atmosphere patterns in the Pacific and Atlantic will result in below-normal temperatures and above-normal snowfall during most of the winter across much of the United States.
"This winter is shaping up to be a rough one," says Janice Stillman, editor of The Old Farmer's Almanac. "Sweaters and snow shovels should be unpacked early and kept close by throughout the season. The good news is that the extra precipitation—which will fall as rain or snow depending where you are—will help with any drought issues left over from the summer."
So if you like winter weather, it looks like this will be a good year for you.
For the rest of us, we will just have to wear lots of warm clothing and stay inside a lot.
But of course the much bigger story is what this could mean for the years ahead.
Are we now moving into a time similar to the "Maunder Minimum" when solar activity will be very low and global temperatures will decrease?
Could it be possible that Matthew Penn of the National Solar Observatory and others are correct and that we are heading into a new mini-ice age?
Let's certainly hope not, but without a doubt something very strange is happening to our sun.
Only time will tell what that means for our future.
This article was written by Michael Snyder and originally published at The Truth
Other useful resources:
Blackout USA (EMP survival and preparedness guide)
Backyard Innovator (All Year Round Source Of Fresh Meat,Vegetables And Clean Drinking Water)
Conquering the coming collapse (Financial advice and preparedness )
Liberty Generator (Easy DIY to build your own off-grid free energy device)
Backyard Liberty (Easy and cheap DIY Aquaponic system to grow your organic and living food bank)
Bullet Proof Home (A Prepper's Guide in Safeguarding a Home )
Family Self Defense (Best Self Defense Strategies For You And Your Family)
Sold Out After Crisis (Best 37 Items To Hoard For A Long Term Crisis)