It wouldn't take much for these events to come home to America… and plenty of fuel for a further crisis is in the works.
Record numbers of struggling Americans are already on SNAP food stamps and welfare; tens of millions are out of work and with a bleak  job outlook; the federal government has advertised and encouraged people to join those on the dole.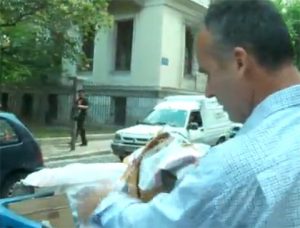 Millions of aging Americans have nothing else but social security and medicare benefits (which they earned, but which are meager) and pension money that has been swindled away behind the scenes in a complex and toxic investment scheme. Low interest rates imposed by the Fed are bringing everything to a grinding halt, and there will be no switching gears without a bumpy ride.
Of course, it is worse in Greece, but that's only because the music has stopped for them. Attempting to pay Europe's central banksters while forcing austerity on the people and hoping for the best was an impossible conundrum. It only left a ticking time bomb….
As a result, many people have now been out of work for years in Greece, and large sectors of the population have been unable to cope with the burdens that financial woes have saddled upon them. With the latest flash point, Greeks have rushed to ATMs, grocery stores and gas stations to make last minute desperate attempts to brace for collapse.
Now, with the crisis becoming critical once again, far too many are being forced to dumpster dive to scavenge for food just to stay alive. Natural News reports:
As Greece slides ever deeper into its debt crisis with no real hope of a solution on the horizon, many average citizens have been reduced to scavenging in dumpsters just to stay alive.

A recent article in The Telegraph details the plight of formerly employed Greek nationals who now must resort to scouring the streets to find scraps of cardboard, plastic bottles, metal or anything else that can be sold at recycling centers for a few meager euros per day.

Some of these unfortunate people are even forced to eat discarded food found in the trash bins of cities such as Athens, the article reports.

Sometimes I'll find scrap metal that I can sell, although if I see something that looks reasonably safe to eat, I'll take it. Other times you might find paper, cans, and bottles that you can get money for if you take them back to the shops for recycling.
The massive debt crisis may force Greece to leave the Euro, a move that could lead to a wave of exits by other countries frustrated with the strong armed banking tactics of the European Central Bank and blighted horizon under the Euro.
With Greece once again on the brink, it is clear that the core problems are common to many Western countries and many more including Spain, Portugal, Cyprus and Ireland may collapse as well.

Americans could be next in line, too… it simply wouldn't take much for bank runs and cash controls to hit home. In fact, those in power might welcome it. How quickly would a crisis bring millions of poor and working class people to their knees, or their breaking point?
[I]f the crisis that many experts are predicting actually takes place, millions of average Americans may end up facing severe food shortages and find themselves in the same situation as the Greeks.
Let's pray that our tipping point isn't as close as many have warned.
Meanwhile, there is another stark reminder of the need to prep.
Source: shtfplan.com
MUST WATCH VIDEOS!
Mega Drought USA:(Discover The Amazing Device That Turns Air Into Water)-DIY
Survive The End Days (Biggest Cover Up Of Our President)
Survival MD (Best Post SHTF Medical Survival Guide Ever)
Blackout USA (EMP survival and preparedness guide)
Bullet Proof Home (A Prepper's Guide in Safeguarding a Home )
Backyard Innovator (All Year Round Source Of Fresh Meat,Vegetables And Clean Drinking Water)-DIY
Conquering the coming collapse (Financial advice and preparedness )
Liberty Generator (Easy DIY to build your own off-grid free energy device)
Backyard Liberty (Easy and cheap DIY Aquaponic system to grow your organic and living food bank)
Family Self Defense (Best Self Defense Strategies For You And Your Family)
Sold Out After Crisis (Best 37 Items To Hoard For A Long Term Crisis)