This is a situational awareness alert. A CIA 'double agent' who had infiltrated the Al Qaeda terrorist network is urgently stating that he believes the United States is 'next on the list' as 'ISIS' will attack within the next two weeks.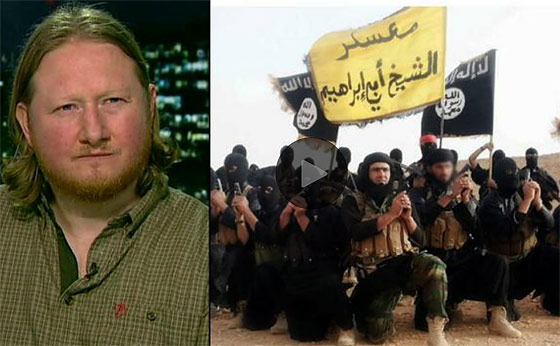 He states that the ISIS terror organization in Europe (following the Paris attacks) are desperate ('on the run' there) and are feeling that their time may be up – therefore speeding up their timetable to do as much damage as possible.


In the wake of the Paris terrorist attack, the ex-terrorist said an attack on American soil…would be a "bit different" because of the security precautions currently in place.
He goes on to say that they will likely target civilians, such as in shopping malls, or other places like we've seen in France.
While the purpose of my post is NOT to instill fear, I do feel that you need to know. If indeed there is a terrorist attack (or attacks) on the U.S. during this upcoming holiday period, I believe that they will very likely trigger additional 'domino' events which will affect our lives for a very long time.
Some of these might include,
– A stock market crash
– Crippling Executive Orders
– Panic and fear among Americans may trigger unforeseen systemic collapses
– 'Knee-jerk' reaction lock-downs (as in 'Boston')
– Shortages due to panic buying of supplies (depending on extent)
(Comment with your own opinion of potential side-effects following an attack.)
I suggest that in light of the very real threat, to check and be sure you're up-to-date with your preparedness as best you can. If you will be traveling this Thanksgiving, be sure to keep a 72-hour kit of sorts inside your vehicle. Keep your gas tank full. If you're out in public, and you have a legal right to do so in your region – consider exercising your right to carry… Stay up to date with news and events.
Perhaps (hopefully) NOTHING will happen. With that said, I have a 'feeling'…
Here is the video interview which inspired this post:

Source: modernsurvivalblog.com

OTHER USEFUL RESOURCES!
US Water Revolution (Generate Your Clean Water Anywhere)
Alive After The Fall (Key Survival Situation Procedures and Knowledge )
Mega Drought USA:(Discover The Amazing Device That Turns Air Into Water)-DIY
Survive The End Days (Biggest Cover Up Of Our President)
Survival MD (Best Post SHTF Medical Survival Guide Ever)
Blackout USA (EMP survival and preparedness guide)
Bullet Proof Home (A Prepper's Guide in Safeguarding a Home )
Backyard Innovator (All Year Round Source Of Fresh Meat,Vegetables And Clean Drinking Water)-DIY
Conquering the coming collapse (Financial advice and preparedness )
Liberty Generator (Easy DIY to build your own off-grid free energy device)
Backyard Liberty (Easy and cheap DIY Aquaponic system to grow your organic and living food bank)
Family Self Defense (Best Self Defense Strategies For You And Your Family)
Sold Out After Crisis (Best 37 Items To Hoard For A Long Term Crisis)