A while ago I wrote an article called 50 Items You Forgot To Put In Your Bug Out Bag. Several readers complained, saying things like, "How the hell am I supposed to fit all this stuff in my bug out bag?" Well, you're not. The point of the article is to tell people about any items they would have included but either forgot about or hadn't considered yet.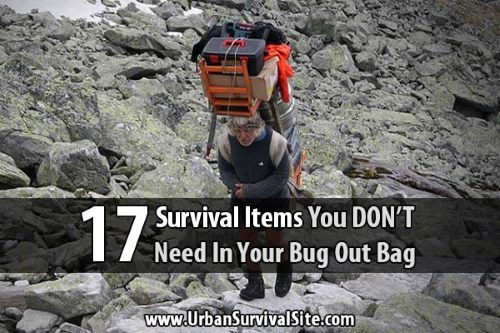 Every bug out bag should be 100% unique. Sure, there are some basic items that every bug out bag should have (food, lighter, water filter, flashlight, etc.), but you should customize your bag based on where you live, what type of disaster is most likely to occur in your area, and how much weight you can carry over a long distance. Many preppers forget about that last point.
If your bag is so heavy that you can't carry it more than a few miles, you'll have to ditch some of the items, anyway. And what's going to happen if you have to run from attackers, jump walls, and climb fences? Having a bag that's too heavy could get you killed. Ideally, a bug out bag should weigh about 15% of your body weight, assuming you're in decent shape. 20% of your body weight should be the absolute maximum.

So despite the impression many people got from my "50 Items" article, I don't think you should pack your bug out bag with as many items as possible. In fact, I think you should check your bag for any non-essential items with a large weight-to-space ratio and remove them. To that end, here's a list of survival items I've seen in various lists online that, in my opinion, you don't really need in your bug out bag.
Note: These are merely suggestions so please don't follow my advice blindly. Use your best judgement before throwing anything away.
Find the entire list of items on urbansurvivalsite.com
If you found this article useful, please like our Facebook page and stay up to date with the latest articles.
OTHER USEFUL RESOURCES!
Blackout USA (EMP survival and preparedness guide)
Bullet Proof Home (A Prepper's Guide in Safeguarding a Home )
Backyard Innovator (All Year Round Source Of Fresh Meat,Vegetables And Clean Drinking Water)-DIY
Conquering the coming collapse (Financial advice and preparedness )
Liberty Generator (Easy DIY to build your own off-grid free energy device)
Backyard Liberty (Easy and cheap DIY Aquaponic system to grow your organic and living food bank)
Family Self Defense (Best Self Defense Strategies For You And Your Family)
Sold Out After Crisis (Best 37 Items To Hoard For A Long Term Crisis)
US Water Revolution (Generate Your Clean Water Anywhere)
Alive After The Fall (Key Survival Situation Procedures and Knowledge )
Mega Drought USA:(Discover The Amazing Device That Turns Air Into Water)-DIY
Survive The End Days (Biggest Cover Up Of Our President)
Survival MD (Best Post SHTF Medical Survival Guide Ever)