Every prepper's pantry has canned food in it. It's the first line of defense against starvation in a disaster scenario. While canned foods shouldn't make up all your food storage, there are some benefits that canned foods present.
The biggest is the value. Canned foods can be had for a handful of dimes when they are on sale. You cannot say that about many things in our society today. Canned foods have a long shelf life and are low maintenance.
Related: 14 Must-Have Canned Foods You Didn't Know Existed
Canned goods, meats in particular, offer huge benefits through fat and protein. Preppers don't always account for the importance of healthy fats in their diet. Healthy fats are not easy to find in the wild. However, things like canned fish can be full of the same oils as those Omega 3s you take in pill form.
Of course, access to protein is huge and canned meats make that a breeze. While things like fishing and trapping are great opportunities for protein sourcing in a disaster, nothing is easier than a can opener and a can of roast beef!
TRUE EXPIRATION ON CANNED MEATS
As the manager of Safety and Food Safety at a prominent food bank, I established the guidelines for shelf life on a variety of foods. In the food banking industry, everything is close dated unless its purchased. It's just the nature of donations.
Had we tossed all the food that was close or passed expiration, we would have wasted a lot of food.
Related: How to Tell When Your Canned Foods Become Spoiled?
A canned good's shelf life is based on the acidity level of the food inside. There is a protective lining in every can and that deteriorates over time. This is the true threat with canned goods, aside from damage to the can or poor canning practices.
Canned meats also hit the retail shelves with longer dates than most foods. Next time you are at the store, take note of how long the shelf life is on these canned meats.
The true expiration date is about 5 years past the date on each can. So if your canned Spam goes out of date in 2023, the reality is that you have until 2028 to safely eat that food. You could likely go even further out.
The risk increases the further you go past that date of the lining wearing away and your food touching tin or aluminum directly. That could lead to heavy metal poisoning over time.
CANNED BEEF: Kirkland Canned Roast Beef
Beef is king in terms of protein and nutrient density. It's the reason that athletes who are overworked take time off and eat a steak.
Some people even argue that eating meat, cooked meat in particular, allowed our brains to grow rapidly because of the easy access to such high digestible, quality nutrients.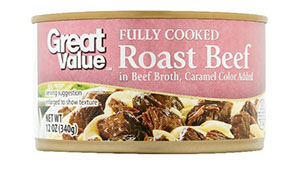 Storing beef in cans is a great way to hold onto the benefits of beef over the long haul.
2 Servings per can
Protein: 13g
Sodium: 290mg
Total fat: 1.5g


---
CANNED PORK: DAK Canned Ham
This amalgamation of mechanically separated meats and fats is more like a luncheon meat than an actual cured and dried leg of a pig.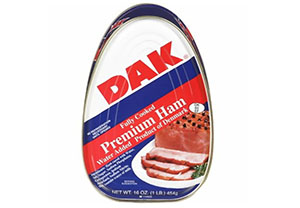 Canned ham is a powerhouse of flavor and protein. It is also a great ingredient that can be added to other things like eggs, rice and vegetables.
8 Servings per container
Protein: 9g
Sodium: 620mg
Total fat: 7g


---
Yoder's Canned Bacon
Do I really need to breakdown the benefits of having canned bacon?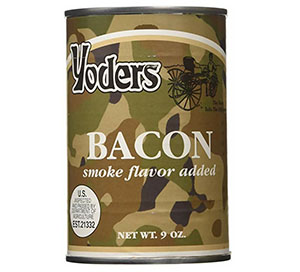 Of course, bacon contains nitrites and while it is delicious, these are recognized as cancer causing carcinogens. Just keep that in mind.
Of course, the delicious bacon can be eaten by itself or added to other dishes.
18 Servings per can
Protein: 5g
Sodium: 190mg
Total fat: 5g


---
Tyson Canned Chicken
The neutral flavor and high protein profile of canned chicken makes it a great candidate for that food storage pantry. Tyson is a name that we all recognize, so I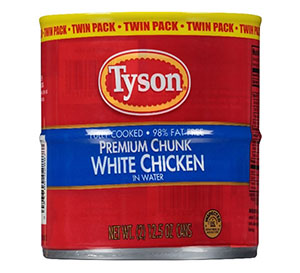 thought it would be great to profile their chicken.
There is a strange manufactured quality to canned meats and that doesn't change with canned chicken. That said, it's a good way to dump protein on top of your beans and rice.
5 Servings per container
Protein: 13g
Sodium: 300mg
Total fat: 1g


---
CANNED FISH
#1. Sardines in Olive Oil
Some people cannot stand the sight or the idea of eating sardines. I don't mind eating them at all. If you are going to store them for SHTF, you might as well get those packed in olive oil. This becomes a tin of healthy fats that your body will be craving if you are consistently eating dry food storage.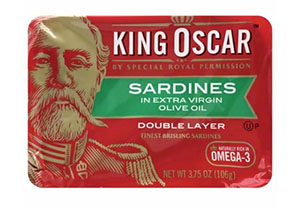 Fish has a whole host of benefits. It also has mercury…that's just the deal. The bigger the fish the more mercury content. Sardines are nice and small.
1 Serving per can
Protein: 14g
Sodium: 300mg
Fat: 20g


---
#2. Double Q Canned Wild Salmon
Salmon is an absolute powerhouse. When it comes to buying salmon, you have to buy the one which is wild caught. Salmon is one of the most farmed fish on the planet. Farm raised salmon is not the same thing as wild caught salmon. The nutrient profile is very different.
This product is fully cooked and ready to eat out of the can, or mix into other things.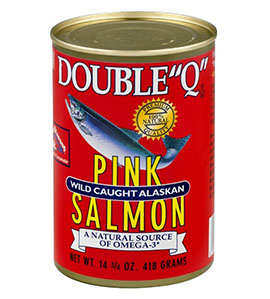 My mother would make amazing salmon meatballs with this and serve it up with a lemon cream sauce and spaghetti. Probably not an SHTF meal but a testament to how good this stuff can be.
Related: Canning Pasta Sauce for Long Term Preservation
7 Servings per container
Protein: 12g
Sodium: 230mg
Fat: 5g


---
CANNED FORCEMEAT OR MYSTERY MEAT: Spam
How could we put together a list of canned meats for preppers without including Spam? It's synonymous with the survivalist and now the prepper.
While it can be frowned upon, because of its highly processed beginnings, Spam has something of a cult following.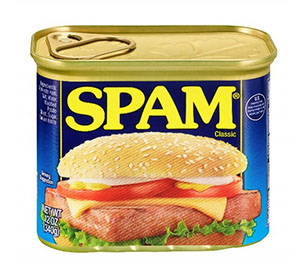 It can be prepared many ways, and offers up a legitimate protein that is ready to eat at the pull of a metal ring. No, it's not a ribeye on the grill but it's some collection of meats that will fuel you through TEOTWAWKI.
6 Servings per container
Protein: 7g
Sodium: 590g
Fat: 16g
WHAT IS THE BEST CANNED MEAT FOR PREPPERS?
Well, if you can stomach fish, I would say fish is kind of a no brainer. It offers up so much to your body. You probably take fish oil pills in the morning, for good reason!
When we look at nations that live long and happy lives, they are often predicated on a diet of things like fish and rice, maybe a little wine in the Cretin people's case. We must be careful not to through diet in the trash when the SHTF.
While spam seems like the prepper's best friend because it "lasts forever", a diet full of that stuff will certainly assure it outlives you.
I guess the cynic in me would say that the best canned meat for preppers is the one that's on your shelf. However, we have some time. You can manipulate your food storage to assure you are putting healthy options into your body.
Survival is a lot like life, in that, it's made up of small choices that reflect the bigger picture. What you put in your body will affect your performance. Keep that in mind when stocking your pantry shelves.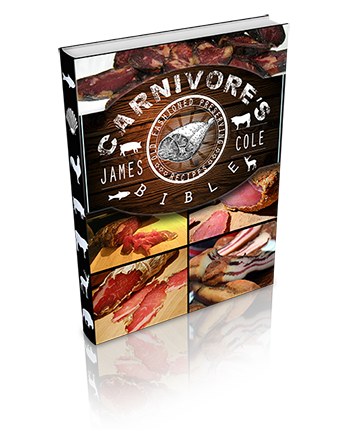 Source: askaprepper.com
What to read next: 
Survival Books
THE LOST BOOK OF REMEDIES-All Medicinal Plants and Lost Cures of North America
THE LOST WAYS-Learn the long forgotten secrets that helped our forefathers survive famines,wars,economic crisis and anything else life threw at them
EASY CELLAR-AMERICA'S NATURAL NUCLEAR BUNKERS: FIND THE CLOSEST ONE TO YOUR HOME
THE LOST WAYS 2-This lost super-food will bulletproof you against any food shortage or famine
BLACKOUT USA-EMP survival and preparedness guide
DIY HOME ENERGY-Follow the step-by-step guide from A to Z and you will have a working system to reduce your electricity bills and save energy
MY SURVIVAL FARM-This hidden survival garden will keep you well fed when SHTF
CARNIVORE'S BIBLE -THE REAL HOMEMADE AND HEALTHY MEATY TREATS OUR GRANDPARENTS USED TO MAKE…