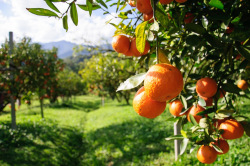 A huge Florida citrus farm is being fined by state officials for poisoning millions of honeybees to death — but it's not being fined very much.
Ben Hill Griffin Inc., one of the state's largest growers and a supplier to Florida's Natural orange juice, is accused of illegally spraying pesticides (i.e., not following the directions on the labels) in ways that led to the deaths of bees kept by nearby beekeepers. One apiarist told officials that the farm used crop-dusters to douse its groves at least a dozen times — presumably to control Asian citrus psyllid, which spreads the devastating citrus greening disease. He estimated his losses at $240,000 worth of bees and reduced honey production. Another beekeeper says he is down $150,000.
So how much is the Florida Agriculture and Consumer Services Department fining the company? A paltry $1,500.
"That laughable penalty has environmentalists and beekeepers fuming," reports the Miami New Times.
"Every four days, they were spraying seven or eight different types of chemicals," beekeeper Randall Foti told the Palm Beach Post. "A $1,500 fine is not much of a deterrent." Added beekeeper Barry Hart, "$1,500 ain't nothing to the grove people."
As the Post reports, "The $1,500 state fine last week is believed to be the first time a Florida citrus grower was cited in connection with a bee kill." But the fine could have been a lot bigger: "The maximum fine allowed by state law is $10,000 per occurrence," a government spokesperson said.
Daily Kos provides some helpful context, pointing out that Ben Hill Griffin pulls in $126 million annually.
So the fine amounts to 0.001 percent of the company's annual revenue. Think that will teach 'em a lesson?