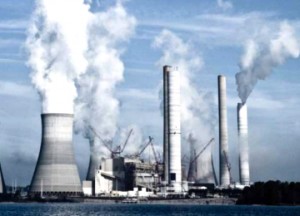 A week and a half before the Environmental Protection Agency (EPA) is expected to propose limits on carbon pollution from new power plants, a new Environment America Research and Policy Center report shines a light on America's largest contributors to carbon pollution. The report ranks each state for its power plant pollution and lists the top 100 dirtiest plants.
"America's dirtiest power plants are the elephant in the room when it comes to global warming," said Julian Boggs, global warming program director with Environment America Research and Policy Center. "If we want a cleaner, safer future for our kids, we can't afford to ignore power plants' oversized contribution to global warming."
Environment America Research and Policy Center was joined by Sen. Whitehouse (D-RI) and Washington, DC, Councilmember Tommy Wells.
"As carbon pollution continues to compromise public health and wreak havoc on our atmosphere and oceans, this report shines a spotlight on the biggest culprits—power plants," said Sen. Whitehouse.
"Rhode Island and other states are doing their part to reduce emissions and invest in clean energy, but we need a nationwide solution," Whitehouse continued. "President Obama's Climate Action Plan will establish new carbon pollution standards for power plants to reduce these toxic emissions, and we should all get behind him as his plan moves forward."
The report, America's Dirtiest Power Plants, comes as the Obama administration readies a new set of standards to tackle global warming. It illustrates the scale of carbon pollution from our power sector and ranks the country's biggest carbon polluters. Scientists predict that extreme weather events will become more frequent and severe for future generations unless we cut the dangerous carbon pollution fueling the problem.
Carbon Dioxide (CO2) Pollution Emitted by the 50 Dirtiest Power Plants Compared to CO2 Pollution in Other Countries (MMT).
"Extreme weather events are impacting our communities now, and scientists warn things could get much worse for future generations," Boggs concluded. "We can't afford to wait for action. It's critical that our leaders step up and protect future generations of Americans from global warming's worst impacts."
Environment America Research and Policy Center used self-reported data from power companies to find:
Texas, Ohio and Florida lead the nation for most carbon pollution from power plants
The top five most polluting power plants are Georgia Power Co's Plant Scherer, Alabama Power Co's James H Miller Jr. Plant, Luminant's Martin Lake in Texas, Ameren's Labadie in Missouri and NRG Energy's WA Parish in Texas.
America's power plants are its single largest source of carbon pollution—responsible for 40 percent of emissions nationwide
If the 50 dirtiest U.S. power plants were their own country they would be the seventh largest emitter of carbon pollution in the world.
"The evidence is undeniable that global warming exists and that we must do something about it. This is a challenge that faces each and every one of us, and I know that we are up to the task," said  Councilmember Wells.
This summer, President Obama directed his EPA to propose limits on carbon pollution from new and existing power plants, the largest single source of the global warming pollutant. In a major step, the EPA is expected to re-propose a rule for limiting carbon pollution from new power plants by Sept. 20. Americans have already submitted more than 3.2 million public comments in support of limiting carbon pollution from power plants, a record for public comments submitted on any environmental standard.
Environment America Research and Policy Center thanked Sen. Whitehouse and Councilmember Wells for their leadership and called on more members of Congress and local officials to join them in supporting limits on power plants' carbon pollution.
Source:http://ecowatch.com/2013/do-you-live-near-americas-dirtiest-power-plants/