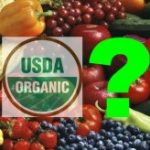 The Center for Food Safety recently criticized the USDA's National Organic Program (NOP)  for taking surprising and unilateral steps to undermine organic standards. The Agency announced, without warning and without stakeholder input, a new policy that encourages the indefinite use of synthetic and non-organic materials in organic.  Until now, NOP policy allowed the temporary use of such substances for a proscribed period of time with the intent of forcing users to search for organic alternatives.
If necessary after five years, the National Organic Standards Board (NOSB) could vote to allow the extended use of the substance with a two-thirds majority vote, provided the users of the substances made a convincing case. This system of vetting exceptional substances every five years allowed the organic industry flexibility while maintaining the integrity of the organic label. It has been successful in keeping the large majority of synthetics and non-organic substances out of organic products.
The longstanding presumption of that policy was that synthetics and non-organic material use will decrease over time.  The new policy however, curtails the incentive to develop organic, non-synthetic alternatives. Under new rules issued, a two-thirds of majority of NOSB members would be needed to vote to remove the substance from the approved National List, effectively reversing the policy of limiting synthetics and non-organic substances in organic.
"Since the inception of OFPA, the responsibility for making the case for the extended use of a given material was shouldered by those wanting to continue its use beyond the period of five years.  Now, the NOP has set the default to leaving materials on the National List, unless a concerted effort is made to amass evidence of the need for removal.  This unfortunate turn in NOP policy will allow many more exempted substances to languish in organic products indefinitely," said Lisa Bunin, Ph.D., Organic Policy Director for Center for Food Safety.
"The new NOP policy fundamentally undermines one of the core tenants of the organic rule—keeping synthetics and non-organic ingredients out of organic.  This policy will undermine consumer expectations of organic as well." said Bunin.  "No doubt organic consumers will be outraged to realize that the NOP, charged with protecting organic integrity, has taken steps to weaken organic, behind closed doors and without public input," Bunin said.
###
Source:http://www.thelibertybeacon.com/2013/09/29/new-usda-announcement-undermines-organic-standards/