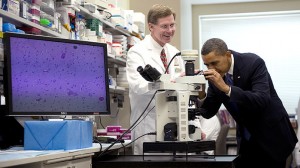 Patients seeking to enroll for treatment in research studies at the National Institutes of Health's Maryland hospital are out of luck due to the government shutdown.
For every week the shutdown lasts, the agency's research-only hospital  will turn away approximately 200 patients – 30 of them children –   who often seek participation in experimental studies after more  traditional methods have failed, National Institutes of Health  (NIH) Director Dr. Francis Collins told AP.
Though prospective NIH patients are usually eligible for studies  at other hospitals around the country, "this is the place  where people have wanted to come when all else has failed,"  Collins said. "It's heartbreaking."
A child with a life-threatening illness is likely the only  exception, Collins said, and existing patients will continue to  receive care at the NIH Clinical Center in Bethesda.
In addition, he said that all experimental studies are on hold as  long as Congress cannot settle on a budget deal.
"If you expected new treatments for cancer or a new universal  influenza vaccine or discovering the causes of autism were going  to move forward at the maximum it could, that will not be the  case," Collins said. "This is a profoundly discouraging  day."
For the 2013 fiscal year that ended Monday, the NIH was only able  to fund around 16 percent of the research grant applications it  received. A decade ago, one in three of such applications were  funded by the NIH, which lost $1.5 billion of its $31 billion  budget due to sequester spending cuts earlier this year.
The NIH is scheduled to lose $600 million more from a second  round of cuts, meaning that further projects that will not be  funded, Collins said.
Beyond the NIH, a continuing government shutdown will also impact  operations at the Centers for Disease Control (CDC) in Atlanta,  Georgia.
According to a memo put out by the Department of Health and Human  Services, the CDC will be "unable to support the annual  seasonal influenza program, outbreak detection and linking across  state boundaries using genetic and molecular analysis, continuous  updating of disease treatment and prevention recommendations"   as well as curtail "support to state and local partners for  infectious disease surveillance."
Source:http://rt.com/usa/health-patients-studies-shutdown-609/