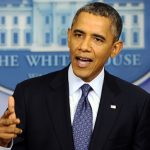 President Barack Obama told reporters at the White House on Tuesday that he will discuss the future of his Affordable Care Act with Republican opponents in the House of Representatives only once Congress re-opens the United States government.
At the start of the second week of a widespread government  shutdown, Pres. Obama warned House Speaker John Boehner (R-Ohio)  during his Tuesday afternoon address that the White House won't  negotiate the fate of the president's hallmark "Obamacare"   legislation.
One week earlier, a stalemate in Congress was unable to be  resolved ahead of a Tuesday morning deadline required to pass a  spending bill that would have kept the government fully  functioning. Republican critics of Obamacare refused to authorize  any budget plan without ensuring the congressionally approved  health care act would be defunded.
Obama said Tuesday that he is happy to have a conversation or  negotiation with Republican leadership in the house, but such   a discussion "shouldn't require hanging the threats of  government shutdown or economic chaos" over American people.
"Members of Congress, and the House Republicans in particular,  don't get to demand ransom in exchange for doing their job,"   said Obama. That job, he added, requires those elected officials  to pass a budget
"No American president would deal with a foreign leader like  this. Most of you would not deal with coworkers or business  associates in this fashion, and we shouldn't be dealing this way  here in Washington," said the president.
Democrats are eager to reach a deal, added Obama, but said  lawmakers would not let talks occur "if the entire basis of  the Republican strategy is 'We are going to shut down the  government or cause economic chaos if we don't get 100 percent of  what we want."
"Let's lift these threats from our families and our  businesses, and let's get down to work," Obama added.   "Let's stop the excuses, let's take a vote in the House [and]  let's end this shutdown right now."
Should Republicans not allow the government to re-open, added  Obama, then the debt ceiling will not be raised and America may  effectively be driven to default.
A default, warned Obama, "would be dramatically worse"   than the government shutdown that started early last week.
"If Congress refuses to raise what's called the debt ceiling,  America would not be able to meet all of our financial  obligations for the first time in 220 years," he said.
Experts have previously predicted that an economic shutdown would  be "insane" and "catastrophic" for the nation, added Obama.
The president acknowledged that the phrase "debt ceiling"   may be too intimidating for lawmakers to tackle the issue at  hand, but insisted "this does not add a dime to our debt. It  simply says you pay for what Congress has . . . already  authorized America to purchase."
"All it does is allow the Treasury Department to pay for what  Congress has already spent," he said, noting that it's been  done 45 times since the first term of President Ronald Reagan —   or around 1.4 times a year.
 "I will work with anyone," added Obama,  who explained that only such talks could occur once Republican  members of the House rescind their threats.
"We can't make extortion routine as part of our democracy.  Democracy doesn't function this way," Obama said.
During a brief press conference Tuesday afternoon Boehner said he  was "disappointed" that the president refused to negotiate  with Republicans. The Speaker did not specifically mention the  healthcare law at the root of the shutdown, and said it was a   "disgrace" that military families are not receiving death  benefits when prompted by a reporter.
"The long and short of it is there is going to be a  negotiation here," Boehner said. "The president said today  if there's unconditional surrender by Republicans, he'll sit down  and talk to us. That's not the way our government works."
Source:RT.com