We are dependent on fuel sources to provide power to run our homes and businesses, help us maintain our body temperatures in extreme weather and provide energy to prepare food. Emergency organizations suggest each household having an emergency supply of fuel stored away, but there is always a chance that we haven't stored enough.
Many rely on having cords of wood to use, but those surviving in the city may not have the availability of wood to use for fuel, or they could have been caught off guard by an emergency and were not able to get to the store to purchase charcoal briquettes or propane for their grills.
Have a Back Up For Your Fuel Supply
Learning how to make alternative fuel sources using the items you have around is an essential survival skill to learn. Biomass briquettes and/or bricks are an alternative choice to charcoal briquettes and other emergency fuel sources. Biomass briquettes are also considered a green fuel source and burn efficiently.
In 2006, the U.S. produced more than 227 billion kilograms (kg) of solid waste; this equates to approximately 2.1 kg per person per day, where approximately half of this amount is in the form of paper and horticultural rubbish. Conversion of these wastes into combustible biomass briquettes would provide a means to satisfy individual energy needs while alleviating landfill use. (Source)
What Are Biomass Briquettes?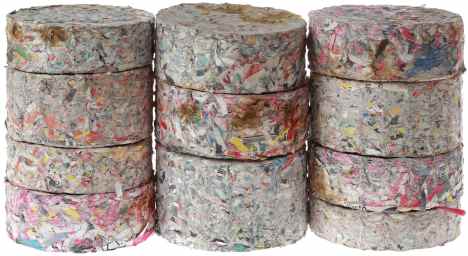 The biomass briquettes are comprised of compressed compounds containing various organic materials, including corn husks, coconut shells, grass clippings, dried leaves, saw dust, cardboard or paper. Developing countries use other materials such as rice husks, bagasse, ground nut shells, municipal solid waste, agricultural waste, or anything that contains a high nitrogen content.
Biomass fuel sources are equivalent to that of common fuel sources when burned in an oxygen-rich environment comparable to unmodified wood and wood pellet stoves, fireplaces, patio heaters and charcoal grills. This alternative fuel source could easily be used for rocket stoves, collapsible stoves and small grills.

How Biomass Briquettes Are Made
Essentially, you get your materials and cut them up into small bits or you could use a blender and add them to a large container (a 5 gallon bucket is perfect) and allow it to soak in water for three days until it's completely saturated and broken down and have the consistency of mush. Then you form the biomass briquettes by compacting them in a tube or container and forcing all of the water out.
Compaction is the key to achieving a successful biomass briquettes. The reason being is because compacted materials burn more efficiently. They shape of the brick or briquette can also make a difference. Studies have shown that when biomass briquettes molded into a hollow-core cylindrical form exhibited energy output comparable to that of traditional fuels. There is a special lever that many use to compact the briquettes; however, some people have successfully made them from old cd or dvd cases and by poking holes in the side for the water to drain out. In the video below, he used a caulk gun.
Start thinking outside of the box in respect to preparedness. In emergency situations, we must modify our thoughts and adapt to the change itself. Chances are, if we are successful in this, we will find a way to survive.

Source: readynutrition.com
                              Other useful resources:
Survival MD (Best Post SHTF Medical Survival Guide Ever)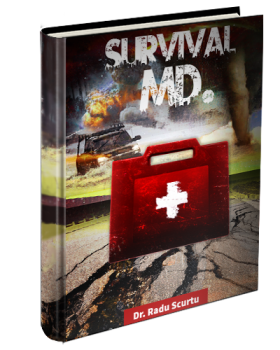 Blackout USA (EMP survival and preparedness guide)
Backyard Innovator (All Year Round Source Of Fresh Meat,Vegetables And Clean Drinking Water)
Conquering the coming collapse (Financial advice and preparedness )
Liberty Generator (Easy DIY to build your own off-grid free energy device)
Backyard Liberty (Easy and cheap DIY Aquaponic system to grow your organic and living food bank)
Bullet Proof Home (A Prepper's Guide in Safeguarding a Home )
Family Self Defense (Best Self Defense Strategies For You And Your Family)
Sold Out After Crisis (Best 37 Items To Hoard For A Long Term Crisis)
Tess Pennington is the author of The Prepper's Cookbook: 300 Recipes to Turn Your Emergency Food into Nutritious, Delicious, Life-Saving Meals. When a catastrophic collapse cripples society, grocery store shelves will empty within days. But if you follow this book's plan for stocking, organizing and maintaining a proper emergency food supply, your family will have plenty to eat for weeks, months or even years. Visit her web site at ReadyNutrition.com.