Get out there!
Spend enough time with Mother Nature and you'll likely experience emergencies.Things went right this trip.Even the most innocent outings are potential survival situations. That fishing trip can turn nasty for all the wrong reasons. Your day hike may find you sleeping under the stars with a busted knee.
Always carry a minimal what-if emergency kit. With these tools, a survival mind-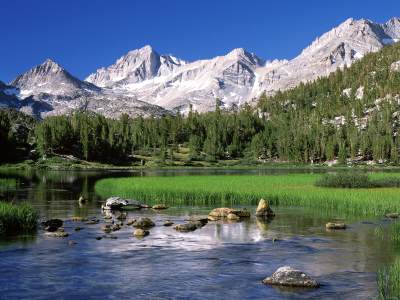 set, and Doing the Stuff skills, you increase your odds of staying alive and being found.
A.) Mindset Training
No matter the crisis or survival situation, your ability to come out on the other side alive is largely dependent upon your attitude. Recognizing that there will be added stress – mental, physical, emotional, and spiritual – is your first step.
Let us train our minds to desire what the situation demands. – Seneca the Younger
All your other skills will be affected by your mindset. Obviously, the more skills and knowledge you have, the more comfortable you'll be when starting a fire to stay warm when your lost in the wilderness. Being collected enough to start a fire not only provides physical life support but boosts morale.
The more you practice skills, the more you're attitude improves. Doing the Stuff beforehand keeps panic at bay.
B.) There's No "I" in Team
This clever slogan adorns team t-shirts and locker room walls in the world of sport. Unfortunately, the saying won't work on surv"I"val. There it sits, smack dab in the middle of the word!

In some cases, "I" is all you have. This scenario requires you to be a team of one – without a camera crew filming or emergency personnel standing by. You'll have to survive on your wits and create your own 'luck.'
C.) Resilient First Aid
Injuries happen. A scrap becomes infected. A misstep twists your ankle. Now you've become the doctor. All the more reason to pack a basic first aid kit. Learning basic first aid builds resilience.
The larger threat in wilderness survival situations is hypothermia and hyperthermia. Getting cold and wet leads to hypothermia. You're ability to make sound decisions is reduced when your body's core temp drops.
D.) Improvised Emergency Shelter
I've said this before, but it's worth repeating. Mother Nature is temperamental. She likes to see how much hell you can handle while visiting her "house."
Humans aren't built for prolonged exposure to nature's elements. We require shelter. We may stumble upon a cave if one is available. But one advantage we have over our furry critter friends is our ability to use logic and reason to survive.
Any crisis over a couple of hours in wet, cold conditions will likely escalate into a life-threatening setting. Shelter is more important than water in this case. Humans can only go three hours without shelter. Having experience in building emergency shelter can save your life. If you're caught without a piece of plastic or a tarp, you'll have to improvise and use what nature provides.
E.) Fire
The fire triangle
The ability to make fire is everything in the wilderness. This skill aids in cooking,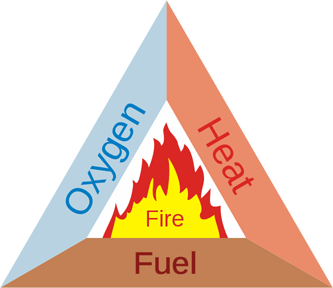 purifying, heating, signaling, security, and comfort. Fire affects all your other physical and emotional steps to survival and rescue.
Fire is life!
F.) Signaling Rescuers
This one doesn't get much attention but may be your best hope of being found alive. A series of 3 of anything (sound or visual) let's search and rescue know you're in distress. Three whistle blasts, rocks, logs, and/or fires. Use fire at night and smoke during the day. Be sure not to set the surrounding forest ablaze.
If you want to be found, leave a trail or signs for search and rescue. Leave a bandana or strip of cloth hanging from branches if ground rescue is involved. Also build arrows with natural or man-made material to indicate your travel direction.
For ground-to-air rescue, find an opening or clearing and create large signals with straight lines and 90 degree angles or circles. Use logs or rocks that contrast with the background. Build a log cabin fire setup with dry tinder and fuel in the bottom and green leafy material on top that will produce lots of smoke. Fire it up when you hear airplanes or helicopters.
| Number | Message | Code Symbol |
| --- | --- | --- |
| 1 | Require Assistance | V |
| 2 | Require Medical Assistance | X |
| 3 | Proceeding in this Direction | |
| 4 | Yes or Affirmative | Y |
| 5 | No or Negative | N |
The above chart indicates to rescue how to proceed. Use any available contrasting material to make these symbols a minimum of 3 feet wide and 18 feet long to alert aircraft.
Shiny Object Signaling
A signaling mirror or any shiny object will work to alert pilots. Reflected sunlight can be seen for several miles. For more details on signaling with shiny objects, Creek Stewart shows you how to improvise here.
Always leave the 3 W's with a trusted friend or family member:
Where you're going
When you plan on returning
Who's in your group.
[I intentionally left water and food out of this post. Well, to be honest, I'm running short on time and don't have the energy to cover these in this post. 
 We'll chew on these later.]
Todd Walker is married to the lovely Dirt  Road Girl, proud father and grandfather, a government school teacher, a lover  of the primal/paleo lifestyle and liberty. His website, Survival  Sherpa, provides information about 'doing the  stuff' for self-sufficiency, preparedness, natural health, and functional  fitness. Connect with him on Twitter, Facebook, and Pinterest. Send him mail: [email protected]