Forest provides beautiful sites for camping, hiking and going for leisure. However this natural beauty may sometimes turn to be the worst nightmare specially when lost. Camping and hiking in the forests requires a great deal of preparations.
Plan and prepare in advance
You should consider planning your trip in advance.
Ensure you pack enough clothes and bedding especially when going to camp for more than one day. Pack enough food and water.
Ensure you take a match box with match sticks coated with a waterproof material with you.
Get a map of the forest you are going to adventure. Understand the map and some specific sites in the forest. For example an emergency signal spot.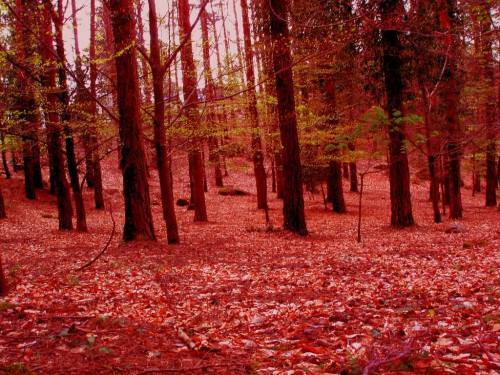 What to do when lost in the forest
The first thing to do is to ensure that you do not panic. At this time you don't need to panic because panicking will just worsen the case.
Try to stabilize your mind through positive thinking about the situation.
Try to retrace your steps back to the initial starting point. If this is impossible, consider yourself officially lost in the forest. At this moment the following steps are critical to your survival in the forest to the day your rescue will arrive.
Find a source of water
At this moment finding a source of water is critical since you do not know for how long you are going to stay in the jungle before help arrives. There are various sources of water in the jungle. Try to trace a river, a stream or a well. This will serve as a source of water for the time being. Purify the water by boiling or keeping it in the direct sunlight for over six hours to kill bacteria.
Create fire. In preparation stage you should carry a match box with you. Gather some dried leaves and light fire to warm food and water. It is also important to keep yourself warm.
Keep calm and signal your location
Do not panic in a crisis. Send signals through a GPRS source if possible. Lighting fire may also help you send signal because the forest conservation team may come investigating the cause of the fire and in the process they come for your rescue.
Ensure you stay in one area as it may increase the chances of the rescue arriving faster. If you have to struggle your way out; ensure you leave some marks on your track for easy identification of your point zero.
If the nightfall gets before rescue; build a shelter to keep you safe from cold and rain.
Find a safe and reliable source of food
Sources of food may include cooking small animals eating forest fruits that you are sure are fit for human consumption. It is necessary to maintain your health. You can't afford getting sick while lost in the jungle.
The European health insurance card Ehic is given for free by the states of Europe to cover their citizens against health risks. The holder of the card may receive public health services in any member country for free or at a subsidized price. It is important for your health after you have been lost in the forest. It will cover all the health expenses incurred due to harsh forest conditions.

By Andrea
Source: doomsdaymoose.com