Solar water heaters are probably the most widely used solar product worldwide, especially in Asia and other parts of the developing world it is a constant with any new construction. Out of Brazil comes this plastic water bottle based water heater created by Jose Alano a retired mechanic. He created a simple, cheap, energy saving rooftop solar water heater which is benefiting thousands of people across Brazil.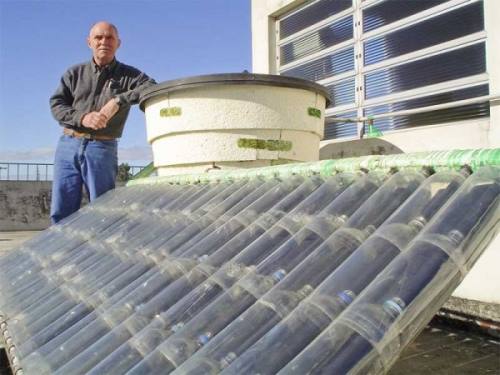 Alano refused to throw away plastic bottles and packaging to end up in the landfills. In his words "Being 59 years old, I have had the opportunity to witness the technological advances of science, which improved food storage. But nowadays, some packaging weighs almost the same than the food itself! Years ago, my wife and I realized that we were not prepared for this new form of consumption."
Using his basic knowledge of Solar water heaters he and his wife created the green alternative version making use of 100 plastic (PET) bottles and 100 Milk Cartons there by getting rid of their waste responsibly.
Alano's water heater won the Superecologia prize, offered by the Superinteressante magazine for renewable projects in the not-for-profit sector. He has made his design patented and available to use as a not for profit design. The only restrictions are on industrial production and politicians claiming credit for it!
 How To Make A Solar Water Heater From Plastic Bottles
The Invention
The standard solar water heaters cost a couple of 1000$ and have copper as a main element. The Plastic Bottle solar water heater is based on the thermosyphon technology which is used in many solar water heaters. It makes use of the circulation of water based on density; hot water which is less dense moves upwards while the cold water which is denser moves down. Alano estimates that to heat water for a shower of one person, a 1m² panel would be enough.
Materials needed for construction:

The only material required to build a recycled water heater are:
2L plastic bottles (60),
Cartons (50)
100mm PVC pipe (70 cm)
20mm PVC pipe (11.7m)
90-degree 20 mm PVC elbows (4)
20mm PVC T-connectors (20)
20 mm PVC end caps (2)
PVC glue
Black matt paint
Paint Roller
Sand paper
Self-amalgamating tape
Tools – Rubber hammer, saw, wood or other material for the support.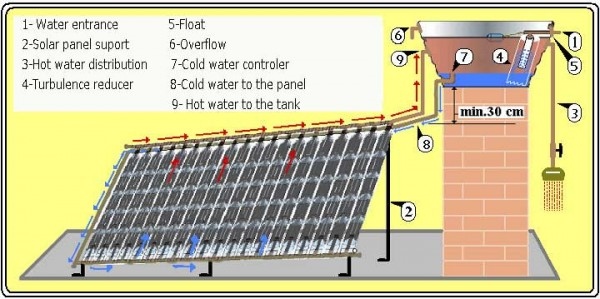 Once you get everything ready check out the diagrams in this DIY Leaflet online (PDF format in Portuguese, but the diagrams are easy to follow). use the 100mm PVC pipe as a mold and cut off the bottom of the bottles. Cut the 20mm PVC pipes into 10 x 1m and 20 x 8.5 cm pieces, and assemble with the T-connectors. Cut and paint the cartons (page10-12), as well as the one-meter long pipes. Assemble according to figure B.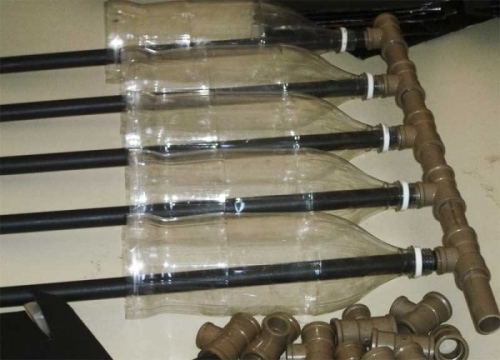 The panels must be placed at least 30 cm below the tank and be sited on a south facing wall or roof. To optimize heat absorption, the panels must be mounted at the angle of your latitude, plus 10°. In London, for instance, the panel's inclination should be 61°. Alano recommends that the plastic bottles in the panels should be swapped for new ones every 5 years: 'Over time, the plastic becomes opaque, which reduces the heat caption, while the black cartons can be repainted.' So once the bottles become opaque it is time to replace the bottles and send the used ones to the recycle dump.
Such a useful way to utilize plastic bottles: green, clean and energy efficient! Reduce Reuse Recycle the 3 R's at work! Live Green!
Source: connect-green.com
We are straying away from our roots on a dangerous road from which there will be no turning back. And the good and bad news is that we are the last generation that can truly do something about it.

We no longer know how to live without refrigerators, without cars, without phones or without supermarkets.

What will you do tomorrow if you simply are unable to buy things?

Find all the answers  in this great book  'The Lost Ways' . Learn the lost ways of our ancestors!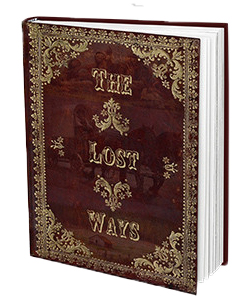 If you found this article useful, please like our Facebook page and stay up to date with the latest articles.
Other useful resources:
Drought USA:(Discover The Amazing Device That Turns Air Into Water)
Survive The End Days (Biggest Cover Up Of Our President)
Survival MD (Best Post SHTF Medical Survival Guide Ever)
Blackout USA (EMP survival and preparedness guide)
Bullet Proof Home (A Prepper's Guide in Safeguarding a Home )
Backyard Innovator (All Year Round Source Of Fresh Meat,Vegetables And Clean Drinking Water)
Conquering the coming collapse (Financial advice and preparedness )
Liberty Generator (Easy DIY to build your own off-grid free energy device)
Backyard Liberty (Easy and cheap DIY Aquaponic system to grow your organic and living food bank)
Family Self Defense (Best Self Defense Strategies For You And Your Family)
Sold Out After Crisis (Best 37 Items To Hoard For A Long Term Crisis)
Source for data and Pictures – The Ecologist