Ebola Lock Down Plan
There is no shortage of potential worst-case scenarios that all seem to be converging. The Ebola crisis has been at the top of the headlines as of late, but though they're not being talked about in any serious capacity, we are still facing other threats to our livelihoods elsewhere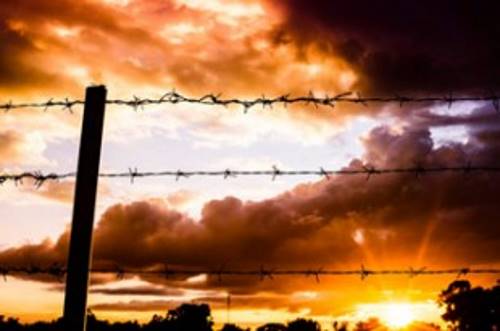 – mass migrations of people and criminal elements across our southern border, a military face-off in Europe, terrorist armies in the middle east, and the real possibility of an unprecedented economic collapse on a global scale.
 In a recent 
Daily Coin
 interview 
Survival Blog
 founder James Rawles suggests that
this may well be our last wake-up call
. Consider, for example, that there are hundreds of thousands of Americans out there right now with no idea what to do should this virus spread. They assume the government will soon have the contagion under control, and even if Ebola can't be stopped, people are banking on the notion that emergency responders will be there for them when they need help. Assuming the hospitals don't get overwhelmed and that food doesn't get stripped from the store shelves in panic buying, then yes, things should be just fine. But what happens if
the worst-case scenario
does play out, and Ebola continues to infect more people across America?
According to James Rawles, this is exactly why you need to have a long-term larder capable of sustaining your family for up to six months. Moreover, if you haven't already, it's time to consider what your lock-down plan might look like in the event you need to isolate yourself from the rest of the world.
As is always the case, the How To Survive The End of The World As We Know It author takes a pragmatic and well-balanced approach to his preparedness planning.
In addition to his thoughts on how and when to implement social distancing parameters, Rawles provides ideas and considerations that you won't hear anywhere else.
Take, for example, what you'll do with those packages you might be ordering online because you're in lock-down mode. How will you disinfect them, considering that the mail carrier could be infected? Rawles suggests having spray bottles with a Lysol solution or putting your mail in the microwave to ensure decontamination.
Or, what if you need to evacuate your home for a safer location because military martial law operations have begun in your town and the entire city has been encircled? Taking your car or walking out may not be an option, so Rawles suggests using a vehicle that most people wouldn't suspect, and one that would be prolific during a widespread Ebola disaster. Ambulances will be everywhere.
Source: freedomoutpost.com
                          Other useful resources:
Blackout USA (EMP survival and preparedness guide)
Backyard Innovator (All Year Round Source Of Fresh Meat,Vegetables And Clean Drinking Water)
Conquering the coming collapse (Financial advice and preparedness )
Liberty Generator (Easy DIY to build your own off-grid free energy device)
Backyard Liberty (Easy and cheap DIY Aquaponic system to grow your organic and living food bank)
Bullet Proof Home (A Prepper's Guide in Safeguarding a Home )
Family Self Defense (Best Self Defense Strategies For You And Your Family)
Sold Out After Crisis (Best 37 Items To Hoard For A Long Term Crisis)