Winter season is rolling up quickly and you might be faced with a blizzard or two this winter. Are you prepared and ready to deal with a snowstorm? Check out these five ways to make sure you and your family stay safe during a blizzard.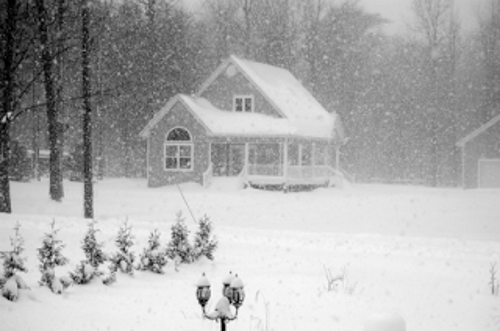 Assess Your Home Before the Blizzard Hits
Before a blizzard strikes, take some time during nicer weather to inspect your home. Check your roof to make sure there are no loose shingles or damaged areas. Check the gutters to make sure they are secure. Put storm windows or weatherproofing plastic in place over windows. Have boards or plywood ready to put in place over the outside of your windows in case a blizzard brings hurricane force winds.
Do you know what your insurance covers if your home is damaged by a blizzard? Contact your insurance agency if you need a quote for additional homeowners insurance or have questions about the insurance policy you currently have.
Have Your Heat Source Inspected
One of the most important things you will need to stay safe and survive a blizzard is a heat source. You need to make sure your main heat source is ready to go. Call in a HVAC technician to check out your furnace or hire a chimney sweep to make sure your chimney or stovepipes are clean and in order.
Check Your Smoke and Carbon Monoxide Detectors
Underwriters Insurance Brokers (BC) Ltd recommends testing every smoke detector and carbon monoxide detector in your home before a blizzard hits. If you don't have any, or enough for every level in your home, now is the time to get them. Put fresh batteries in each detector then test them. Take the time to run through fire drills with your family and talk about symptoms of carbon monoxide poisoning. Make sure everyone knows what to do in case the unthinkable happens.
While you are checking your smoke detectors, take a look at your fire extinguishers. Find out if they need to be inspected or upgraded then make sure it happens before bad weather hits.
Stock up on Items You Will Need
Make a list of necessities your family would need if you are snowed in. Stock up on non-perishable food items, bottled water, personal hygiene items, and food for your pets. Bring in additional wood or call for additional gas or fuel oil to heat your home before the bad weather starts. Have flashlights and a battery-operated radio on hand in case the electricity goes out.
Stay Home, Don't Go Out
Finally, one of the most important things you can do to ensure your safety during a blizzard is to stay home and don't go outside unless absolutely necessary. Make sure you are well-stocked with food, personal items, and fuel or wood for heat. If you have to go outside, use a rope to tether yourself to your home so you can find your way back.
Planning ahead and being ready for a blizzard can ensure that you and your family stay safe and sound — inside. Start planning now, before winter starts, and you will be ready for whatever Mother Nature throws your way.
Source: doomsdaymoose.com
Other useful resources:
Blackout USA (EMP survival and preparedness guide)
Backyard Innovator (All Year Round Source Of Fresh Meat,Vegetables And Clean Drinking Water)
Conquering the coming collapse (Financial advice and preparedness )
Liberty Generator (Easy DIY to build your own off-grid free energy device)
Backyard Liberty (Easy and cheap DIY Aquaponic system to grow your organic and living food bank)
Bullet Proof Home (A Prepper's Guide in Safeguarding a Home )
Family Self Defense (Best Self Defense Strategies For You And Your Family)
Sold Out After Crisis (Best 37 Items To Hoard For A Long Term Crisis)
About the author:
Karleia is a freelance blogger. Away from the office she enjoys scrapbooking and enjoying time with friends and family.