They are ready. Are you?
The government powers that be are preparing for continuity under any conditions.
The potential for an electromagnetic pulse (EMP) event that could wipe out the electric grid, and with it, the society that is dependent upon it is considered by security experts to be inevitable and perhaps likely in the short term.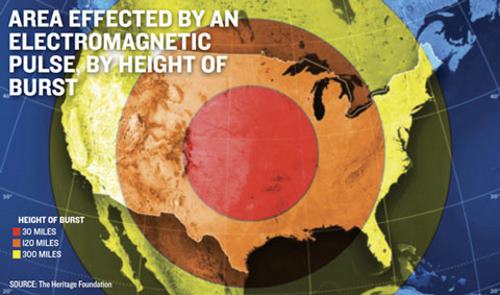 An EMP can be caused by a solar flare or by a rogue nation using a single nuclear bomb, and it could happen at virtually any time. This makes the threat strong enough for Congress and Homeland Security officials to acknowledge and plan for – while acknowledging that the general public are completely vulnerable:
'The grid is utterly unprotected from an EMP attack. It's not adequately protected from cyber or physical sabotage,' Pry told FOX. 'It's why North Korea and Iran want the bomb, have the bomb. North Korea has actually practiced this against the United States.' (source)
Now, the military is making preparations to spend more than $1 billion to move vital equipment and personnel back to the Cheyenne Mountain bunker-fortress. Essential to Cold War contingencies and operations, today, the facility offers a place for continuity of government (COG) to take hold in case of the worst.
According to Fox News:
New concerns are being raised that the nation's electrical grid and critical infrastructure are increasingly vulnerable to a catastrophic foreign attack — amid speculation over whether officials are eyeing a former Cold War bunker, inside a Colorado mountain, as a "shield" against such a strike.

North American Aerospace Defense Command is looking for ways to protect itself in the event of a massive electromagnetic pulse, or EMP, attack — a deliberate burst of energy that could disrupt the electrical grid and cripple NORAD's ability to defend the nation.

"What it could do, these various threats, is black out the U.S. electric grid for a protracted period of months or years," warned Peter Pry, executive director of the EMP Task Force, a bipartisan congressional commission. "Nine out of ten Americans could die from starvation, disease and societal collapse, if the blackout lasted a year."
The Pentagon has downplayed the idea that it is 'moving back in,' but nonetheless, the focus is revealing about what forecasters see coming. It is being officially recognized as an alternative command center, but that has been going on for years.
"We are not moving back to the mountain," Davis told Fox News. "The mountain's ability to provide shield against EMP is certainly a valuable feature, and that is one reason we maintain the ability to return there quickly if needed — but we aren't 'moving back' per se."

"My primary concern was, are we going to have the space inside the mountain for everybody who wants to move in there?" Adm. William Gortney told reporters. "I'm not at liberty to discuss who's moving in there, but we do have that capability to be there."

NORAD spokesman Capt. Jeff Davis pushed back on the idea that NORAD is relocating its headquarters, but acknowledged its advantages in the case of an EMP attack. And he did say Cheyenne has served as an alternate command center since 2006.
The military is putting particular focus on protecting its operations in computers and communications equipment, as the Daily Mail reported:
'A lot of the back office communications is being moved there,' said one defense official.

Officials said the military's dependence on computer networks and digital communications makes it much more vulnerable to an electromagnetic pulse, which can occur naturally or result from a high-altitude nuclear explosion.

Under the ten-year contract, Raytheon is supposed to deliver 'sustainment' services to help the military perform 'accurate, timely and unambiguous warning and attack assessment of air, missile and space threats' at the Cheyenne and Petersen bases.
Meanwhile, the government has yet to commit to plans to reinforce, replace and/or protect the grid, leaving everyday people more vulnerable than ever to losing everything – if and when a hostile entity in any form takes aim at society.
But there are many things individuals can do to shield their home, get off the grid and protect their electronic equipment. Even the government security experts are making this point.
Source: shtfplan.com
Other useful resources:
Drought USA:(Discover The Amazing Device That Turns Air Into Water)
Survive The End Days (Biggest Cover Up Of Our President)
Survival MD (Best Post SHTF Medical Survival Guide Ever)
Blackout USA (EMP survival and preparedness guide)
Bullet Proof Home (A Prepper's Guide in Safeguarding a Home )
Backyard Innovator (All Year Round Source Of Fresh Meat,Vegetables And Clean Drinking Water)
Conquering the coming collapse (Financial advice and preparedness )
Liberty Generator (Easy DIY to build your own off-grid free energy device)
Backyard Liberty (Easy and cheap DIY Aquaponic system to grow your organic and living food bank)
Family Self Defense (Best Self Defense Strategies For You And Your Family)
Sold Out After Crisis (Best 37 Items To Hoard For A Long Term Crisis)