This article first apeared on Readynutrition.com
Three weeks without food is survivable, but three days without water will kill you. With water being one of your main survival priorities, you want to know multiple ways of procuring this vital resource in an emergency situation. There are hidden water sources in your home, as well as in the wild. Knowing how to fine tune your skills in order to make the most of a precarious situation will save you time, energy, and potentially, your life.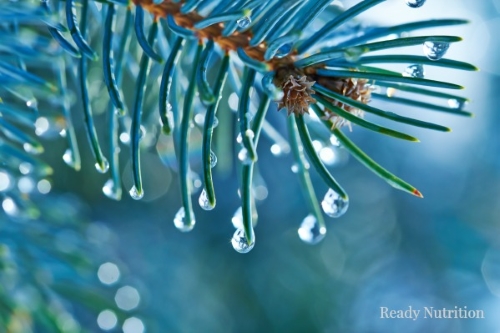 Survival Tips for Locating Water
If you find yourself in the wild without water, there are ways to locate it. The following survival tips are common sense, but many forget them when lost in the wild.
Locating contour lines in the earth and following them will more than likely direct you to water source you can use. Keep in mind that all rivers and streams will end up in one central location. For example, if you come across a dry creekbed and follow it far enough, you will find a water source.
Another common sense survival tip to remember is when snow melts, it travels down mountain ridges and creates rivers, streams and lakes. The further you move down a mountain crevice, the more likely you will find water. Therefore, when locating water on foot and near mountains, follow the crevices the crevices of mountain ridges and you will likely find water sources near the bottom.
If you are unable to find water sources, check out these videos on ways to find water in the most unlikely places.

Transpiration
Heavy dew can provide one with an ample source of water. Dew will settle on foliage such as grasses and tree limbs at night. If you have a plastic bag (sandwich bag, trash bag, grocery bag, mylar blanket) in your pack, you can cover the limbs of trees and add a rock to provide weight. Secure the bag to collect moisture from the air. Over the course of the day the plant will transpire and produce moisture that will collect at the low point. Poke a hole in the bottom of the bag and collect the water. The video shows you the classic way of collecting moisture from the air, but it also shows you a quick and easy way of accessing it. Watch the video to see what I mean.

Tap a Tree
The guys over at Sigma 3 Survival School demonstrate a rather primitive way of tapping a tree to procure water. Bear in mind this technique only works in late winter/early spring and when the sap is running high in the tree. As well, this only works with certain trees such as birch and maple. Although I have never tried this method, the video states you can get enough water to fill a canteen and the water is already filtered.
Dew Collection
Here's another great video from Sigma 3 Survival School and is a relatively easy way to collect a considerable amount of water. Absorbent bandanas, towels or shirts can collect water in a short amount of time. You can also tie absorbent material to your shins and walk through tall grasses to collect morning dew. Remember, you want smart survival tricks in order to conserve energy levels.
Dowsing/Divining
I've always been apprehensive on making the suggestion of using copper dowsing rods as a way to find water, but it has been used for centuries to locate underground water supplies. The two main items needed for dowsing is a metal "L" rod and a humble stick shaped like a fork. Click on the video below to see how easy it is to use these simple tools to locate water. Once water is found, all you need is a shovel to dig it up.
Knowing the hidden sources of water in your area and how to procure it will keep you alive. Remember, just because water looks clear and clean, does not mean it is safe to drink. You can chemically treat your water using purification tablets, iodine and chlorine, have a portable water filter such as the Katadyn Pro Hiker or LifeStraw, or distill or boil it. Ensure that you have a means to filter or purify your water in order to avoid water-borne illnesses.

____________________________________________________________________________________
READ ALSO:
Other useful resources:
Drought USA:(Discover The Amazing Device That Turns Air Into Water)
Survive The End Days (Biggest Cover Up Of Our President)
Survival MD (Best Post SHTF Medical Survival Guide Ever)
Blackout USA (EMP survival and preparedness guide)
Bullet Proof Home (A Prepper's Guide in Safeguarding a Home )
Backyard Innovator (All Year Round Source Of Fresh Meat,Vegetables And Clean Drinking Water)
Conquering the coming collapse (Financial advice and preparedness )
Liberty Generator (Easy DIY to build your own off-grid free energy device)
Backyard Liberty (Easy and cheap DIY Aquaponic system to grow your organic and living food bank)
Family Self Defense (Best Self Defense Strategies For You And Your Family)
Sold Out After Crisis (Best 37 Items To Hoard For A Long Term Crisis)