Everyone should know CPR and basic First Aid techniques, these skills can help save the lives of a loved one, or even a complete stranger, any day, any time – but they are especially critical in the face of a disaster or national emergency.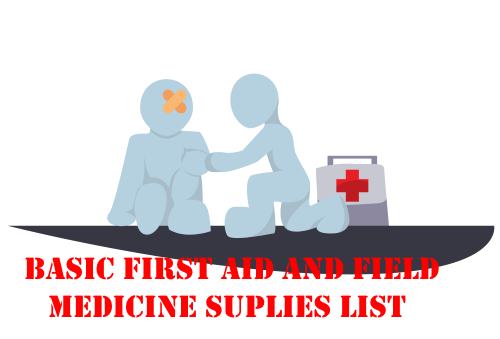 So for a few weeks or so, give up your bowling night, or one night of partying, or going to the movies, or what ever else it is you do once a week, and sign up for a CPR and Basic First Aid Class. You can find one by check with your local fire station, local hospitals or local chapter of the American Red Cross.
First Aid Kit
Your home, your car, your place of business, and your Go-Bag need to have at least a basic First Aid Kit. A well-stocked first-aid kit can help you respond effectively to common injuries and emergencies. A basic kit should include at least the following:
Basic Supplies
Adhesive tape
Antibiotic ointment
Antiseptic solution or towelettes
Bandages, including a roll of elastic wrap (Ace Bandages) and bandage strips
(Band-Aids) in assorted sizes
Instant cold packs
Cotton balls and cotton-tipped swabs
Disposable latex or synthetic gloves, at least two pairs
Duct tape
Gauze pads and roller gauze in assorted sizes
Eye goggles
First-aid manual
Petroleum jelly or other lubricant
Plastic bags for the disposal of contaminated materials
Safety pins in assorted sizes
Tooth preservation kit consisting of salt solution and a sealable case
Scissors, tweezers and a needle
Soap or instant hand sanitizer
Sterile eyewash, such as a saline solution
Syringe, medicine cup or spoon
Thermometer
Triangular bandage
Turkey-baster or other bulb suction device for flushing out wounds
Medications
Activated charcoal (use only if instructed by your poison control center)
Aloe Vera gel
Over-the-counter oral antihistamine (Benadryl, or generic Diphenhydramine)
Aspirin
Calamine lotion
Over-the-counter hydrocortisone cream
Personal medications that don't need refrigeration
If prescribed by your doctor, drugs to treat an allergic attack, such as an autoinjector of epinephrine (EpiPen).
As with your Go Bag, keep your First Aid Kits easily accessible in an emergency.
Make sure everyone in your family, or place of business, knows where the Kit is located. Make sure you are familiar with, and know how to use all of the items in your First Aid kit before you need them. Check on the items periodically, and make sure they are fresh, and usable – replace old, dried out or expired items as needed.
Your First Aid Kit probably came with a First Aid Manual that details how to use the items, and what to do for the most common emergencies. If your kit did not come with a First Aid Manual, get one. There are any number of "Pocket First Aid Guides" you can find on Amazon. Besides, if you followed my advice at the top of the Chapter, and got some First Aid training, you won't need a manual, as you will be able to call upon your
Training, or refer back to the manual you were given in the class.
In any case I won't rehash any of that training, or readily available info here. What I will tell you is what I learned in the field, and the stuff those other manuals and classes won't.
Field and Emergency Medicine
Wounds
In a survival situation, where you are cut off from civilization and or medical personal for an extended period of time, even minor wounds can become seriously life threatening.
Open wounds are serious in a survival situation, not only because of tissue damage and blood loss, but also because they will likely become infected. Bacteria on the object that made the wound, on the injured person's skin and clothing, or on other foreign material or dirt that touches the wound may cause infection. By taking proper care of the wound you can reduce further contamination and promote healing.
Clean the wound as soon as possible after it occurs by removing or cutting clothing away from the wound.
Always look for an exit wound if a sharp object, gunshot, or projectile caused the wound.
Thoroughly clean the skin around the wound.
Rinse; do not scrub the wound with large amounts of water under pressure.
Though not recommended, you can use fresh urine if water is not available.
Forget what you have seen in the movies!
 The "open treatment" method is the safest way to manage wounds in survival situations. Do not try to close any wound by suturing, cauterizing, or similar procedures. Leave the wound open to allow the drainage of any pus resulting from infection. As long as the wound can drain, it generally will not become life-threatening, regardless of how unpleasant it looks or smells.
In a survival situation, some degree of wound infection is almost inevitable. Pain, swelling, and redness around the wound, increased temperature, and pus in the wound or on the dressing will let you know if it has become infected. In the absence of antibiotics, if your wound becomes infected, you should treat as follows:
Place a warm, moist compress directly on the infected wound. Change the compress when it cools, keeping a warm compress on the wound for a total of 30 minutes. Apply the compresses three or four times daily.
Drain the wound. Open and gently probe the infected wound with a sterile instrument.
Dress and bandage the wound.
Drink a lot of water.
In the event of gunshot or other serious wounds, it may be better to rinse the wound out vigorously every day with the cleanest water available. If drinking water or methods to purify drinking water are limited, do not use your drinking water. Flush the wound forcefully daily until the wound is healed over. Your scar may be larger but your chances of infection are greatly reduced.
Continue this treatment daily until all signs of infection have disappeared.
Maggot Therapy
If you do not have antibiotics and the wound has become severely infected, and shows no signs of healing — consider maggot therapy as detailed below, despite its hazards and generally disgusting nature:
Expose the wound to flies for one day and then cover it.
Check daily for maggots.
Once maggots develop, keep wound covered but check daily.
Remove all maggots when they have cleaned out all dead tissue and before they start on healthy tissue. Increased pain and bright red blood in the wound indicate that the maggots have reached healthy tissue.
Flush the wound repeatedly with sterile water or fresh urine to remove the maggots.
Check the wound every 4 hours for several days to ensure all maggots have been removed.
· Bandage the wound and treat it as any other wound. It should now heal normally.


Other Useful Resources :
Drought USA  (Discover The Amazing Device That Turns Air Into Water)
Survive The End Days (Biggest Cover Up Of Our President)
Survival MD (Best Post SHTF Medical Survival Guide Ever)
Bullet Proof Home (A Prepper's Guide in Safeguarding a Home )
Sold Out After Crisis (Best 37 Items To Hoard For A Long Term Crisis)
Family Self Defense (Best Self Defense Strategies For You And Your Family)
Backyard Innovator (All Year Round Source Of Fresh Meat,Vegetables And Clean Drinking Water)
Blackout USA (EMP survival and preparedness)
Conquering the coming collapse (Financial advice and preparedness )
Liberty Generator (Easy DIY to build your own off-grid energy source)
Backyard Liberty (Easy and cheap DIY Aquaponic system to grow your organic and living food bank)
Copyright Information:This content may be freely reproduced in full or in part in digital form with full attribution to the author and a link to www.bioprepper.com. All links in articles must remain intact as originally posted in order to be republished. Please contact us for permission to reproduce this content in other media formats. If you would like to be notified of new articles, contests and Prepper news, please sign up for our daily newsletter, follow us on Twitter, Like Us on Facebook or follow us onGoogle+.