Despite all the scary scenarios, staying and defending your home during a crisis is probably the most reasonable course of action. Staying in the city may sound crazy but there are easy and effective solutions to counter most of the problems you'll face. For instance, putting up a few warning signs and displaying your willingness to use force and defend your property will usually send all the looters and freeloaders on to the next house. The looters and hungry people will have plenty of easy victims to pick on and they'll leave you be if they know you mean trouble.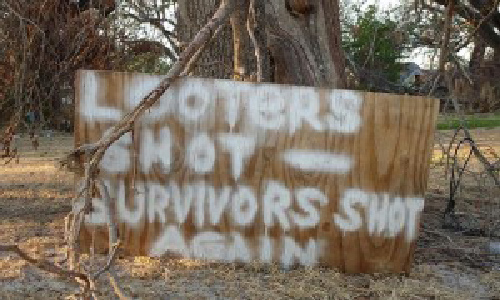 I`m sure you`ve seen this message "Looters will be shot" before on TV, or on the internet. Or maybe one of your neighbors has already written it on his house walls. But I wouldn`t suggest you do the same thing. And I`ll tell you why in just a moment.
But let`s see why this whole fuss about looters began in the first place. When hurricane Katrina hit New Orleans, a lot of people were forced to evacuate their homes and leave everything inside. But they never found them when they went back. And no, it wasn`t the storm. It was looters. They started walking around from house to house, guns in their hands, stealing money and valuables. And threatening or even injuring everyone who dared get in the way.
But they didn`t get to leave unpunished. By the time they finished their "rounds", people organized a resistance group. They were armed and thirsty for vengeance. And they wanted the whole world to know it. So they got a spray paint and they wrote this message on a wall: "Looters will be shot".
With all that said, I want to be realistic with you. What I am going to suggest is not going to make your house bulletproof. It will not stop a tank or military assault or prevent a fire. It will probably not stop several determined people who have the time to attack unopposed either, but it could give you just enough of an advantage that it could save your life and hopefully make them look for an easier target. What I plan to highlight are several considerations that you can implement that are relatively easily which can make it a little harder for people who want to get in and cause you harm or try and take what you have. This should offer some protection from the casual thief or looter, not necessarily the mutant zombie biker gang.

Step 1 – Gathering intelligence
First things first. Before you even consider how you would begin the planning process of defending your home it helps to know what is around you. By that I mean understanding what is in the area immediately surrounding your home and expanding outward from there, further out. I recommend periodically conducting what I call the neighborhood RECON to familiarize yourself with what is going on in your neighborhood. I don't mean simply knowing your neighbors although that is very important; what I mean is knowing how to get to your house by methods other than the surface roads. What are the landscape features that may help or work to your advantage? Knowing who has certain resources that may become targets will give you information that the looter who is driving through won't have. This can be as simple as taking walks through your neighborhood, but the key is to pay attention to details.
Having area maps is another step you can take in planning defenses and even exit strategies if the need arises. You can go online and order very detailed Topographical Maps from the USGS store. Knowing this information before you need it can show you paths of likely drift and avenues you can use to escape.
Once you know what is around you, another prerequisite to any defensive strategy is intelligence. The first and perhaps most important piece of intelligence is knowing who is in the area. It is important to know as far in advance as possible when someone is headed to your position before they are actually at your door. For a lot of people, this would be difficult without a large group and training. If you live in an apartment complex, this article might not work for you. On the other hand, you may be able to use the other people in your apartment complex to form a network that can take turns watching activity and alerting anyone of an advancing threat. If you have a typical home you do still have neighbors unless they have bugged out already. A security network would be even more advantageous in this situation but I will discuss how that might be set up in another post. For this discussion, lets pretend you are mostly on your own.
RELATED: Bullet Proof Home (A Prepper's Guide in Safeguarding a Home )–VIDEO
If we think about defense in rings around your home where the first ring would be your home itself. Going out from there would be your yard and then going out from there maybe 2 houses or 200 feet in either direction. These rings would indicate where you have different methods of identifying and stopping the threats. Ideally, you would want to know that someone is coming as early as possible so the outermost ring would demonstrate that distance. How would you be able to tell if someone was a few houses away and headed to your position or who at a minimum was worthy of additional scrutiny?
Assuming again that you are on your own, that you don't have an squad of marines or a checkpoint at your disposal you would optimally have a method of knowing what is going on all around your property. This usually requires an position that is elevated so you can see over houses and bushes. Without having to have a guard tower installed one option could be a tree climbing stand or my personal favorite, a kids tree house. These can give you the ability to gain an advantage and see a larger piece of the surrounding area. This may not be practical or possible so your advance notice will need to be adjusted to the defensive ring that you can see. If you can only see your yard then you greatly reduce the amount of head start notice you can have for this type of situation. It may also be that you must stay inside for quarantine or weather issues.
A simple way to be alerted to approaching people is wireless Motion detectors. Motion detectors outside can alert you to someone who shouldn't be there. Assuming that we are talking about a real crisis here, there is a high probability that the power won't be working. This is when having your own backup power would be extremely helpful but there are other, low-tech options you can deploy that work as well. If you have power and motion detectors at the perimeter you will have advance warning of someone who is entering your yard. Using this you can run to where the threat is coming from and address it or at the very least be ready to address it when they reach your home. Dakota alert has systems designed for this exact purpose.
There are also small trip wire devices that will pull a pin that triggers a .22 blank cartridge. These can easily be set up (provided you have blank .22 shells) and can alert you audibly. You can set the wires up in the places that someone would most likely travel to make it to your home and when they go off, you would have advance warning that someone is approaching.
There are other low-tech options too like setting up a string of cans on the porch that can make noise once the line holding them has been disturbed or crushing a light bulb so that you hear the glass breaking as someone walks on it. These are less ideal and probably work better in the movies in situations with complete darkness, but can work in some cases. The perfect system alerts you well in advance of when someone is near your home, but you do have to be able to hear it.
Now that we know what type of scenario we may have to defend our homes and families from and have a general understanding of knowledge that can help us, I want to talk about some options. Again, just to be clear that anything we plan for can be undone by a wide variety of factors. The suggestions aren't meant to imply that you will have an impenetrable fortress, but it may buy you some time and will offer more protection than just closing the curtains.
Read this great article on booby-traps.
Step 2 – Preventing access

Knowing when someone is approaching is only half of the problem. The real challenge is to keep them away as far as possible. If you have a group of people, this may mean meeting whoever is approaching far away from your property and dealing with any threats there as opposed to your front door. If this isn't possible and you are forced to retreat, then your next best bet would be to not let them have an easy way into your house.
Starting with the driveway and your yard, if you can, move your car further away from the house to block access. Provided the bad guys don't drive through your yard, this would prevent them from rolling up close to your house very quickly. Every yard is different of course, but these are just ideas. In a true collapse scenario it may be necessary to block the road entirely. Of course, this only matters if cars are still functioning, but let's assume they are. This is something you would want to discuss with your neighbors naturally, but could be an effective way of blocking or slowing vehicle traffic. Blocking access to your neighborhood can be done a lot of ways and could provide a first line of defense against anyone who isn't supposed to be there gaining access easily.
No matter what the roadblock is, unless you have a high wall guarded by a moat with crocodiles, even if they have to walk a little, they will eventually make it to your home. I started thinking about the preparations that homeowners make before a hurricane and this seems perfectly logical to apply to this situation. During a hurricane, windows and doors are boarded up to protect your home from a vicious assault by Mother Nature. The same could be done with your home to great effect. There was actually even an episode of Doomsday Preppers where one of the featured preppers, Jay Blevins already had this idea.
With some planning now while everything is relatively normal, you could acquire sheets of plywood and have them cut to fit over your window openings. This of course could be done later I guess, but it would be quicker to have them pre-cut and numbered for easy installation. Jay's plan was to cover all of the ground floor windows and doors to prevent people from entering while leaving the second story windows open. This seems like a great idea too because he could coordinate fire on the people below if they really started trying to get in with axes or chain saws. The plywood boards themselves are attached via long bolts to a horizontal board going over the window opening inside so there are no nails or screws that can be pried out. That is pretty smart.
The weather is a consideration too because if it is hot outside you likely aren't going to want to board up all of your windows and doors. Even drilling vent holes in the windows won't help much and could weaken the strength of the board.
Even if you have everything boarded up, you will likely still need to get into and out of your home unless your supplies of food and sanitation can keep you comfortably confined for a while. An exterior door with protected access would need to be your way out, but you could have this barricaded with items that can be moved later.
Step 3-Slowing access
Maybe you don't have the time or money to have every window and door around your house fitted with heavy-duty plywood. You can still board up windows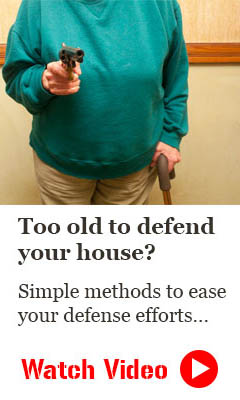 and doors. This is another reason to keep scrap wood and lumber around because if you can't keep someone out permanently, at least you should be able to slow them down. Couches and refrigerators in front of doors will slow people down. Implements like the Bar-Ricade bar or something like the Master Lock Door Security Bar will reinforce your entry doors and should slow an attacker down. The Armor Concepts door jamb hardware kit is simple to install and will reinforce your doors so they can't be easily kicked open. Will they stop a big police style battering ram? I don't know but they are better than nothing.
Step 4-Reaction Plan
If you have some level of difficulty set up on your exterior entrance points, there will undoubtedly be noise associated with someone trying to get in. You may have a dog that is warning you also and I would say pound for pound they would make the best intrusion detection system unless your dog was like ours and got a little too sleepy after steak night. That's my fault though.
You should prepare well in advance for situations where someone is trying to get into your house. Several methods can be deployed to try and fool you into thinking the attack is coming from one direction when actually it is coming from two or three. Once you have been alerted to someone trying to gain access, the key is to move quickly. Knowing ahead of time who is going to the front and who is going to the rear will give you two sets of eyes instead of one and hopefully you have some firearms for self defense so you will have two means of defending yourself and your home also. This may be easier said than done if the members of your party are wounded, sick or tired from guarding against assault all night. Depending on your defenses, the people attacking if they are smart will come at you from more than one location. This is so that if they can get you to focus on the front door while another one of them sneaks in the back they can attack you from two sides.
Step 5-Plan for distractions
If the people attacking you are a small group they will likely try to distract you with noise or commotion in one area while they sneak in another. If possible have one person deal with the commotion in the front and position another in the back. This will give you the ability to at least deal with someone from either direction. If this isn't possible you may have to fall back into a hallway or some other narrow spot so that you can concentrate fire if they do enter your house.
Step 6-Take the high ground
If you have a second floor, your fallback position might be the second floor. If this happens, and they have gotten into your house you have to block their access to you at all costs. Stairways can be deadly if you are the person at the top firing down on the intruders. Obstacles on the stairs can slow them down; even throwing items at them while they are trying to navigate the stairs can slow an advance. This might sound a little too much like Home Alone, but we aren't all Navy Seals (even the bad guys) so fight with everything you have. It may be your bowling ball, but if you crush a skull of someone who was trying to kill you who is going to care that you saw it on a movie?
Step 7-Get a dog
This one is obvious. Everyone knows that a barking dog spells danger. When you hear a dog barking, you never know if it's a big mean dog or just a little one. Considering how devastating an attack from a dog can be, most criminals will avoid any house that has dogs, especially noisy ones. A well trained guard dog is an excellent addition to any family trying to defend their home. You'll require extra food and water but the investment is worth it. Their hearing and smell is second to none and they can be extremely vicious. They aren't necessarily deadly but they're good for keeping people back… a growling large dog with its teeth showing is pretty good at inserting fear in people. If you've had the dog long enough, it will become a part of your family. They are extremely loyal and will gladly jump into the face of danger in order to protect you. Dogs are also light sleepers, so expect to be woken up on a regular basis to the sound of barking, consider it a warning!
Step 8- Make a backdoor escape
If you are forced to retreat into the second floor, having a way out may be your last hope. This could be a window ladder down to the first floor or attic access to a point that you could escape. If this is really your last stand barricade the doors again to give you more time to exit and run if possible. Our attic gives me access to a door over the garage and I can escape through there and out into the yard. If I had to I would punch a hole in the wall to gain access to the attic and then try to escape while the bad guys were trying to get into the room on the second floor. Whatever you do you have to try and fight to survive.
If you are forced to flee, you should have a rally point already defined to meet everyone at in times like this. Hopefully everyone makes it there and you could have supplies stashed in a hidden cache so that you aren't completely out of options for continuing to survive.
Step 9- Live to fight another day
Hopefully, if things have gotten so bad that you have to employ any of the suggestions above just to stay alive you were able to defend yourself before you had to run away from the house. However, it may not work that way. You may have to run away to live and I think running and living in some cases is better than standing and dying. Now, I wouldn't say this if I didn't have everyone in my group with me, but I think you get the point.

Hopefully that gave you some ideas. If you have any suggestions for everyone else, please let us know in the comments below.
OTHER USEFUL RESOURCES:
The 3 Pioneer Survival Lessons We Should Learn
The Most Effective Home Defense Strategies
Old School Hacks for Off-Grid Living
The Medical Emergency Crash Course
The Smart, Easy Way to Food Independence