It's the end of the world
These days it's impossible to avoid talk of the apocalypse. YouTube offers hundreds of thousands of clips that warn viewers about their fate and advise them how to survive. And Hollywood has been cashing in with blockbuster apocalyptic films that explore everything from plagues and nuclear warfare to aliens and zombies.
The summer of 2013 has seen an inordinate number of end-of-the-world films, including "This Is The End," "Pacific Rim" and the highly-anticipated Brad Pitt movie, "World War Z." (Perhaps Pitt should read our guide to surviving a zombie outbreak.)
With that much screen time devoted to the end of the world, it raises a natural question: Where should you go if all hell breaks loose? We've got some options for you.
The Greenbrier Resort
The Greenbrier is a luxury resort in White Sulphur Springs, W. Va., but it's not the hotel's lavish amenities that make it ideal for waiting out the apocalypse. It's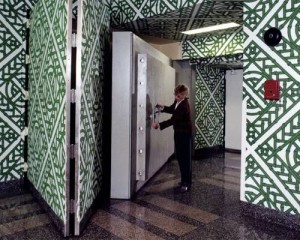 the massive underground bunker beneath the property.
The 112,544-square-foot bunker was commissioned in 1958 to house Congress in the event of nuclear holocaust. The facility, which was built 720 feet into the hillside, was completed in 1961, and the Cold War government immediately stocked it with survival supplies. The bunker had three outdoor entrances and one secret entrance inside the resort — a 25-ton blast door. It also featured decontamination chambers, a power plant, water storage tanks, a clinic with operating rooms, an intensive care unit, a pharmacy and dormitories that could accommodate more than 1,100 people. How did the government upkeep such a massive survival effort? A group of employees worked undercover as Forsythe Associates, a company hired by The Greenbrier for audio/visual services.
The location of the facility remained a secret for more than 30 years until The Washington Post exposed it in a 1992 article. At that time, the government ended its lease agreement with the resort, and The Greenbrier began offering bunker tours. Although the underground bunker is no longer stocked with survival supplies, it makes an ideal apocalyptic hideout — especially in the event of nuclear war.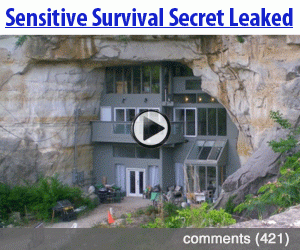 Vivos survival shelter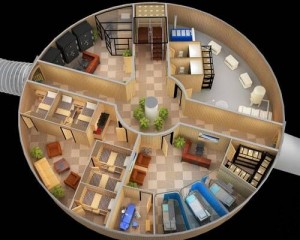 Underground survival bunkers may conjure up images of small, dusty rooms — not the kind of place you want to spend years in as you wait for radiation to fade or zombies to be destroyed. Luckily, $50,000 can get you a bunk in Vivos' luxurious underground survival shelter.
The 13,000-square-foot, nuke-proof bunker is located in the Mojave Desert. (Vivos owner Robert Vicino won't reveal the exact location to prevent freeloaders from trying to get in when disaster strikes.) The shelter will include an atrium with a large TV, a gym, comfortable beds and enough gourmet food for a year — the menu features everything from sloppy joes to pearl potatoes. There's even a jail if cabin fever gets people a little rowdy.
The Vivos shelter system has been engineered to withstand a 50-megaton blast and virtually any other force that nature or man can create. Vicino says the bunker provides protection from a host of apocalyptic disasters: pole shifts, solar flares, asteroids, nuclear bombs, chemical warfare, etc. (Zombies weren't specifically mentioned, but a self-contained shelter located far from a populated area seems safe enough.)
Vicino has already collected deposits on half of the 132 spaces in the Mojave shelter, and he's still taking reservations: $5,000 for adults, $2,500 for kids. Pets are free. If the Mojave is too far for you to travel, don't worry. Vivos plans to build an entire underground network of shelters strategically located across the U.S.
Mount Weather
If it was safe enough for Dick Cheney on Sept. 11, it should be safe enough for you on doomsday. But the Mount Weather Emergency Operations Center, a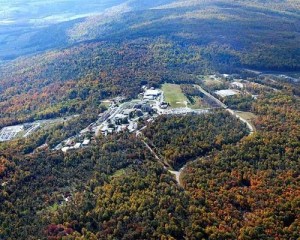 FEMA facility, may be difficult to gain entry to in the event of apocalypse.
Built during the Cold War as a relocation site for high-level officials in case of national disaster, Mount Weather plays a key role in U.S. continuity of government plans. It's located in the Blue Ridge Mountains about 48 miles from Washington, D.C., and consists of two parts: the above-ground FEMA complex and the 600,000-square-foot underground facility.
Mount Weather has its own leaders, its own police and fire departments and even its own laws. No one has ever been allowed to tour the underground complex, but in 1991, Time magazine published an expose after talking to one of the facility's retired engineers. He described a sprawling bunker complete with mainframe computers, air circulation pumps and a television and radio studio for post-nuclear presidential broadcasts.
You can access Mount Weather via Virginia State Route 601, but your odds of making it past the armed guards on doomsday aren't good — unless you're a priceless work of art. The National Gallery of Art is rumored to have developed a program to transport valuable paintings to the bunker via helicopter in the event of disaster.
Silohome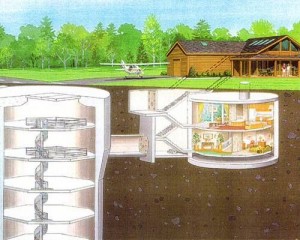 During the 1950s and 1960s, the U.S. government built hundreds of Atlas-F missile silos in preparation for a nuclear attack that never came. Most of these silos were abandoned, but Bruce Francisco and Gregory Gibbons acquired one in New York's Adirondack State Park and transformed it into an underground haven.
Silohome sits atop a 1,350-foot mountain overlooking the Saranac River Valley and is surrounded by acres of untouched wilderness, which means it's ideal for many of your post-apocalyptic duties: farming, hunting and fishing. On the surface it features a hangar, living room with fireplace and a wraparound porch, but the best stuff is below ground. In what was once the 2,300-square-foot launch control center there are now three bedrooms, 2.5 bathrooms, a living area and a kitchen.
Don't feel safe enough? Well, there's always the 20,000-square-foot silo that's connected to the underground living quarters via a tunnel complete with "Star Wars doors." It's the perfect place to stockpile canned goods and ammunition, or you can give it a home makeover so you and the family can kick back and enjoy the nuclear winter in comfort. Buy it now for just $2.3 million — cash only.

Capitol Visitor Center
In the event of chemical, biological, nuclear or terrorist attack, you might think that Washington, D.C. is the last place you should be. After all, who's most likely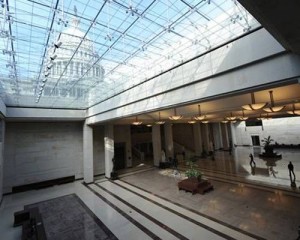 the target of such an attack? But if you can gain access to the top-secret bottom floor of the Capitol Visitor Center, you just may survive.
The CVC is a three-level, 580,00-square-foot building built entirely underground on the east side of the Capitol. The leviathan visitor center is supposedly built below ground "so as to enhance rather than detract from the appearance of the Capitol," but not everyone believes that. It's rumored that the building is actually designed to be a haven for lawmakers in the event of disaster — the entire bottom floor is reserved for Congress' use and is off limits to the public.
Although the building was designed before the 2001 terrorist attacks, according to the architects, RTKL, the floor plans were amended after 9/11 and fitted "to deliver adequate security measures and material protection." No one will say if the building provides protection from bombs, nuclear threats or biological or chemical incidents; however, the CVC does have four bombproof skylights and a tunnel system large enough for vehicles to move around. The building also has a sophisticated IT infrastructure that houses hundreds of thousands of feet of fiber-optic cable.
Site R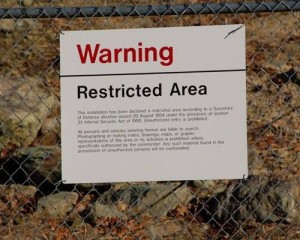 The Raven Rock Mountain Complex, also known as Site R or the "underground Pentagon," is located about 9 miles from Waynesboro, Pa., and 6 miles from Camp David. It was built in the 1950s and has been waiting for Armageddon ever since.
The official plans for Site R called for an underground command control center that consisted of miles of tunnels and access shafts to the surface, but no will say what's actually on site. It's rumored that Raven Rock is home to an entire underground city — complete with streets and pumped-in air — that can survive a nuclear blast or an electromagnetic pulse. Some people say the bunker can sleep 3,000 people, houses a large supply of MREs (meals ready-to-eat) and features a special presidential apartment.
Although the facility was constructed around the same time as The Greenbrier bunker and Mount Weather, far less is known about this government complex. Documents referencing Site R simply say "it is unlawful to make any photograph, sketch, picture, drawing, map or geographical representation" of the site. Of course, in the age of Google Earth, this degree of secrecy seems somewhat futile.

Survival Condo
Building luxury underground bunkers seems to be all the rage these days, and there's really no reason not to reserve a space in one. After all, paper currency is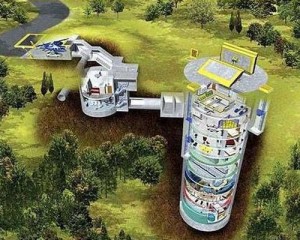 going to be useless in a post-apocalyptic world so you might as well spend your money now, right?
Survival Condo is pricey, but you get what you pay for. Built in a former Atlas-F missile solo, the condo extends 200 feet below the Earth's surface and boasts epoxy-hardened concrete walls to keep you safe from nuclear attack. The shelter is powered by solar panels, a generator and its own wind turbine, and it boasts a digital weather station. But the $1.75 million required to buy a full-floor unit ($900,00 for a half floor) doesn't just buy you power and security.
In addition to your condo's stainless steel GE appliances, Kohler bath fixtures and Jacuzzi tub, your new underground home will also come equipped with a full-size pool, a spa, a fitness room, a library and a movie theater (I hope you like reruns). You'll dine on a diet of organic produce and homegrown fish fresh from the facility's state-of-the-art hydroponic and aquaculture center. And there's no reason to fear the anarchy outside your apocalyptic haven because Survival Condo's owner, Larry Hall, promises the silo will have a military grade security system — complete with lethal and nonlethal defense capabilities.
Cheyenne Mountain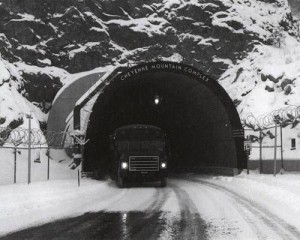 The Cheyenne Mountain Complex is yet another government facility that was built into the side of a mountain during the Cold War. Located just outside of Colorado Springs, Colo., the facility is home to a variety of government operations, including NORAD (North American Aerospace Defense Command).
The operations center lies inside a tunnel bored a mile into the mountain — a tunnel that's designed to route a blast's shock wave out the other end past its 25-ton blast doors. Inside the mountain you'll find several intersecting chambers and 15 freestanding buildings — 12 of which are three stories tall.
Like all good apocalyptic hideouts, Cheyenne Mountain is designed to be self-sufficient.It can protect its inhabitants from nuclear fallout and biological and chemical warfare through its elaborate air-purifying system that filters out harmful pathogens, chemical particles and radioactive material. It even has powerful springs that can absorb energy from earthquakes and bombs. Electricity comes from Colorado Springs, but there are six 1,750-kilowatt diesel generators for backup. There's also a massive underground water supply — four excavated reservoirs hold 1.5 million gallons of water. In fact, they're so large that workers sometimes cross them in rowboats. Can you say post-apocalyptic pool party?
Your crazy neighbor's house
With thousands of people preparing for the apocalypse worldwide, the odds are good that you live near one of them. You probably saw him digging a well in the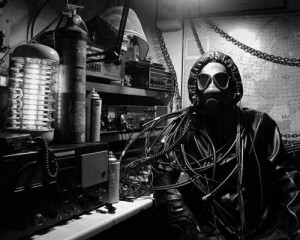 backyard, you might have noticed that he spends a lot of time in that shed, maybe you caught a glimpse of his arsenal when you borrowed a cup of sugar. Perhaps he's even invited you to an American Preppers meeting or tried to persuade you to invest in gold or buy survival seeds.
It doesn't matter how you identify the suburban survivalist — what's important is that you befriend him. Strike up a conversation about affordable semiautomatic weapons, offer to help him build that 15-foot electric fence, make biodesiel together. This man isn't crazy — he's just prepared. Bond with him, learn his ways, and maybe  you'll have a safe place to go when the sky starts falling.
Source:www.mnn.com
OTHER USEFUL RESOURCES!
Mega Drought USA:(Discover The Amazing Device That Turns Air Into Water)-DIY
Survive The End Days (Biggest Cover Up Of Our President)
Survival MD (Best Post SHTF Medical Survival Guide Ever)
Blackout USA (EMP survival and preparedness guide)
Bullet Proof Home (A Prepper's Guide in Safeguarding a Home )
Backyard Innovator (All Year Round Source Of Fresh Meat,Vegetables And Clean Drinking Water)-DIY
Conquering the coming collapse (Financial advice and preparedness )
Liberty Generator (Easy DIY to build your own off-grid free energy device)
Backyard Liberty (Easy and cheap DIY Aquaponic system to grow your organic and living food bank)
Family Self Defense (Best Self Defense Strategies For You And Your Family)
Sold Out After Crisis (Best 37 Items To Hoard For A Long Term Crisis)