While the band plays on and Americans celebrate New Year's many have no idea what may be in store in 2016. Mainstream financial pundits like to paint a rosy picture of the current economic conditions, suggesting that the government's green shoots of yesteryear have now turned to full blown money trees, wherein consumers are spending, businesses are selling and everyone has an unlimited flow of cash.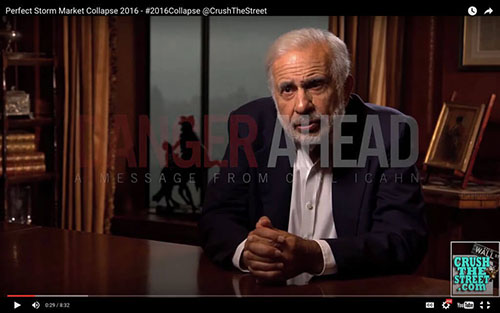 But as noted by analysts at CrushTheStreet.com in their latest video report, "what we have become accustomed to in terms of normal is rapidly coming to an end."
Indeed, with the Federal Reserve recently having raised interest rates, corporate bond markets starting to crack, and abysmal sales numbers over the holiday season, 2016 could very well spell disaster for financial markets, including government bonds.
So serious is the potential destruction to come that, according to the report, you'd better be ready with an alternate monetary mechanism of exchange such as gold or silver, as well as food and other stockpiles to mitigate supply disruptions and shortages.

Watch Perfect Storm Market Collapse courtesy of Crush The Street:

What we have become accustomed to in terms of normal is rapidly coming to an end… the global monetary experiment is literally bursting at the seams. 
…
The economy is more dependent now than ever on the circulation of increasing systemic leverage.
…
The damage has been done and the consequences will be suffered… A loss of faith in the dollar will be a loss of faith in credit… and when perceived value in credit is lost, prices in the bond markets will collapse… Already we are seeing bonds outside of government debt implode.
…
Just like in the 2008 financial crisis in real estate when we saw the sub-prime market collapse first and then followed by the rest, so will we see here with junk bonds and the rest of the bond market. With interest rates on the rise we will likely see a major correction in stocks which conventionally helps bonds… however this time we believe the next market crash will drain all confidence the world perceives in credit markets and ultimately the fiat currencies.
The markets will not react in a conventional manner after the chips settle.
…
The scenario is unsustainable… either they default directly on the bonds and prices plummet… or they pay back the bonds with devalued hyperinflated currencies which will both destroy the bond markets, where trillions of dollars of perceived wealth is being stored. Much of this wealth will vanish.
Be sure to have a healthy storage of precious metals, food and necessary supplies. And be sure you are carefully exposed to financial markets as they pose great risks otherwise.
Source: shtfplan.com
If you found this article useful, please like our Facebook page and stay up to date with the latest articles.

____________________________________________________
OTHER USEFUL RESOURCES!
The Lost Ways (Learn the long forgotten secrets that helped our forefathers survive famines,wars,economic crisis and anything else life threw at them)
Blackout USA (EMP survival and preparedness guide)
Bullet Proof Home (A Prepper's Guide in Safeguarding a Home )
Backyard Innovator (All Year Round Source Of Fresh Meat,Vegetables And Clean Drinking Water)
Conquering the coming collapse (Financial advice and preparedness )
Liberty Generator (Easy DIY to build your own off-grid free energy device)
Backyard Liberty (Easy and cheap DIY Aquaponic system to grow your organic and living food bank)
Family Self Defense (Best Self Defense Strategies For You And Your Family)
Sold Out After Crisis (Best 37 Items To Hoard For A Long Term Crisis)
US Water Revolution (Generate Your Clean Water Anywhere)
Alive After The Fall (Key Survival Situation Procedures and Knowledge )
Mega Drought USA:(Discover The Amazing Device That Turns Air Into Water)
Survive The End Days (Biggest Cover Up Of Our President)