Lessons from the massive snow storm Jonas, where at least 48 people have been reported killed, are important to take away here for future prepping in our quickly declining and increasingly vulnerable society.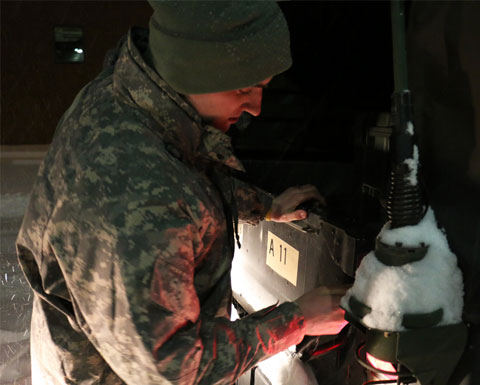 The use of martial law to shut down travel, including air traffic and highways, is now standard issue for major cities – like those on the East Coast that were hit hard by record snow levels.
The storm itself caused less damage than responders and authorities expected to deal with, but the media delivered a stern warning coupled with significant fear. This snow storm was forecast to be the worst in history, and most people hunkered down as they were instructed.
Grocery shelves were quickly emptied, and people started a last minute hoarding days ahead in accordance with the weather reportage.
And the power went out for hundreds of thousands of residents…
Tens of thousands of customers are still without power but service has been restored to many hit hard by the storm.

In the Carolinas, utilities reported about 50,000 customers without power… 20,000 are still without power in New Jersey, down from about 58,000 on Saturday night.

Most service was back on in Washington, D.C., Maryland and Virginia, where more than 50,000 had lost power. In Georgia, about 600 customers were still waiting for service — down from more than 125,000.
But the power outage itself was to be expected. Most of the service was restored relatively quickly after a day or two. Pretty routine, but it definitely could have been worse. If Washington or New York had been without power for several days, there would be instant rioting and looting. This much is understood.
In this case, the power outages didn't cause much damage directly, but indirectly it caused the death of one elderly couple.
And they made a mistake you'd do well to learn from, because it is a scenario many preppers could find themselves in during a winter crisis without being aware of it.
They were prepared for such an event, and had a generator ready to restore power. Such a solution works well during short term situations like this one.
But it wasn't properly ventilated. Officials DON'T THINK the Bell family neglected to do so, but think the opened garage door was forced shut after it was set-up. The result was carbon monoxide poisoning.
Even though they had the supplies for the crisis, they fell victim to a failure in the set-up of the equipment.
via ABC News:
An elderly couple has been found dead in their Greenville home due to carbon monoxide poisoning. Authorities say 87-year-old Robert Bell and his 86-year-old wife Ruby had lost power during the storm on Friday night and set up a generator in their garage.

Authorities say the propped open garage door somehow closed and the house filled with carbon monoxide.
Several other people died from carbon monoxide poisoning as well while being stuck in their running cars.
Authorities say a Pennsylvania man died after a passing snowplow trapped him inside his running car.

Officials say Perrotto was apparently trying to dig out his car. Investigators believe he was either in the car to take a break or trying to pull out of the space when the plow came by and buried the car, blocking the exhaust and preventing him from getting out.

[…]

A 23-year-old New Jersey mom and her year-old son have died of carbon monoxide poisoning while sitting in a running car with its tailpipe covered in snow.
The problem isn't as deep a worry as martial law or widespread civil unrest, or gun confiscation during a crisis.
In this video, I will unearth a long-forgotten secret that helped our ancestors survive famines, wars, economic crises, diseases, droughts, and anything else life threw at them… a secret that will help you do the same for your loved ones when America crumbles into the ground.
But it is a real life danger that you are even more likely to face during the next disaster – particularly in a weather emergency. If you don't prepare to avoid this ahead of time, you might not think this one through in a stressful situation.
But it is a basic mistake that cost the lives of people during the first wave a major emergency. It is best to stay off the road and avoid travel anyway in weather like this.
Avoid these scenarios and include alternatives in your plan for a winter outage or dangerous travel during heavy snow conditions.
Prepper Tom of the North gives this warning about carbon monoxide poisoning and asphyxiation dangers:
While fire is a common cause, there are other causes of asphyxiation worth your consideration:

Carbon monoxide poisoning is usually from a combustion source in the home. This has also occurred in vehicles stranded in snowstorms. Vehicles were run for heat. Accumulating snow shrouded the tailpipe resulting in vehicle exhaust entering the passenger compartment.

Other poisonous fumes [could come from] tanker trucks, rail cars and chemical & other industrial plants often have hazardous materials that, in an emergency situation, could cause you grave bodily harm if exposed.

Smothering- confined space entrapment, such as a building collapse(snow or volcanic ash loads on roofs, earthquakes, etc). Consider also avalanches, landslides and mudslides.

Drowning: consider also flash floods; tsunami; the aforementioned breaking ice; catastrophic dam failure; bridge failure while crossing. Flash floods are relatively common and often deadly. [..]

All of these events are sudden, unexpected and leave you minutes or less to choose a course of action. Taking the proper action may save your life.

_________________________________________

OTHER USEFUL RESOURCES!

The Lost Ways (Learn the long forgotten secrets that helped our forefathers survive famines,wars,economic crisis and anything else life threw at them)

Blackout USA (EMP survival and preparedness guide)

Bullet Proof Home (A Prepper's Guide in Safeguarding a Home )

Backyard Innovator (All Year Round Source Of Fresh Meat,Vegetables And Clean Drinking Water)

Conquering the coming collapse (Financial advice and preparedness )

Liberty Generator (Easy DIY to build your own off-grid free energy device)

Backyard Liberty (Easy and cheap DIY Aquaponic system to grow your organic and living food bank)

Family Self Defense (Best Self Defense Strategies For You And Your Family)

Sold Out After Crisis (Best 37 Items To Hoard For A Long Term Crisis)

US Water Revolution (Generate Your Clean Water Anywhere)

Alive After The Fall (Key Survival Situation Procedures and Knowledge )

Mega Drought USA:(Discover The Amazing Device That Turns Air Into Water)

Survive The End Days (Biggest Cover Up Of Our President)