This article first appeared on readynutrition.com
Post-apocalyptic movies are popular for a reason. We live in a world that is brimming with long lines, bills, traffic jams, bureaucracy, and stressful jobs.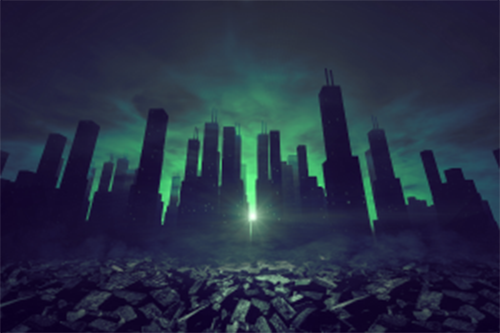 So even though we intuitively understand that living in an apocalyptic hellscape would be an absolute horror show, in the back of our minds we kinda wish that we had an excuse to blow off all of our modern responsibilities.
In that sense, post-apocalyptic movies and TV shows provide the perfect fantasy for us. They give us loner protagonists wandering through the quiet, windswept ruins of our cities, scavenging for food and fighting off zombies instead of working day jobs. These films try to convince us that post-apocalyptic living is an arduous but simple feat, in much the same way that Old Western movies romanticized the pre-modern world.
In short, these films depict the death of everything we hate about modern society, while downplaying the consequences of that state of affairs. They portray the leftovers of our society as a playground for charismatic misfits, but neglect to inform you of a very important detail. If the modern world falls apart, never to return, it's going to leave behind an abundance of ticking time bombs in its wake.
They don't show you what will happen to millions of our abandoned pets, who will revert to their wild instincts after we stop feeding them, and begin competing with their former owners for food. These films don't show you what it's like to walk through an abandoned suburban city, where ten thousand swimming pools have turned into breeding grounds for disease carrying mosquitoes.
They rarely mention the dozens of nuclear power plants that litter the United States. If no one is there to operate them, how long before they melt down and bury millions of survivors under a radioactive cloud?
Then there are the 12,000 facilities around the country that store large quantities of toxic or flammable chemicals, and reside close to residential areas. 2,500 of these sites contain chemicals in quantities that, if a catastrophic accident were to occur, could affect 10,000 to 1 million people each. And let's not forget the 2.5 million miles of oil and gas pipelines that can be found in every state. They suffer hundreds of leaks and ruptures every year, and are much more likely to explode when they aren't maintained. That detail seems to be conveniently forgotten by post-apocalyptic films.
And finally, most post-apocalyptic movies will forget to mention what happens when there aren't any functional fire departments. Aside from the obvious consequences, like whole neighborhoods routinely burning to the ground, who's going to put out landfill fires that are occasionally radioactive?
Another product of the modern world is the poor management of our national parks and forests, which has laid the groundwork for some of the largest and fastest burning forest fires in history. Even with the help of firefighters, these conflagrations routinely burn more than a 100,000 acres at a time. How many rural Americans are going to have to flee their homes from the veritable tidal wave of wildfires that would scorch the landscape?
Frankly, this is just a short list of some of the unexpected disasters that will be waiting for us if society collapses. There are probably plenty of others that we haven't even considered yet. So the next time you're enjoying a post-apocalyptic feature of some kind, try not to get too wrapped up in the fantasy it provides. If the world falls apart, traveling through the ruins of our dead civilization will be less like a whimsical action packed adventure, and more like traversing a mine field without a metal detector.
 History has shown us many times that it can all fly away in a split of a second.The biggest misstep that you can take now is to think that this can never happen in America or to you!Call me old fashioned; I don't care…but I completely believe in America and what our ancestors stood for.They all had a part in turning this land into one of the most powerful countries in the world.Many died and suffered before a creative mind found an ingenious solution to maybe a century old problem. Believe it or not, our ancestors skills are all covered in American blood. This is why these must be fought for, protected, and handed on for them to do the same for our children and our children's children.Our ancestors laid the bricks and built the world's strongest foundation…that we are about to -irreversibly forget! I don't want to see our forefathers' knowledge disappear into the darkness of time…and if you care for your family…and what America stands for…then neither should you! Watch the video below and learn more:
Joshua Krause was born and raised in the Bay Area. He is a writer and researcher focused on principles of self-sufficiency and liberty at Ready Nutrition. You can follow Joshua's work at our Facebook page or on his personal Twitter.
Joshua's website is Strange Danger
This information has been made available by Ready Nutrition