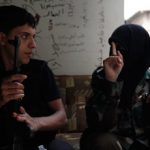 Syria's deputy prime minister said on Thursday that neither side is strong enough to win the country's civil war. Qadri Jamil added that Assad's government will call for a ceasefire if the proposed Geneva peace talks take place.
"Neither the armed opposition nor the regime is capable of  defeating the other side. This zero balance of forces will not  change for a while," Jamil told the Guardian.
The two-year conflict has already killed more than 100,000 people  and displaced more than one million refugees.
Jamil added that the Syrian economy has lost an estimated $100bn  during the war – the equivalent of two years of normal  production.
If the armed opposition in Syria accepts the ceasefire, it would  have to be monitored "under international observation,"   Jamil said. He added that such supervision could be provided by  UN peacekeepers, assuming they came from friendly or neutral  countries.
Moscow and Washington say they are committed to bringing both  sides of the conflict to the negotiating table at the Geneva-2  peace conference. An earlier set of talks in Geneva broke up last  year after just one day. No Syrians attended the event.
Differences remain between Russia and the US over who should take  part in Geneva-2. The US wants the Western-backed Syrian National  Coalition (SNC) to drop its boycott of the talks and be the only  opposition delegation at the conference. The SNC is calling on  Assad to step down and previously stated that its demand is  non-negotiable.
Russia has proposed that a combined delegation of Kurds also be  present at Geneva-2.
But Jamil said that outside powers must stop trying to influence  the outcome of events in Syria. He added that the Syrian  government would be pushing to "end external intervention, a  ceasefire and the launching of a peaceful political process in a  way that the Syrian people can enjoy self-determination without  outside intervention and in a democratic way."
Jamil is the leader of the secular People's Will Party and  co-chair of the Popular Front for Change and Liberation. He was  appointed last year to end the monopoly of the ruling Ba'ath  party in the Syrian government.
"We wanted to give a lesson to both sides to prepare for a  government of national unity and break the unilateral aspect of  the regime – and break the fear in opposition circles of sitting  in front of the regime," he said.
He added that Western countries need to step away in order for  change to develop in Syria.
"For all practical purposes the regime in its previous form  has ended. In order to realize our progressive reforms we need  the West and all those who are involved in Syria to get off our  shoulders," he said.
Ahead of the Geneva conference, French President Francois  Hollande stated that he is in favor of sending weapons "in a  controlled environment" to the FSA. "The Russians  regularly send [weapons] but we will do it in a broader context,  with a number of countries and a framework which can be  controlled, because we cannot have a situation where weapons end  up with Islamists," Hollande said during a press conference  in the Malian capital of Bamako.
Meanwhile, Jamil said that he didn't believe the UN's report on  the August 21 chemical attack was fully objective, citing  evidence provided by Russia that the chemical weapons could have  been sold to the rebels by fundamentalists from Libya. Last  month's attack is believed to have killed over 1,000 people.
Although the shell casings that allegedly contained sarin gas  were Soviet-made, they were exported during the 1970s and were  since loaded with chemicals by fundamentalists in Syria.
Speaking at the Valdai Club, a conference of Western politicians  and Russia experts, Russian President Vladimir Putin said that  although he could not be certain that the Syrian government would  be able to destroy its chemical weapons within such a strict time  frame, he was hopeful that it would.
"I cannot be 100 percent sure about it. But everything we have  seen so far in recent days gives us confidence that this will  happen…I hope so," Putin said.