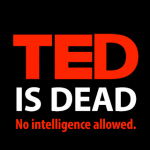 Allow me to be the first to announce that TED is dead. Why? Because the group that organizes so-called "TED talks" has been thoroughly hijacked by corporate junk science and now openly rejects any talks about GMOs, food as medicine, or even the subject of how food can help prevent behavioral disorders in children. All these areas of discussion are now red-flagged from being presented on any TED stage.
This is openly admitted by TEDx itself in a little-known letter publicly published on December 7, 2012. Click here to view the letter.
In that letter, TED says that people who talk about GMOs are engaged in "pseudoscience." Those who discuss the healing potential of foods are spreading "health hoaxes."
The letter also advises TEDx organizers to, "reject bad science, pseudoscience and health hoaxes," meaning anyone who talks about GMOs, "food as medicine" or similar topics.
The TED organization, incredibly, believes that food cannot be medicine and does not contain medicine. Perhaps someone should educate TED about resveratrol, curcumin, phycocyanins, polyphenols and ten thousand other chemicals created by plants that have medicinal functions in the human body. To deny this is to nearly admit you believe the Earth is flat and that the sun and stars revolve around our planet. It is a sure sign of a feeble mind that cannot grasp the very simple and readily evident idea that the human body evolved in an environment full of plants with beneficial physiological effects, including many medicinal effects.
Maybe someone should remind TED that nearly 25% of all prescription medicines are in some way derived from plants, including statin drugs. Drug companies expend enormous resources searching the world's botanical treasures for amazing molecules that they can pirate from nature and alter in some way to make them patentable as a drug. Even the World Resources Institute readily admits this, while also reminding us that 80 percent of the world population still relies largely on plant-based medicine.
TED apparently thinks 80 percent of the world population is purely delusional, because obviously, as TED insists, real medicine can only come from pharmacological factories spewing out deadly chemicals, right?
TED falls in line with Monsanto: no talks that question GMOs will be allowed
It's a sure sign that you've jumped into a circle of dogma when the very act of asking intelligent questions is no longer allowed. Any speakers who might ask questions about genetically engineered foods are strictly forbidden by TED. This makes TED a source of pseudoscience because it censors and silences any dissenting views that don't align with Monsanto and the Frankenfoods biotech industry.
The TEDx letter mentioned above actually claims that anyone who questions the wisdom of genetically engineering food crops grown in open fields is a quack or a hoaxer.
Read the letter yourself. It reads as if it were written by someone with the intellectual capacity of an 8th grader — someone who is so naive that they still haven't caught on to the fact that corporations routinely lie to the world by hijacking science to push their agenda of profit and domination. And it makes you wonder just how stupid TED thinks the public really is on the subject of GMOs. Even though 90% of the public believes GMOs should be labeled on foods, TED thinks anyone who dares talk about GMOs is spewing "pseudoscience."
Does TED also think that spraying the world with glyphosate is a boon to mankind? Does TED even know what glyphosate is and how glyphosate causes cancer at concentrations of parts per billion?
TED's letter filled with false information
The TEDx letter attacking "pseudoscience" is, itself, filled with factually false information. The letter says, "Andrew Wakefield's attempt to link autism and vaccines was exposed as a hoax last year." That statement is blatantly false. For starters, Dr. Wakefield never conducted any studies whatsoever that linked autism and vaccines. That is a complete fabrication / delusion invented by the intellectually dishonest critics of Dr. Wakefield. TEDx obviously believes that if a lie is repeated often enough among critics of real science, that lie become a "truth."
Secondly, the actual hoax is on the medical journals and critics of Dr. Wakefield who were caught deliberately lying about his research and inventing wildly false claims in order to try to discredit him. They are currently being sued over their false allegations, by the way, and as the facts of this lawsuit come out, Dr. Wakefield will be completely vindicated.
For the real evidence that TED doesn't want you to see on Dr. Wakefield, check out these articles:
BMJ admits that fraud claim against Dr. Andrew Wakefield has no basis in fact
Documents emerge proving Dr Andrew Wakefield innocent; BMJ and Brian Deer caught misrepresenting the fact
s Dr Wakefield demands retraction from BMJ after documents prove innocence from allegations of vaccine autism data fraud
Other areas of investigation banned by TED
It turns out that TED isn't only a proponent of GMOs, vaccines and whatever corporate-sponsored status quo science is currently being spouted — it's also wholly aligned against a wide range of topics it considers "pseudoscience." These so-called "pseudoscience" topics include: • Consciousness, free will and the non-material "mind"
• "The fusion of science and spirituality" — as if higher spiritual awareness is somehow not a valid pathway for the discovery of truth.
• Nearly all neuroscience.
• The placebo effect, something that has been experimentally proven to exist through tens of thousands of clinical trials.
• Any and all "healing," including Reiki or hands-on healing, healing touch, etc. Yep, according to TED, these are all pure hokum and bunk. There is no placebo effect, they insist, even though it has been experimentally proven to be the strongest across-the-board form of medicine available today. The reason they cannot acknowledge the existence of the placebo effect is because it is contingent upon the interaction between the body and the mind. Because TEDx and its cabal of closed-minded junk scientists cannot admit to the existence of a non-material mind, they also cannot admit to the existence of the placebo effect even though their own experiments prove its existence beyond any rational doubt.
In fact, the placebo effect is so widely documented that in order to discard it, you would have to throw out all randomized, double-blind, placebo-controlled studies altogether. Is TED saying that all such studies are bunk because, taken as a whole, they show the placebo effect to be statistically significant in its effectiveness?
See, this is how TED destroys its own argument (and credibility). If the placebo effect doesn't exist, then virtually all modern clinical trials must be deemed invalid, and that means TED doesn't believe in any real science at all.
TED is a cult of "scientism"
Like the Church that once suppressed scientific understanding long before the Age of Reason, TED is now part of the new Cult of Scientism, a dogmatic circle jerk of intellectual bullies who insist the only "science" that's true is their own selected brand of corporate-sponsored science. All legitimate science is excluded and attacked if it dares question the core beliefs of the Cult of Scientism. Those beliefs include some real whoppers, such as, "Corporate science is the only science that counts," and, "GMOs are automatically safe, even without long-term testing, because we say they are."
In this cult, there is no room for the simple, scientific act of questioning today's scientific beliefs. "Bad science," says TED, is anything that "has failed to convince many mainstream scientists of its truth." This, of course, is nothing more than "mob science" which isn't really science at all. If new science were only recognized once all the existing scientists were convinced of its truth, then science would never have advanced.
According to TED, then, in 1616, then, the idea that the Earth was spherical would have been considered "bad science." TED would have agreed with the "Congregation of the Index" which cited holy scripture and decreed the Earth stood still and the Sun and stars revolved around it. Anyone who questioned this belief would have been attacked as a pusher of "pseudoscience" by TED.
The idea that invisible, microscopic bacteria spread disease would have been considered "bad science," too, because before the invention of the microscope, most "scientists" thought the idea of a microbiological world of invisible living organisms was sheer lunacy. When a now-famous doctor named Semmelweiss suggested that doctors should wash their hands between delivering babies, he was condemned by the "scientific" community and fired from his job. Meanwhile, an alarming number of women giving birth soon died from infections. This would have been completely acceptable to TED, as it was the "science" of the day, and "science" cannot be questioned.
(For historical references, see my article entitled, Why Doctors are Idiots: 150 Years of Disastrous Advice on Children's Health.)
Einstein's Theory of Special Relativity would have been considered "bad science," too. It was such a whacky theory that almost nobody believe it was true (at first).
In fact, throughout the history of scientific discovery — microbiology, quantum physics, genetics and epigenetics, cosmology and chemistry — any self-proclaimed scientist who declared "we now know everything and no new questions can be asked" is now seen in retrospect to be a complete fool.
Real science explained to TED
Science is not a static collection of knowledge, it is a process of exploring the nature of reality to discover and embrace new truths that very often displace old truths. Anyone who believes that science is "fixed" and that modern-day scientists have somehow stumbled upon the final answers to everything is nothing short of a complete fool. The great strength of the scientific method is that it is based on the asking of questions, even in the face of self-important, delusional "scientists" who have convinced themselves they are the final word on the subject at hand.
Through the process of asking questions and being willing to explore unexpected answers, science has made tremendous advances in understanding the material universe (although science has utterly failed to understand the non-material universe).
And yet, like any method of exploring the nature of reality, science is fallible. Science has made tremendous, horrifying mistakes such as giving pregnant women thalidomide as a morning sickness drug, or using African Americans for medical experiments in the Tuskegee affair. Science has created weapons of mass destruction and actually dropped them on civilian populations in Japan. Science invented DDT, Agent Orange and countless other toxic chemicals which now threaten the very survival of the human species.
See some of these failures of science in my related mini-documentary called "The Dark Side of Science"

Just this week, the CDC openly admitted that the era of antibiotics — brought to you by pharmacological science — is now coming to an end, and all of humanity is now threatened by superbugs for which chemical treatments are just about to run out. That's another little gift from the world of scientific pharmacology: deadly superbugs that could become the world's next deadly plague. You won't hear TED talks about these subjects, because TED is dead. And by that, I mean TED's "mind" is utterly and completely closed to the really important ideas that we must discuss, explore and debate as a civilization if we hope to survive this "age of toxicity" that science has unleashed upon us. Instead of being open to "ideas worth spreading," TED simply declares all ideas it does not agree with as being pseudoscience. That approach requires no thought, no investigation and no real science. That's why it is also the same approach used by the status quo "scientific" community to push GMOs, mercury-laced vaccines and other deadly toxins on our world.
Why the "Berlin Wall" of closed-minded science will doom humanity to its own destruction
In a time when humanity desperately needs revolutionary, progressive ideas to survive its own destruction, TED is stuck in a 1950′s mindset of "better living through chemistry." TED is like the 16th-century scientist who warns that if we sail our ships too far into the unknown, we will fall off the edge of the ocean and die.
Right now, humanity is suffering alarming rates of mysterious diseases such as autism, autoimmune disorders, infertility and cancer. Corporate-driven science has zero answers to these issues. The status quo "scientific" community exists in a total state of denial over the causes of these diseases, even absurdly insisting that injecting children with trace levels of mercury in vaccines is somehow "good" for children, as if mercury were a nutrient.
The biodiversity of our natural world is in a state of unprecedented collapse. The Earth biosphere is dying from toxicity, and that toxicity has been unleashed in the name of "science" via genetic pollution (GMOs), agricultural pollution (insecticides such as neonicotinoids), industrial pollution (which harms waterways and oceans), medical pollution (ionizing radiation and chemical medications) and food pollution (toxic heavy metals are now routinely being found in foods). This has all been done in the name of "science."
TED doesn't want you to hear about any of this. You are a "hoaxer" and a pusher of "pseudoscience" if you believe in any of this, apparently. And by God, don't you dare suggest that food is your medicine — as Hippocrates wisely said — or you will be called a "quack."
So thank you, TED, for showing you total insanity, your complete detachment from reality, your abandonment of humanity and your offensive, incestuous relationship with the Monsantos of the world. It is organizations like you, TED, that are destroying humanity by attacking the very people who possess the desperately-needed answers to saving humanity from its own destruction at the hands of closed-minded "science."
TED also aggressively attacks the very idea of consciousness, pretending that humans are nothing more than biological robots with no minds, no spirit, no soul, no consciousness and no free will. This is the position parroted by utterly misinformed "scientists" like Stephen Hawking, whose view of humanity is as dark and pessimistic as any we have ever witnessed.
For a full exploration of this issue covering Stephen Hawking's monumental mistake in failing to recognize the existence of consciousness, see my science documentary called "The God Within."
Learn the truth about science you're not supposed to know
Unlike today's corporate-driven scientists, I don't claim to have all the answers, but where I'm a quantum leap ahead of most modern-day status quo scientists is that I still believe in the scientific method of asking questions. Apparently, this act of asking questions is now utterly disallowed in today's dogmatic "science" cult.
I also have a strong scientific background, which terrifies GMO pushers and pro-vaccine child killers. I have a bachelor of science degree with a minor in mathematics and I'm fluent in the fundamental concepts of microbiology, chemistry, physics, anthropology, genetics, cosmology, nutrition science, environmental science, physiology and many other areas.
And what I've discovered from observing and writing about science for over a decade is that modern-day scientists suffer from a dangerous epidemic of arrogance that's actually standing in the way of real scientific advancement.
Sir Isaac Newton famously explored all sorts of bizarre ideas — including delving heavily into the occult — in his search for answers of how the universe works. If TED had been around in Newton's days, it would have banned Newton from speaking because his ideas "hadn't convinced the majority of other scientists" of their merits. Newton's laws of motion would have been called "quackery" because everybody knows that steel balls fall much faster than feathers, right? It's obvious, isn't it? How could they both possibly be accelerated at the same rate by gravity? TED would have banned such a talk.
So now, TED has become a re-hash of old, outdated ideas that brought us to these global problems in the first place. TED's answers to problems are apparently the same as Big Pharma's answers: more drugs, more vaccines, more chemicals, more corporate patents and more profiteering from human suffering.
Most of the world strongly disagrees with TED
For the record, most of the population of our world agrees with the fundamentals of what I'm saying here. Most of the world disagrees with TED's minority opinion on science and pseudoscience. Specifically:
• Most of the world believes in the existence of mind and spirit • Most of the world uses medicinal plants, not prescription drugs, as their primary source of medicine • Most of the world agrees food contains medicinal properties and can be used medicinally to prevent disease • Most of the world agrees the mind influences body physiology • Most of the world agrees that GMOs should be questioned, relying on the precautionary principle rather than risking the entire genetic future of global agriculture with an unwise roll of the dice (open-air GMO experiments)
TED's disagreement with the majority of the world population on these issues puts TED in a desperate minority of monopoly-minded intellectual bullies who cannot win any intelligent discussion on the issues so they resort to censorship, bullying, intimidation and sheer arrogance to try to limit the public discussion of ideas they don't like. That's not science. That's dogma.
Beyond TED – a new forum for leading thinkers
Despite its intellectual failings, we must thank TED for exposing itself as a backwards, intellectually-dead circle jerk of corporate-backed poison pushers who offer nothing but suffering and destruction to humanity. Because that creates an opportunity for the rest of us to get together and create our own public forum of truly progressive, groundbreaking ideas that can move humanity forward. What I'm envisioning is a "New Science" forum where we invite Dr. Bruce Lipton, Dr. Rupert Sheldrake, Graham Hancock, Dr. Andrew Wakefield and all the other brilliant people who are no longer welcome at TED conference because their ideas are simply too revolutionary to be stomached by the old school apologists for corporate-backed anti-science.
I don't personally have time to start such an event this year because, ironically, I'm working in the Natural News Forensic Food Lab and conducting real science in the realm of food investigations, but if someone else doesn't start a new science speaking event within the next few years, I may take up the task myself.
In this event, we would openly welcome talks on consciousness, hands-on healing, neuroscience, environmental science, spirituality, meditation and all the other areas that are too advanced to be tolerated or even understood by the ignorant TED organizers.
TED could have been something great by doing precisely this, but instead it chose to silence the truly brilliant minds of our time and force-feed people a total line of corporate-backed bunk that pushes GMOs, brain-dead materialism and synthetic chemicals as the answer to everything. TED is dead. But real science moves forward, with or without the TED bullies who desperately try to stop it.
Source:http://www.thelibertybeacon.com/2013/09/24/ted-aligns-with-monsanto-halting-any-talks-about-gmos-food-as-medicine-or-natural-healing-12507/