Today we'll be covering how to create a Dakota Smokeless Fire Pit. These smokeless fire pits are great for hiding your fire from enemies. They tend to keep a hotter fire, and a great at being virtually smoke free. This is the perfect way to create a concealed fire.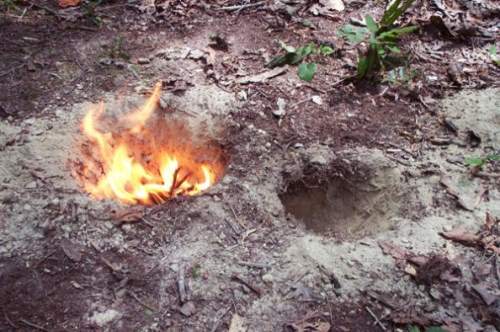 Steps to creating a Dakota Smokeless Fire:
Step 1) Dig two fence post holes side by side (approximately 6-8 inches apart)
Step 2) Connect the two holes at the bottom to allow air to flow through
Step 3) Put your wood in one of the holes. We recommend putting your heaviest wood at the bottom, then middle density wood, then tinder/light wood on top
Step 4) Light the fire and maintain it
Essentially what this does is allows the empty hole to act as an air intake for your fire hole. You can also place small stones at the bottom of your fire hole, this can also help enhance the air flow a bit making your fire hotter.
Learn  more  skills that will save your life in the wild on Conquering the Coming Collapse.