Survival is not just about prepping or the amusing antics of a television survivalist. Every day, real people find themselves in situations where comfort, if not survival, hinges on their ability to be prepared with the skills and knowledge to get through natural disasters, accidents or other emergencies. Learning these useful survival skills now can save you later.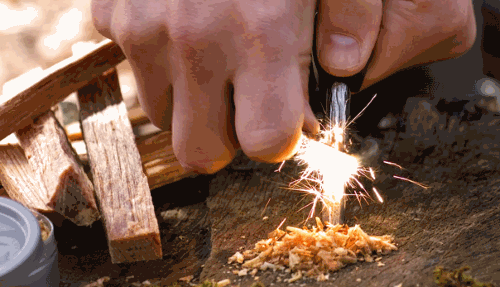 Fires are not just for warmth, although warmth is a necessity in winter conditions. Fires can help keep predators away, cook meals, boil water and provide comfort in a stressful situation. In normal life situations this can seem like a less important skill to have mastered, but in a wilderness situations this is a crucial skill that is needed to stay alive.

Building Shelter

Knowing how to build shelter from whatever materials may be at hand can help you keep dry and warm in wet, cold conditions. Tree branches, grasses and man made materials can be used to build a cozy shelter to keep you out of the elements.

Being able to procure food is essential to survival if you are unable to reach standard supplies. Learn to set snares, build traps, fish with various lines and methods and hunt to ensure you can stay nourished in a survival situation.

Gardening/Foraging

In addition to hunting, foraging is a critical survival skill. Invest in a book about edible plants local to your region or find a mentor to show you what plants are safe. In a long term survival scenario, knowing how to garden will be one of the most useful skills you can obtain.

Physical Fitness

Whether you are surviving in the wilderness or in your back yard, there is no question that surviving can be incredibly taxing on the body. By getting fit now, you will be better able to work and less likely to suffer from illness and injury by having an unprepared body in an emergency.

Defense

Defending your home, family and yourself is important in any survival situation. Sign up for a martial arts class, a home defense class or to take shooting lessons at a gun range. Houston natives take advantage of local classes and instructors from institutes such as Memorial Shooting Center. In a widespread emergency, chances are good that someone else will want or need what you have.
Survival is about more than being prepared with physical objects. Having the skills and a preparedness mentality will allow you utilize whatever resources are at hand, giving you an edge in nearly any emergency situation.
Source: doomsdaymoose.com
Other useful resources:
Survival MD (Best Post SHTF Medical Survival Guide Ever)
Blackout USA (EMP survival and preparedness guide)
Backyard Innovator (All Year Round Source Of Fresh Meat,Vegetables And Clean Drinking Water)
Conquering the coming collapse (Financial advice and preparedness )
Liberty Generator (Easy DIY to build your own off-grid free energy device)
Backyard Liberty (Easy and cheap DIY Aquaponic system to grow your organic and living food bank)
Bullet Proof Home (A Prepper's Guide in Safeguarding a Home )
Family Self Defense (Best Self Defense Strategies For You And Your Family)
Sold Out After Crisis (Best 37 Items To Hoard For A Long Term Crisis)
Brionna Kennedy is native to the Pacific Northwest, growing up in Washington, then moving down to Oregon for college. She enjoys writing on fashion and business, but any subject will do, she loves to learn about new topics. When she isn't writing, she lives for the outdoors. Oregon has been the perfect setting to indulge her love of kayaking, rock climbing, and hiking.