Paul Singer is CEO and founder of the Elliott Management hedge fund, looking after some $25 billion of client funds.
A self-made billionaire, he has a personal net worth of $1.5 billion, and his hedge fund is notable for only having had two down years in the 37 years he has been operating it.  It has averaged 14% annual return, compared to 10.8% for the S&P 500 as a whole.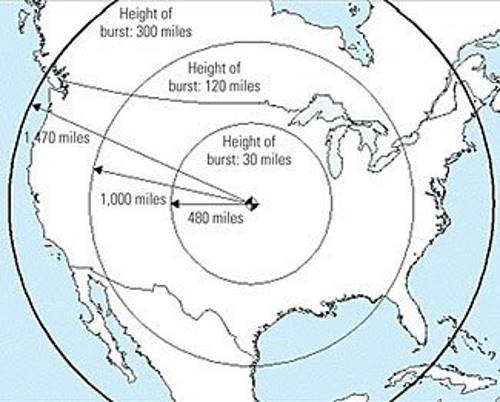 He publicly warned about the housing crash and global financial crisis as early as 2006 and in 2007 met with the G7 finance ministers to warm them of the coming economic problems – a warning that was ignored by the politicians.
Clearly he knows a thing or two about managing and protecting assets, and about accurately predicting future risks, and people everywhere would be well advised to listen to his advice.
This week, in his standard investment update letter to his clients, he wrote
There is one risk that is head-and-shoulders above all the rest in terms of the scope of potential damage adjusted for the likelihood of occurrence.
You've probably already guessed what this risk is – this article headline gives the show away.  He tells his subscribers that a man-made EMP attack would be worse than nuclear war, asteroid strikes, or even a solar storm. :
It would not cause any blast or radiation damage, but such an attack would have consequences even more catastrophic than a severe solar storm.  It could not only bring down the grid, but also lay down a very intense, very fast pulse across the continent, damaging or destroying electronic switches, devices, computers and transformers across America.
He went on to call for a bipartisan push to make the country and the world safer from such risks.  He wants to see stockpiles of spare parts to repair/replace the key components of the electrical grid and other essential elements of our electronic society, and says the government and other groups should prepare emergency plans for how to respond to such events.
We've been writing about and worrying about EMP for years (check out our EMP articles here).
We're not billionaires, and we don't manage billions of dollars of other people's money, either.  But, whether you'd rather listen to billionaire Mr Singer, or plain ordinary David Spero, the message is the same from us both :  A single EMP event could destroy most of the electrical and electronic functionality in the entire United States.
You need to plan and prepare for the possibility of an EMP and the destruction of our society that would surely follow.
One last comment.  It can be difficult explaining and validating our views and concerns when explaining prepping to other people.  You may find it useful to allow Mr Singer to 'speak' on your behalf.  Maybe your friends will find his advice more compelling.

Source: codegreenprep.com
Other useful resources:
Blackout USA (EMP survival and preparedness guide)
Backyard Innovator (All Year Round Source Of Fresh Meat,Vegetables And Clean Drinking Water)
Conquering the coming collapse (Financial advice and preparedness )
Liberty Generator (Easy DIY to build your own off-grid free energy device)
Backyard Liberty (Easy and cheap DIY Aquaponic system to grow your organic and living food bank)
Bullet Proof Home (A Prepper's Guide in Safeguarding a Home )
Family Self Defense (Best Self Defense Strategies For You And Your Family)
Sold Out After Crisis (Best 37 Items To Hoard For A Long Term Crisis)
David Spero
David Spero has been prepping since before it was ever an issue. He remembers how his father would store vast quantities of food and supplies at home, and both of them thought it to be normal prudent actions – as, of course, they are. He has a masters degree in business, has worked internationally, speaks several languages, is a nationally accredited firearms instructor, a licensed ham radio operator, and through this website is becoming increasingly a respected authority on matters to do with prepping.