Your bank account is gone along with your 401k, pension and job. All hell has broken loose. THERE WILL BE ROUNDUPS. PEOPLE WILL STARVE AND BECOME VICTIMS OF THE ENSUING VIOLENCE.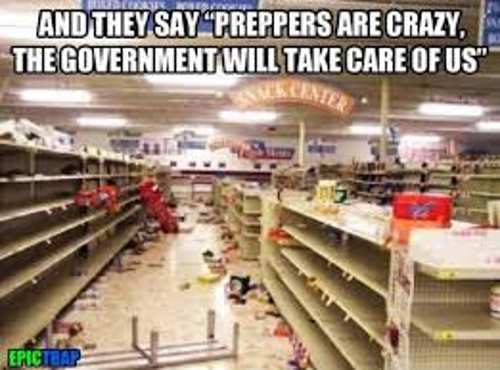 The country will be under martial law. Nobody is safe including law enforcement. What will you do? Have you prepared? Do you have the mental toughness to survive?  Here is a list of items that you will strongly want to consider implementing in order to increase your suggestions with regard to what is coming.
Keep Your Big Mouth Shut
Tell nobody of your preparation plans. Do not tell your friends, family members, and co-workers. Make your preparations in cash or cashier's checks as much as possible. Limit the paper trail to you. You do not want the government to know that you are prepared.
You and your mate should prepare in stealth. Kids talk and so do friends.
Make a List
The globalists will not destroy their own Christmas shopping retail season. You have at least until the end of the year before they will introduce mass chaos into our society (e.g. Ebola).
In the interim, procure your food, water, guns, ammo and home security adjustments.  If you do not have a big dog, consider obtaining a pair. These animals will be your companion, home security system and ally if someone attempts to breach your home with bad intent. Of course, you will have to store dog food as well.
Make all of you purchases in cash! You do not want to let the wrong people know what you are up to.

Dispersal of Monetary Assets
You will have trouble getting your money out of your bank. However, what the banking authorities cannot stop is your transferring some of your money into other bank accounts. Simply request a cashier's check made out to the bank(s) you are going to deposit funds in.  There will be as much as a 10 day hold on your account. However, you have time if you move now.  This action may buy you some security as not all the banks will go down at the same time.
Also, you will want to "hide" some cash as home. Following the collapse, money will be accepted for a short time. This will enable you to meet any unforeseen expenses, in the short term, following a collapse.
Pay Off Your Mortgage and Car Loans
If you have a CD, a 401k or any other long-term investment, you might want to consider taking the penalty and executing a withdrawal and apply what's left of the principal, usually about 50% of the original value, and paying down your major debts.
After an economic collapse, you most likely will not have a job and your retirement and savings will likely be wiped out and confiscated. That is why it would be wise to pay down your debt while you can afford to do so because after the collapse, there will still be foreclosures and repossessions and if you and your family survive, you could be on the street.
Buy Gold and Silver While You Can Afford It
Goldman Sachs has been shorting gold. The elite have been hording gold as have the BRICS. These entities are telling you, by action, what medium of exchange is going to be of value following collapse that is coming.
Storing gold and silver is an economic survival strategy which will pay dividends after the smoke begins to clear in the post-collapse era.

Practice Austerity Before Austerity Is Imposed On You
It is critical to immediately eliminate all unnecessary expenses. Give yourself some operating capital. You may be able to purchase a bug-out residence in a rural area. You will certainly be able to afford more survival gear.
In order to increase your immediate cash flow, start an at-home business. Start a business which has virtually no upfront and startup costs.  Even if you are not able to generate much income, you will create a legal tax evasion strategy in which you can legally deduct many of your present activities and expenses (e.g. mileage, the purchase of any office supply, etc.) including survival gear.
Create and Store Your Own Food
With regard to storing food, you need to do so immediately. I recommend story two years worth of food. However, you would be wise if you would create a hiding place in which you can store food and water safely in a hidden location.  If you are ever robbed, you will not have exhausted your food supplies.  You are most likely to be robbed by FEMA or one of their mercenary groups (e.g. Academia) during the beginning of the crisis because food and water will be used as weapons to control you. I am personally aware of FEMA going to selected homeowners to catalogue their reserve food and water supplies. Remember, water is sunlight and temperature sensitive. There are plenty of prepper manuals that you can consult for instructions on how to meet these needs. The time to do these things is yesterday.

The biggest threat to survival is death due to dehydration and starving to death.  Contaminated water will also pose a threat. There are plenty of places to purchase large drums and obtain water tablets for water purification purposes.  Obtain a pair of water filters in case you have to go mobile to survive.
Finally, learn to grow your own food within your residence. Your garden will likely be raided by humans and hungry animals alike. There are plenty of prepper manuals which can teach you how to accomplish this task.
Horde Medicines
 If you or your family has a chronic health condition, it is critical that you have 6 months to a year in medicine. Also, you should research natural alternatives to treatment for health conditions in case you are not able to meet this goal due to the inability to obtain prescriptions. Don't forget to obtain some pain medication and antibiotics in case of unforeseen emergencies.  Make a trip to Mexico and sneak across medication in old pill bottle in order to escape detection by the Border Patrol who will ask you if you obtained medication in Mexico when you come back across the border.

If you can safely ration your existing medication doses, do so and store the excesses. Make sure you also have a first aid kit. Take a First Aid class including CPR at your local fire station. Do not forget your hygiene supplies.
Some are thinking that this is a lot of work. My response would be, how bad do you want you and your family to survive?
Get Out of Town
This is easier said than done because of one's employment situation. However, if you can adjust, the time to move to a rural location is now.  In the upcoming crises, food will be used as a weapon. There will be banks of murderous marauders and there will be no 911 to call for help. If you can move to a rural area, you will increase your chances for survival exponentially. If you bug out you will need at a minimum, backpacks, sleeping bags, a map ,a compass, warm clothes and hiking boots
Guns and Ammunition
Buy your guns off the books from private parties and at gun shows. "Keep guns for show and guns for go". In other words, have a safe location that you can bury guns so that when gun confiscation begins, you will not be left totally defenseless.
America needs to not only create safe and secure homes, but to create as many Warsaw ghettos as possible (look it up). We need to make ourselves a hard country to conquer and occupy. We cannot stop a treasonous leader from handing off the country to some foreign entity (e.g. the UN). However, occupation of America should be problematic for the blue-helmet wearing Russians, Chinese and other proxy forces training on our soil to occupy us.
It is recommended that you have 3 types of weapons: (1) pistols for close in fighting; (2) shotguns for defense of the entrance to your home; and, (3) a rifle with a scope in order to fight back against long-range snipers that do not want to storm your home because you appear to be prepared. Immediately, obtain weapons instruction for you and your family, firearms training and then practice!  Conduct mock raids on your residence so that you can see your vulnerabilities.
Do not forget about gas masks for each member of your family and make sure to store extras. If you have the means to obtain body armor, do so now, because Congress is preparing to outlaw the private use of body armor.
Prepare to Survive in the Raw Elements and Build a Way of Life
It is possible that you can learn to survive in the raw elements with heating and central air conditioning. You may not have lights. Obtain flashlights, many batteries and a hand crank radio.
Make sure you have clothes befitting all weather that you may encounter because a crisis that begins in January, may not be over by August.
Take a weekend and pretend the grid is down. This will allow you to see firsthand what supplies you will need. When should perform this drill? There is no time like the present.

To people with generators, congratulations on your foresight. However, if you are the only house on the block with lights, how long do you think it will be until you have unwanted visitors with bad intent?
Get in shape, begin to walk, jog or run. The better shape you are in, the better.
Don't forget about procuring non-electronic forms of entertainment. You are preparing to adopt a new way of life. Make the new life worth living.
I would also recommend that every personal library contain The Constitution of the United States. After the chaos subsides, we will need to rebuild. You will not want to live in a "might makes right" society. I also recommend that you keep a few Bibles on hand for all the obvious reasons.
Conclusion
There is a barrier to your ability to procure some of these life-saving and life-extending supplies. Right now, you do not have full access to your money. It may be necessary become invisible in the event you think you believe that your name could be on a list because roundups will usually occur in dire situations. Therefore, the creation of a pseudo-identity could become very important. Tomorrow we will discuss both of these possibilities. In the meantime, survival just became your hobby.
Source: beforeitsnews.com
                        Other useful resources:
Mega Drought USA:(Discover The Amazing Device That Turns Air Into Water)-DIY
Survive The End Days (Biggest Cover Up Of Our President)
Survival MD (Best Post SHTF Medical Survival Guide Ever)
Blackout USA (EMP survival and preparedness guide)
Bullet Proof Home (A Prepper's Guide in Safeguarding a Home )
Backyard Innovator (All Year Round Source Of Fresh Meat,Vegetables And Clean Drinking Water)-DIY
Conquering the coming collapse (Financial advice and preparedness )
Liberty Generator (Easy DIY to build your own off-grid free energy device)
Backyard Liberty (Easy and cheap DIY Aquaponic system to grow your organic and living food bank)
Family Self Defense (Best Self Defense Strategies For You And Your Family)
Sold Out After Crisis (Best 37 Items To Hoard For A Long Term Crisis)