This guide was originally published by Jeremiah Johnson at Tess Pennington's ReadyNutrition.com
We just finished a series on how to escape from Bill Ayers' Summer Reeducation Camp (or Gulag 17, depending on the situation).  Now we will cover one of the most important elements of all: How to stay out of the "Happy" Camp.  Best thing of all: do not go in.  Easier said than done, however, there are some things you can do beforehand that will increase your chances of staying out of the Gulag.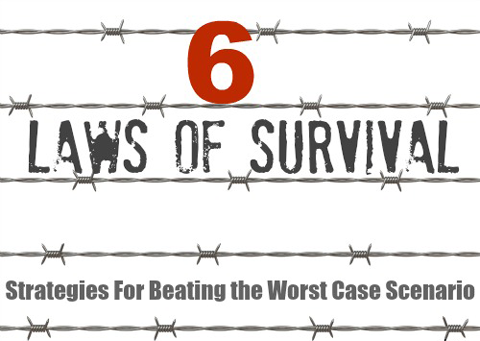 These things are not complicated, however, they will require both willpower and action.  They will not be things that happen on their own.  In order to stay out of a camp, you must do something very important:
You must do things that others do not do, and you must not do what others do.
Let us run with this concept in a scenario:
You're in bed…it's a Saturday morning, and you don't have to go to any of your 3 jobs today until noon.  Your battery-powered clock seems to have stopped at 5:15 am.  Puzzled you hear the drone of jet engines, and all of a sudden the house seems as if it is shaking.  You jump up and run to the front door and as you walk onto the front porch, all hell is breaking loose.
 Your mind is playing, "For Whom the Bell Tolls" by Metallica as you look up and see dozens of aircraft flying West to East, disgorging sesame seeds that sprout parachutes by the thousands, all coming down into your neighborhood.  "Red Dawn" isn't playing: it is happening, and you're in it.  Your neighbors didn't bother to come wake you up; however, they're working on starting their cars, with no success.  The paratroopers are landing, and a large crowd of people is running down Main Street to the tune of automatic gunfire in the distance.  Yep, you guessed it!  America has been invaded, and chances are you are not going to be handing out a Slurpee this afternoon.
Now what?  You must fall upon the six laws of survival or else all could be lost.
The Six Laws of Survival
In a survival scenario all bets are off and the following laws will keep you alive. These laws are rigid, but necessary. Harsh, but true. Keep your cards close and always have a plan.
Law 1: Wherever that crowd is running, do not join them.
This is not to say that they aren't (initially) running in the right direction.  But what of it?  They are bound to be either captured en masse or worse (bombed, strafed, or shot).  For the horror of the IHM (the Incredible Human Mob), look no further than "War of the Worlds" with Tom Cruise where he and his family are driving the passenger van…right up and into the mob.  Look what happened there.  You can't defeat their numbers, and you will be captive to them…another steer in the herd.
Strike out on your own, you and your family, avoiding the main thoroughfares at all cost, and avoiding the IHM.
Law 2: You have to have a place (and places) to go.
This is where thinking outside of the general herd will pay off.  We're going to instruct by running through a checklist…. this will be a "handy-dandy" checklist that you can print out or run over in your mind to be able to follow rule #2.
Did you preposition assets (food, weapons, money, etc.) at an initial safe location?
Is that location within walking distance for you and your family?
Once there, are you and your family secure for at least a 24 – 48-hour period?
Safe from enemy troops/government "peacekeepers" on the hunt?
Safe from fallout and/or NBC agents?
Does it have a food and water supply to sustain all of you for 7 days?
 If your initial safe location has been compromised, is a duplicate location nearby?
Do you have a farther (more remote) location that you can reach on foot in 3 days?
A secure, sustainable location with supplies for at least a month?
Do you and your family have a handheld method of communication for each member?
Have you formulated short-term (initial contact, 48 hours, 7 days) plans?
Have you made long-term (1 month and month-by-month; 6 months and 6-month continuous analysis; 1 year) plans?
Guys and gals, these are just basics.  You must have these things in place in order to give you and your family a fighting chance.  Whether or not it is a foreign invasion or a domestic communist takeover of the United States, you must leave your home in suburbia or you will be rounded up, bringing us forward:
Law 3: You will be leaving your home, permanently or for a long time.
This is survival.  The majority of readers are not living in the mountains or in a remote location.  If you follow these steps and practice them on a dry-run on a regular basis…it will give you the advantage that most people will not have.  You must innovate: come up with ideas that others will not think of.  Do you know of an abandoned warehouse on the outskirts of town?  Chances are that 90% of others will think the same thing in a grid-down/Red Dawn survival scenario.  You need to find the places that are off the beaten path.  And if there are none?  It may mean that you have to create a place.
Urban Survival: How To Survive During Rioting and Urban Unrest
How?  By caching your supplies within the walking distances described for each part of the "safe" area.  By finding tunnels, caves, or other sub-structures that can protect you from the elements and at least afford partial protection from radiation.  By being who it is you imagine yourself to be: a prepper…a survivalist…or a survivor.  When you enter any contest, do you enter it to lose?  Do you strive for just "second place" or "second best" in this arena?  Chances are the answer is "no," but you have to arrive on that conclusion on your own.  All of this is a challenge, and this underlines everything for you if it needs clarification:
Law 4: In survival, there is no silver medal: "second place" means death.
Forget that phrase in "The Hunger Games," because if you are taken…the odds are not ever in your favor.  We went through a 4-article series on how to escape from the Gulag where I reiterated how important it is for you to stay out of it.  I stand by this concept.  If you are taken captive, the odds aren't in your favor of getting out…for the duration of it.
And then guess what?  The Germans during WWII as the allies approached began to hide their transgressions by liquidating the camps…basically killing everyone that could bear any type of witness to the atrocities.  Do not think for an instant that it will not happen again.  Look at Holodomor in Ukraine and the starvation tactics the USSR used to follow after the Malthusian model.  Our enemies have very little regard for human life, and the lives they value are of their own people.  If the Chinese communists would run over their own people with tanks and sell their internal organs while they're still alive, what will they do with us?
Which brings us to the "Malcolm X" rule:
Law 5: You must stay out and survive by any and all means necessary.
Some of you may think "JJ is a little harsh."  I would rather be hard and harsh now, and enable you, my countrymen, to have some tools at your disposal and a "sharp tack" under the figurative buttocks of your mind to give you the impetus to do something about the situation prior to its occurrence.  The country is "long in the tooth," and you have to grasp these concepts and act upon them now…not burn off the pages and save them in the survival archives…but use them to inculcate your own, individual plan of action now.
Rule #5 means resolving yourself to do what you must in order to protect yourself from the ravages (and not just possible, but probable death) inside of one of these camps.  These are all basic, "generic" things to begin as a base for your preparations.  This is a form of guerilla warfare!  Avoid the occupiers/oppressors at all cost!  These things will work for you…if you resolve yourself (ves) to do them.  I'll close with a note on OPSEC (operational security): you better build off of these basics and keep all of them to yourself.
JJ is giving you the basics that you need, without revealing everything of his own plans.  Why?  Because I earned them by paying for them with years of experience and suffering, and it means my family's survival.  Such measures would run you a lot of money and imagination; such measures come from years of practical experience and the willingness to take chances.  This thought brings us to our final rule, the failure of which means compromise leading to death:
Law 6:  Do not tip your hand or reveal your plans to anyone.
Next installment we will talk about life under occupation, be that by foreign invaders or by totalitarian state that has morphed out of a democracy.  In the meantime, prepare and plan, and when you are reasonably sure, execute a dry run.  The practice does make perfect and affords you a time and trials to iron out all of the glitches in your operations.  Until next time be good to one another and keep up the fight!
______________________________________________________
Free Download – Civilian Commando- Special Ops Secrets to Surviving Anything! – By James Cole
______________________________________________________
OTHER USEFUL RESOURCES!
The Lost Ways (Learn the long forgotten secrets that helped our forefathers survive famines,wars,economic crisis and anything else life threw at them)
Blackout USA (EMP survival and preparedness guide)
Bullet Proof Home (A Prepper's Guide in Safeguarding a Home )
Backyard Innovator (All Year Round Source Of Fresh Meat,Vegetables And Clean Drinking Water)
Conquering the coming collapse (Financial advice and preparedness )
Liberty Generator (Easy DIY to build your own off-grid free energy device)
Backyard Liberty (Easy and cheap DIY Aquaponic system to grow your organic and living food bank)
Family Self Defense (Best Self Defense Strategies For You And Your Family)
Sold Out After Crisis (Best 37 Items To Hoard For A Long Term Crisis)
US Water Revolution (Generate Your Clean Water Anywhere)
Alive After The Fall (Key Survival Situation Procedures and Knowledge )
Mega Drought USA:(Discover The Amazing Device That Turns Air Into Water)
Survive The End Days (Biggest Cover Up Of Our President)
Survival MD (Best Post SHTF Medical Survival Guide Ever)
________________________________________________________
Jeremiah Johnson is the Nom de plume of a retired Green Beret of the United States Army Special Forces (Airborne). Mr. Johnson was a Special Forces Medic, EMT and ACLS-certified, with comprehensive training in wilderness survival, rescue, and patient-extraction. Mr. Johnson is an ardent advocate for preparedness, self-sufficiency, and long-term disaster sustainability for families. He and his wife survived Hurricane Katrina and its aftermath. Cross-trained as a Special Forces Engineer, he is an expert in supply, logistics, transport, and long-term storage of perishable materials, having incorporated many of these techniques plus some unique innovations in his own homestead.
This article first appeared at Tess Pennington's Ready Nutrition.com.
__________________________________________________________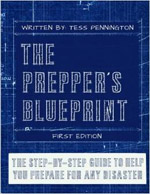 Tess Pennington is the author of The Prepper's Blueprint, a comprehensive guide that uses real-life scenarios to help you prepare for any disaster. Because a crisis rarely stops with a triggering event the aftermath can spiral, having the capacity to cripple our normal ways of life. The well-rounded, multi-layered approach outlined in the Blueprint helps you make sense of a wide array of preparedness concepts through easily digestible action items and supply lists.
Tess is also the author of the highly rated Prepper's Cookbook, which helps you to create a plan for stocking, organizing and maintaining a proper emergency food supply and includes over 300 recipes for nutritious, delicious, life-saving meals. 
Visit her web site at ReadyNutrition.com for an extensive compilation of free information on preparedness, homesteading, and healthy living.