The Great Depression caused many hardships, but the cuisine of the time certainly didn't suffer!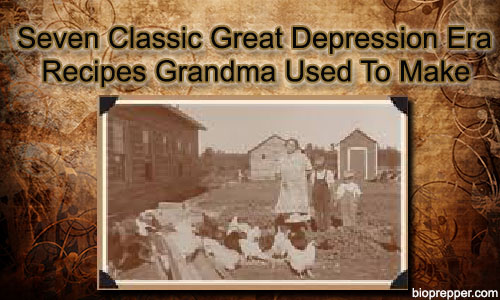 These  Classic Great Depression Era Recipes are proof that food from the 1930's is worth bringing back again. People at the time were forced to discover creative ways to use food efficiently, resulting in some very delicious and cheap dishes. Rice, beans, and cheese were major sources of protein, instead of meat, which was much more expensive. Of course, people didn't go entirely without meat in their Depression era recipes. Oftentimes substitutes for popular meats like spam or bologna were used instead. When families did get their hands on their favorite meats, it was a real treat, and they would prepare the meat extraordinarily well.
This article includes a variety of Depression era recipes. Hearty, tasty, and cheap, these recipes are perfect for an easy family dinner. Don't worry about taking a long time to make them – most of these recipes require minimal effort and very little time. Plus, a lot of these meal ideas are taken straight from old-fashioned kitchens, so you'll love eating foods that are exactly like the ones your grandma used to make.
Chicken Cacciatore
Ingredients :
1 chopped onion
1 cup of canned tomatoes
½ cup of tomato sauce
1/8 tsp. of garlic powder
1 tsp. of oregano
1/8 tsp. of pepper
4 pieces of chicken
Directions:
Peel and chop the onion, and put into a saucepan. Add the tomatoes, tomato sauce, garlic powder, oregano, and pepper, and simmer on low heat for three minutes. Wash the chicken, remove the skin, and add to the saucepan. Cover and cook over low heat for about an hour until the chicken is tender.
Pasta Primavera
Ingredients :
1 cup of noodles
1 tbsp. of vegetable oil
2 cups of chopped mixed vegetables
1 cup of chopped tomatoes
1 tbsp. of margarine
¼ tsp. of garlic powder
1/8 tsp. of pepper
3 tbsp. of Parmesan cheese
Directions:
Cook noodles according to package directions. While the noodles are cooking, heat the oil in a skillet. Add the vegetables and saute until tender, stirring constantly. Add the tomatoes and saute for two more minutes. Toss the vegetables and noodles with the margarine. Finally, add the seasonings, and sprinkle with Parmesan cheese.
Great Depression Casserole
During the Great Depression, bologna became a staple in the diets of many who couldn't afford other types of meat. This Great Depression Casserole is a budget-friendly recipe that still tastes great today! With bacon, pork and beans, bologna, Cheddar cheese and more. This deliciously-easy casserole is full of savor and delicious flavors the whole family will love. Just because it doesn't cost a lot to make, doesn't make this casserole any less tasty! This is definitely an old-fashioned recipe that should stick around for a while.
Serves: 12
Ingredients :
4 slices bacon, chopped
1 medium bell pepper, chopped (about 1 cup)
1 large onion, chopped (about 1 cup)
1 tablespoon garlic, minced
1 (15-ounce) can pork and beans (undrained)
2 (15-ounce) cans chili with beans
1 1/2 pound bologna, cut into 1/2-inch cubes
1 cup shredded Cheddar cheese
Instructions
Preheat oven to 400 degrees F.  Lightly grease a 3-quart deep baking dish.
In a large deep skillet over medium high heat, cook bacon until it is browned and crisp, about 5 minutes. Add bell pepper, onion and garlic and continue to cook and stir another 5 minutes until the vegetables begin to turn translucent. Add the bologna and cook for 5 minutes or until edges begin to brown. Stir in pork and beans and chili.
Pour mixture into the baking dish, top with the cheese and bake for 20 minutes until it is bubbly and the cheese is melted.
Hearty baked potato soup
Ingredients :
3 large russet potatoes, cleaned, skins pierced 3-4 times with a fork
¼ cup of butter or margarine
1 small yellow onion, chopped
2 cloves of garlic, minced
¼ cup of flour
2 cups of chicken broth
12 oz. of evaporated milk
2 tsp. of seasoned salt
Optional toppings: shredded cheese, diced ham or crumbled bacon, chives or scallions, Tabasco sauce, croutons (assuming you have a few bucks left over!)
Directions:
Microwave the potatoes for 8-9 minutes until they're baked through. Set them aside to cool slightly. Next, melt the butter in a pot over medium-high heat and add the onion. Cook for 6-7 minutes until they soften. Add minced garlic and cook for 30 seconds. Then, add the flour and stir several minutes to make a thickened roux. Gradually stir in the evaporated milk and broth. Scoop the pulp from one potato, mash it slightly and add to the soup. Cook the soup on medium heat and bring it to a boil. Add seasoning salt (to taste). Dice the remaining two potatoes and empty skin of the third potato. Add to the soup and heat through. Serve alone or with any of the optional toppings.
Cabbage Supreme
Ingredients :
1 large head of cabbage (quartered)
1 cup of chicken broth
1 cup of crushed cheese crackers
1 cup of cream of chicken soup
1 cup of grated cheddar cheese
¼ cup of milk
½ stick of butter
Directions:
Preheat oven to 325°F. Cook the cabbage in the chicken broth on low until tender, and then drain thoroughly. In a medium bowl, combine the cream of chicken soup, cheese and milk. Pour this over the cabbage, and toss to combine. Place in a greased 9 x 11-inch casserole dish. Sprinkle the crushed cheese crackers over the mixture. Melt the butter and pour it over the crushed cheese crackers. Bake for 25 to 35 minutes.
Chipped Beef on Toast 
I have to tell you my dad called this Sh*t on a Shingle; didn't sound too appetizing like that.  But this is a tasty meal that is very filling.  Pair with with a veggie from the garden for a full meal.
8 oz dried meat (chipped beef like Hormel or Armour)*
2 Tablespoons of butter
4 cups of whole milk
4 Tablespoons of all-purpose flour
Salt and Pepper to taste
Directions:
Toast, Biscuits or Baked Potatoes. Melt the butter in large skillet over medium heat. Add the chipped beef until it softens a bit. Whisk in the milk and flour. Turn up the heat and whisk until boiling. Turn heat to low simmer and whisk until gravy thickens. Salt and Pepper to taste. Serve over toast, biscuits over a baked potato. You can make this with cooked ground beef or bacon instead of the chipped dried beef.
Depression Era Homemade Bread
Ingredients:
5 lbs. of flour – yes, the whole bag
yeast – I used 7 Tbs, but I think I could have gotten by with less. Maybe 4-5 Tbs.
salt – I used 8 tsp., thinking I would need about 1 tsp. per loaf. This was a bit too much salt. Next time I'll go for about 6 tsp.
warm water – About 6 or so cups, but you need to go by what the dough needs.
Directions:
Dump the flour in a large bowl. I then mixed in the salt. Make a well in the flour and put the yeast in. Start pouring warm water into the well. Mix the yeast and water with your fingers to dissolve. Start mixing in more flour with your hands, adding water as needed. You will eventually end up with a great big bowl of dough. After I got all the flour mixed in and I kneaded it in the bowl for a bit, I dumped the dough on the counter and washed out the bowl. I sprayed the bowl with cooking spray and put the dough back in, turning it to bring up the oiled side. I'm not sure how Clara handles this step, but it's the way I like to do it. If I knew the dough wouldn't stick to the bowl, I would have just left it in the bowl to rise without washing and oiling it. Let the dough rise in a warm place. Cover it loosely with a clean towel while it rises to keep the dough from drying out. After it's risen, punch it down and divide it up for loaves. I was thinking that this amount of flour would make about 8 loaves. Some of the loaves seemed a bit small though, so next time I may go with 6 instead. Also, I only have 7 bread pans. I liked how the loaf on the cookie sheet turned out though. Cover the loaves with a clean towel again and let them rise a while longer. Place them in an oven at 350 degrees. I have speed bake (convection oven) and I baked mine for about 30 minutes.
I'll try this again. Like I said, I need to cut back on the salt a little bit. I think that also might help the loaves rise a bit higher. The taste is good. We polished off 2 loaves in less than 24 hours! The rest went into the freezer for later.
If you liked this article than you'd really like this book "Forgotten Lessons of Yesterday" . It is packed with really old recipes that will bring back great memories and the taste of your childhood. Click on the banner below to get your copy!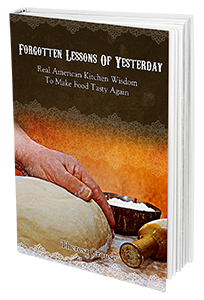 CHECK  OUR survival and prepping solutions
If you found this article useful, please like our Facebook page and stay up to date with the latest articles.
WHAT TO READ NEXT:
HOW TO MAKE YOUR OWN BACON (STEP BY STEP GUIDE)
A RETURN TO THE OLD PATHS: HOW TO MAKE PEMMICAN LIKE THE NATIVE AMERICANS
20 LOST RECIPES FROM THE PIONEERS: WHAT THEY COOKED IN THEIR JOURNEY WESTWARD
SEVEN CLASSIC GREAT DEPRESSION ERA RECIPES GRANDMA USED TO MAKE
POTTED MEAT: A LOST SKILL OF LONG TERM MEAT STORAGE
BACK TO BASICS: HOW TO MAKE AND PRESERVE LARD
THE BEST WAY TO STOCKPILE VEGETABLES OFF-GRID
OLD FASHIONED PRESERVING-GRANDPA'S RECIPE FOR CURED SMOKED HAM
HOW TO MAKE GUNPOWDER THE OLD FASHIONED WAY
SURVIVAL HERBAL RECIPES FROM OUR ANCESTORS
HOW TO PRESERVE MEAT FOR SURVIVAL LIKE OUR GRANDFATHERS
OTHER USEFUL RESOURCES: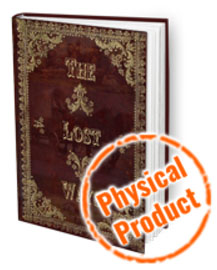 The 3 Pioneer Survival Lessons We Should Learn
The Most Effective Home Defense Strategies
Old School Hacks for Off-Grid Living
The Medical Emergency Crash Course
The Smart, Easy Way to Food Independence