Before refrigeration people relied on salt and smoke to preserve their meat. Most people lived on family farms and the "smoke house" was as familiar as the outhouse.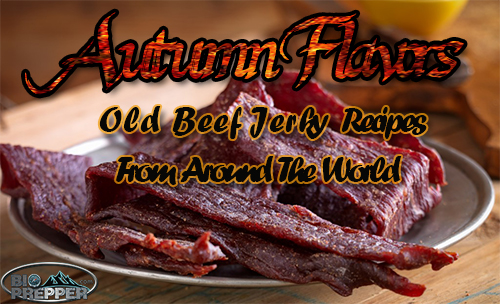 Refrigeration changed the way we did a lot of things, but one thing it did not change was our taste for the flavor of cured meat. First and foremost is the choice of the meat used. Go to your butcher and ask for the leanest hunk of beef they have. Unlike looking for a great steak, were looking for the least fat / ribboning possible. This will normally take the form of a rump roast, London broil or a brisket.
There are other meats you could use such as venison, lamb (mutton?), buffalo (yes you can buy it legally in some parts of the country) or just about any game meat. I would avoid pork. Pork is much more suitable for sausages… Poultry, such as turkey or chicken are fine as long as your process of dehydration heats to 160°F (71°C) or you cook the jerky afterward in the oven for at least 30 minutes at 160°F (71°C). Any wild game should be frozen sub-zero (below -16°C) for about 6 weeks to be sure that any possible diseases the animal had are gone. Fish? Sure. Why not. But I'd change the marinade quite a bit.
Select the leanest cuts of meat for making jerky and remove all visible fat. Fat does not preserve well and can adversely affect the taste and quality of your jerky. For a product that does not require refrigeration you are going to want to remove as much moisture from the meat as possible. This can be accomplished more easily by slicing the meat very thin. Slice the meat across the grain (at a right angle to long muscles) for the most tender jerky, or with the grain for a more chewy jerky. Cut it into strips no more than a quarter of an inch (6 mm) thick. This is more easily accomplished if the meat is slightly frozen.
Old Beef Jerky Recipes From Around The World
Basic Brine recipe:
Two cups of salt
1 cup of sugar,
1 tsp. ground black pepper,
1/2 tsp. ground cloves,
1/2 tsp. of garlic powder
1/2 tsp. of turmeric powder.
Other herbs and spices may be used according to availability and tastes. The only ingredient that is absolutely essential is the salt. To make a liquid for cold marinating or for a boiling marinade add this dry mixture to 2 quarts of water. The mixture can be made slightly weaker (more water) for a boiling marinade. For a dry marinade mix the dry ingredients without any liquids.
Cold Marinade
Soak the strips of meat in the marinade in a refrigerator overnight, or for at least three hours. This is most easily done in a plastic bag. At least once during the marinating process shake the bag and turn it over to insure that all the meat comes into contact with the marinade. After the meat has been marinated, remove it from the marinade, shake off the excess and put it in the dryer or smoker. Some people are concerned about bacterial growth in the cold marinade. Certainly this step should be done in the refrigerator. If refrigeration is not available, alternative methods include boiling marinade and dry marinade.
Boiling Marinade
As an extra precaution, the USDA recommends that meat be precooked to at least 160o F before drying. This is accomplished by skipping the cold marinade, and instead, the raw meat is dipped into a boiling marinade until the it turns gray (one to two minutes.) Then it is dried or smoked as usual. Care should be taken not to cook the meat too much. No other marinating is necessary because the heat causes the marinade to penetrate the meat very rapidly. I don't think that such a precooking step is necessary, but a boiling marinade may be a desirable alternative if your refrigerator is not working. I prefer the following dry marinating process instead.
Dry marinade
During a prolonged emergency the dry marinating process may be the best choice, not only because it requires less energy, but also because it makes the most economical use of your marinade. The dry marinade is mixed well and sprinkled generously onto a large cutting board. The strips of meat are laid on the dry marinade, first one side and then the other, to coat both sides well. Then a wooden mallet is used to pound the marinade into the meat. If your refrigerator is working, or if it is very cold outdoors, the strips can be stacked one upon the other, put in a plastic bag or closed container, and put in the cold for a few hours or overnight to allow the dry marinade to soak into the meat. This step is not necessary, since you have pounded the marinade into the meat with the wooden hammer, so if the temperature is warm it may be best to immediately shake off the excess marinade and put the strips in the smoker or dryer.
Jerk 'N Pickle Black Pepper Jerky
Ingredients
black pepper
5 lbs all-natural inside round beef (JnP uses Choice) cut into 1/8″ slices. (It helps to par-freeze the meat and slice on a meat slicer if possible.)
Combine wet ingredients:
2 cups and 2 ounces (18 ozs) soy sauce
2/3 cup Worcestershire sauce (JnP Brews his own to avoid high fructose corn syrup and the flavor of anchovies but commercial Worcestershire is acceptable)
1 lb carrots, juiced
1/2 lb celery, juiced
Fresh ginger, juiced yielding 1 1/2 tbsp
1 1/2 tbsp garlic cloves, finely diced
Blend the following in a spice grinder or blender:
4 tbsp brown sugar
2 1/2 tbsp freshly ground black pepper corns
1 tbsp onion powder
1/2 tsp cayenne pepper
1/2 tsp cumin
1/2 tsp crushed red pepper
Step One
Thoroughly whisk the dry ingredients with the wet ingredients.
Step Two
Add sliced beef piece by piece and massage into marinade to allow for even distribution of ingredients. Refrigerate overnight (10-12 hours).
Step Three
Place into home dehydrator or oven at 150 degrees for approximately six hours. Check and rotate as needed. Remove at desired texture and doneness.
Don't let this knowledge get lost.Find all the wisdom of our ancestors in this great book "The Lost Ways".Get your hard cover copy now!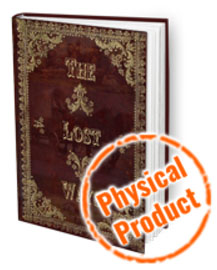 Bison Jerky
Bison was the Native Americans' main source of protein in North America. Even before pioneer days, the Natives had been using salt and smoke to preserve meat." Kachina's jerky is seasoned very heavily with a kick of habanero.
Kachina Bison Jerky
Yield: Due to the drying process, the yield will be about half of the amount that you started with. For this recipe, you will have about 1 lb of jerky.
Ingredients
2 lb top round, sliced thin about 1/8 inch
2 tbsp chopped garlic
2 tsp honey
2 tbsp crushed red chile
1 tbsp cracked black pepper
1.5 cups Worcestershire sauce
1 tsp liquid smoke
1 tbsp sugar
Step One
Place all ingredients in a zip lock bag and allow to marinate for 24 hours.
Step Two
Remove meat from bag, rinse, dry with paper towels.
Step Three
Place meat on cooling racks in oven at lowest setting, preferably 175 degrees.
Step Four
Dry meat for about 5-6 hours.
Step Five
Store in an airtight container.
Pastrami Jerky
What makes the pastrami jerky so great is the terrific texture and flavor explosion you get from the cracked pepper and coriander seeds. It's a simple recipe, yet really flavorful. It's one of our favorites to eat directly out of the smoker while it's still hot. It's perfect for shredding over a salad, chopped up, or added to chili; and it looks great on a charcuterie tray, especially if you can say you made it yourself.
Biercamp Pastrami Jerky
Ingredients
3 lbs flank steak, brisket or eye-round
1/2 cup soy sauce
1/4 cup brown sugar
1/2 cup Worcestershire sauce
1/2 tbsp pureed garlic
2 tbsp cracked pepper
2 tbsp coriander seed
Step One
Using a very sharp knife, cut each piece of meat into thin strips 1/4 – 1/2 inch thick.
Step Two
Combine all ingredients (reserve cracked pepper and coriander seed for later) in a large ziplock bag.
Step Three
Add the sliced meat and marinate in the fridge overnight.
Step Four
Remove the meat from the refrigerator and let it come to room temperature.
Step Five
Pre-heat oven to 180°F and place a sheet tray at the bottom of the oven. Spray oven racks with nonstick cooking spray.
Step Six
Remove the strips of meat from the marinade and arrange side-by-side across the racks, leaving room between each strip. Lightly sprinkle the strips of meat with the reserved cracked pepper and coriander until coated. The more you use, the spicier it will be.
Step Seven
Leave the oven open a crack to maintain temperature and cook until completely dry. This will take anywhere from two to four hours, depending on how dry or chewy you like your jerky. The jerky is ready when the color looks right and it gently pulls apart and does not snap.
Turkey Jerky
The word "jerky" doesn't conjure images of health, which is why trying to make yourself a turkey jerky might not be the worst idea.
It's an elevated version of beef jerky and what's more, it's just as easy to make as a beef product. The goal is for it to be moist and chewy, not dry and flavorless. Just be sure to buy the best quality turkey you can find, and slice into consistently thin strips.
Yield: 8 servings
Ingredients
For jerky marinade:
1 1/2 cups Worcestershire sauce
3/4 cup soy sauce
1/4 cup liquid smoke
1/2 cup BBQ sauce
1 3/4 tbsp onion powder
For turkey jerky:
1 lb turkey breast tenders
1 bowl jerky marinade
Step One
Slice the turkey breast tenders into thin strips
Step Two
Place the strips on a sheet pan and cover with the jerky marinade.
Step Three
Let sit in the fridge for 8-12 hours.
Step Four
Place on paper towels to dry off excess liquid.
Step Five
Place in oven at 200°F for approximately 30-40 minutes, until the jerky is dry and golden.
Cajun Jerky
Bayou Blend Home Recipe Jerky
Ingredients
5-10 lbs of top round beef
1 cup Worchestershire sauce
1/2 cup soy sauce
1/4 cup teriyaki sauce
3 cups water
1 tbsp garlic powder
1 tbsp onion powder
1 tbsp powdered crab/shrimp boil
1 tbsp liquid smoke
Step One
Combine all ingredients and stir well.
Step Two
Slice 5-10 lbs of top round beef in 1/8-1/4 inch thick slices.
Step Three
Add beef slices to marinade individually making sure that each piece is fully covered with marinade.
Step Four
Refrigerate the marinade/beef mixture for 24-48 hours. ("Longer the better!!")
Step Five
Place slices on the trays. Dry the marinaded slices at least 160 degrees on a dehydrator making sure you do not overlap the pieces. The type of the dehydrator will determine the length of time to dry it. Turn the slices over when no wet spots are seen.
Cream Soda and Bourbon Beef Jerky
Ingredients
2 lbs lean beef top round
2 cups cream soda (for other interesting flavors try using dark soda, root beer, cherry cola, or vanilla flavored cola)
1 cup bourbon
1/3 cup maple syrup
1/4 cup soy sauce
1/4 cup liquid smoke
1/2 cup brown sugar
1 tbsp onion powder
1/2 tsp chili powder
Step One
Wrap the top round in butcher's paper or plastic film and chill it in the freezer for one to two hours to firm it up before slicing.
Step Two
Combine all the other ingredients in a mixing bowl.
Step Three
Remove the top round from the freezer and slice it against the grain into 1/4-inch thick slices. Add the sliced beef to the marinade, mix thoroughly. Place the beef in the fridge and allow to marinate for four to six hours.
Step Five
Layer tin foil on the bottom of the oven to catch any drippings. Remove the wire racks from the oven and coat with nonstick spray. Pre heat an oven to 175 degrees F.
Step Six
Remove the beef strips from the marinade and pat slightly dry. Lay the beef strips on the prepared wire racks so they hang without touching each other. Place the wire racks directly in the preheated oven. Cook the beef for four hours.
Step Seven
Prop the oven door open every hour for 15 minutes with the handle of a wooden spoon to allow air flow. To cool the jerky, turn off the oven, open the door and allow the jerky to sit for 30 minutes.
Step Eight
Remove the jerky from the wire racks and store in a tightly sealed container.
*You should have roughly a one week shelf life if placed in an air tight container.
North African Harissa Jerky
Ingredients
2.5 lbs grass-fed beef (eye of round or bottom round)
2 tbsp kosher salt
1 tbsp brown sugar
1 tbsp ancho chile powder
1 tbsp smoked paprika
2 tsp garlic powder
1 tsp cumin seeds
1 tsp coriander seeds
1/2 tsp caraway seeds
1/4 tsp cayenne
Step One
Place beef in freezer for about 2 hours until firmed up for easier slicing. While beef is freezing, preheat a pan on medium heat, then toast cumin, coriander, and caraway seeds for a few minutes, shaking the pan frequently until toasted and aromas are released.
Step Two
Grind the toasted spices in a spice grinder or mortar and pestle. Mix the spices in a bowl with the salt, brown sugar, ancho, smoked paprika, garlic powder, and cayenne.
Step Three
Once beef is firm, remove from freezer and trim off exterior fat and the silverskin. Slice beef along the grain into desired sized strips, at 1/4″ to 1/8″ thickness.
Step Four
Using your hands, rub beef strips with spice blend to coat. Lay spiced beef strips on wire mesh racks on baking sheets. Let sit 12 hours in refrigerator, then remove and let sit at room temp for 30 minutes.
Step Five
Set oven to 225 F (or lowest setting), position oven racks evenly from top to bottom, and place racked beef strips into oven. Prop open oven door with wooden spoon or wine cork (make sure it's a natural cork and not plastic) to allow moisture to escape.
Step Six
Allow jerky to dry 3-4 hours. Rotate and switch the racks every hour and flip the jerky strips over after 2 hours. You're looking for a texture that's dry and firm but pliable when you bend it.
Step Seven
Let the jerky cool at room temperature, then store in a heavy-duty zipseal bag or airtight container.
Keep refrigerated for best flavor.
Below you'll find another great recipe, Biltong or the south african beef jerky
Biltong  is a great survival food that has his origins in Southern Africa and it's a variety of dried and cured meat. You can use a big variety of meats to produce biltong like beef , game meats, chicken, fish or even ostrich. First you have to cut out the fillets of meat.
The fillets must be cut into strips or flat pieces following the grain of the muscle. Biltong is similar to beef jerky in a certain way because both are cured-dried meats. The difference between biltong and beef jerky is that biltong is sliced after the drying  process  not  before like the beef jerky.
Ingredients for biltong
Meat
Black pepper
Coriander
Salt
Sugar or brown sugar
Vinegar
The modern day recipe may include:
Balsamic vinegar or malt vinegar
Bicarbonate of soda
Dry ground chili peppers
Onion powder
Preparation
The best way to prepare biltong is by marinating the meat in a vinegar solution (balsamic or cider vinegar work very well too) for a few hours. After soaking the meat must be drained of excess liquid. Meanwhile prepare the spice mixture that consists of equal amounts of :
Whole slightly roasted and roughly grounded coriander
Black pepper
Rock salt
Barbecue spice
Mix all the ingredients then ground roughly together. Sprinkle the mix all over the meat fillets and rub well to obtain an evenly distributed layer. After this process the meat must rest for a few hours or refrigerate overnight in order to absorb the flavors.
The next step is to pour off any excess of liquid.
The drying process
The drying process can be achieved in three ways:
You can dry out the meat in cold air.
On a cardboard or in a wooden box
In a climate-controlled dry room
In colder climates biltong can be dried with the help of an electric lamp but care must be taken to ventilate as mold can form on the meat spoiling it.
A traditional slow dry will take 4 to 6 days but you can dry the biltong in an electric fan-assisted oven too. Set the oven to 100-160 degrees F and leave the door open in order to eliminate the moist air. You'll have the same result as the traditional drying after 4-5 hours. The point is to eliminate as much moisture as possible. A longer drying process will prolong the shelf life from 2 to 3-4 years. Biltong can be eaten as a snack, added to stews for the great taste, sandwiches or make biltong-flavored potato chips.
Final Word
We are straying away from our roots on a dangerous road from which there will be no turning back. And the good and bad news is that we are the last generation that can truly do something about it.

We no longer know how to live without refrigerators, without cars, without phones or without supermarkets.

What will you do tomorrow if you simply are unable to buy things?
Find all the answers  in this great book  'The Lost Ways' . All the knowledge gathered over the years by our forefathers packed in one book.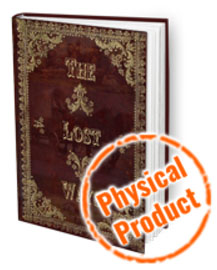 If you found this article useful, please like our Facebook page and stay up to date with the latest articles.
CHECK OUT OUR survival and prepping solutions.
Read also:
A RETURN TO THE OLD PATHS: HOW TO MAKE PEMMICAN LIKE THE NATIVE AMERICANS
SEVEN CLASSIC GREAT DEPRESSION ERA RECIPES GRANDMA USED TO MAKE
20 LOST RECIPES FROM THE PIONEERS: WHAT THEY COOKED IN THEIR JOURNEY WESTWARD
POTTED MEAT: A LOST SKILL OF LONG TERM MEAT STORAGE
BACK TO BASICS: HOW TO MAKE AND PRESERVE LARD
THE BEST WAY TO STOCKPILE VEGETABLES OFF-GRID
OLD FASHIONED PRESERVING-GRANDPA'S RECIPE FOR CURED SMOKED HAM