Creating a small backyard farm in can be a rewarding experience for the entire family. In addition to the fun you'll have while taking care of plants and animals, the bounty you'll enjoy can save a lot of money on grocery bills and help your family to be more "green". Before you start turning over garden beds and picking out baby chicks, however, make sure you have some practical items in place ahead of time so that your mini farm can be fully functional.

Real Self Sustainability
Ample Storage Space
Shovels, hoes and rakes can rust quickly if they are left out in the rain, so having a a good shed is essential for small-scale farmers. Besides garden tools, you'll also need a decent shed to keep animal feed, straw bales and any seeds you may be storing for the next growing season. Depending on the needs of your family's backyard farm, you can find small eight-by-eight prefab garden sheds or large, two-story prefab sheds that look like miniature houses.
A Home For Your Chickens
If you buy baby chicks thinking you'll have time to build a coop for them before they leave the incubator, think again. Having an outdoor home in place before adopting chickens will make the transition outdoors much easier on everyone. You can find portable chicken coops from http://www.shedsunlimited.net/ that are perfect for a small backyard flock. Add your own chicken run to increase the safe roaming area of your precious feathered friends.
A Composting Structure
There are many different ways to build a composting structure, and your backyard farm will benefit from having your chosen structure in place ahead of time. Whether you go with an automatic compost bin, a compost tumbler or a homemade worm bin, the nutrient rich organic matter a compost structure produces will be a key ingredient in your backyard farming success. A composting structure usually takes between three and six months to make its famous "black gold", so start the process early.
An Automatic Watering System
Although an automatic watering system for your backyard farm may sound too good to be true, they are actually surprisingly affordable. Treat yourself to this convenient farming technology by making a relatively small investment in a water timer and soaker hose. For busy backyard farmers, an automatic watering system can lead to increased yield and reduced stress by saving valuable time that would otherwise be spent bent over with a watering can.
Conclusion
Having the right supplies in place ahead of time will ensure that your backyard-farming venture is a relaxing and fruitful experience. When planned well, a backyard farm can be run smoothly for years, bringing immeasurable joy and fulfillment to those who participate in its daily operation. Although getting started may take an initial investment of some time and money, you'll be rewarded in the long run for your efforts.
Chaleigh is a freelance writer that lives in NYC. She enjoys writing and lifestyle photography. She writes about anything from wooden sheds in NY, to how to properly pave your driveway. In her spare time she likes to take pictures, snowboard, golf, and play ice hockey.
We no longer know how to live without refrigerators, without cars, or without supermarkets. What will you do tomorrow if you simply are unable to buy things? Wouldn't we be better off looking at what the pioneers took with them when they traveled from Independence, Missouri all the way to Oregon City? That was a four- to six-month journey. If your life depended on this, what Bug Out Bag would you take with you? I know I would stick with whatever the pioneer had with him.
The Lost Ways is a survival book that shows you how to survive using only methods that were tested and proven by our forefathers for centuries. The best way to survive the next major crisis is to look back at how people did things 150 years ago. This book is a far-reaching book with chapters ranging from simple things like making tasty bark-bread—like people did when there was no food—to building a traditional backyard smokehouse. Watch the video below: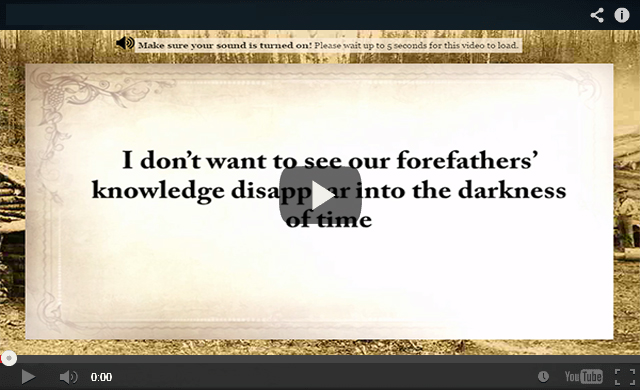 CHECK  OUR survival and prepping solutions
If you found this article useful, please like our Facebook page and stay up to date with the latest articles.
WHAT TO READ NEXT:
HOW TO MAKE YOUR OWN BACON (STEP BY STEP GUIDE)
A RETURN TO THE OLD PATHS: HOW TO MAKE PEMMICAN LIKE THE NATIVE AMERICANS
20 LOST RECIPES FROM THE PIONEERS: WHAT THEY COOKED ON THEIR JOURNEY WESTWARD
SEVEN CLASSIC GREAT DEPRESSION ERA RECIPES GRANDMA USED TO MAKE
POTTED MEAT: A LOST SKILL OF LONG TERM MEAT STORAGE
BACK TO BASICS: HOW TO MAKE AND PRESERVE LARD
THE BEST WAY TO STOCKPILE VEGETABLES OFF-GRID
OLD FASHIONED PRESERVING-GRANDPA'S RECIPE FOR CURED SMOKED HAM
HOW TO MAKE GUNPOWDER THE OLD FASHIONED WAY
SURVIVAL HERBAL RECIPES FROM OUR ANCESTORS
HOW TO PRESERVE MEAT FOR SURVIVAL LIKE OUR GRANDFATHERS
OTHER USEFUL RESOURCES:
The 3 Pioneer Survival Lessons We Should Learn
The Most Effective Home Defense Strategies
Old School Hacks for Off-Grid Living
The Medical Emergency Crash Course
The Smart, Easy Way to Food Independence
How to Survive the Coming 100 Years Long Drought
Source: doomsdaymoose.com