Off griders and homesteaders need tools! Period. Hand tools, power tools, and equipment all make off grid living easier and more productive.
Without these tools it's impossible to build and maintain your homestead. Being off grid means being prepared and being 100% self sufficient. Without the right tools for the right job your life off grid will be much rougher than it needs to be. Be prepared and be ready. This is a list of must have tools in your off grid living arsenal.
You will need these tools, just to start.
Tools For Your Off Grid Homestead
Chainsaws – If you don't have a chainsaw, get one. You'll need it to clear brush, trees, and if you're the adventurous type, you'll need it to build your cabin. It's an invaluable tool for trimming trees which overhang your home, clearing trails and roads of debris caused by storms, and with a sawmill-attachment, you can make lumber to build your cabin.
Handsaws – Your chainsaw will run out of gas, and there will be others helping you build and maintain your property. A handsaw is a must-have tool.
Table Saw – Cutting planks and boards to exact measurements takes a good table saw.
Chop Saw – With a chop saw you can cut pipe, rebar, studs, joists, fence posts and just about all other materials from steel, to PVC, to wood, brick and concrete block.
Axes – No homestead is complete without an axe. Firewood is the most needed commodity in the northern hemisphere in winter, and if you don;t have an axe, it could mean the difference between survival and freezing to death.
Machete – A machete is the perfect tool for clearing small areas or blazing trails on your property.
Shovels – Goes without saying, but we're saying it anyway. Get a few good solid high quality shovels. Get a couple spades and a couple square-pointed shovels. You'll need them to dig holes of all kinds, from footers, to septic systems, to gardening.
Rakes – You'll need to rake leaves, gravel, sand and soil in your garden and around your home.
Hoe – Gardening can't be done without one.
Post Hole Diggers – Ever try to put up a fence without a post hole digger? Enough said. (Oh, they also work well for digging outhouse holes.)
Hammers – Claw hammer and a sledge hammer.
Wheelbarrows – You'll need a way to haul small loads of various materials, sand, dirt, concrete and fertilizers. Plus, kids love riding in them too!
Dolly (hand truck) – Another great tool for making your life easier when moving furniture and appliances.
Utility Trailer – A good quality utility trailer is an invaluable must-have on any serious homesteaders land. You will need to haul any number of things on your property, having a utility trailer makes it much easier.
Tractor – From tilling, to plowing, hauling, and just getting from place to place on your land, it's a must.
Tiller – If you have a smaller garden area, a small gas powered rotary tiller is a good investment. It's much easier than tilling by hand, and will save you time.
ATV or UTV – You'll need to haul things across your land, if you don't have a tractor (get a tractor) you'll need a UTV or ATV to haul things from place to place with your utility trailer. It makes it convenient and you don't have to put wear-and-tear on your truck.
Rope & Cordage – Everyone needs a good supply of cordage and rope for their homestead. It's a necessity.
Chain & Cable – You will need to haul heavy pieces of equipment and materials across your land. A good solid piece of chain and a long length of strong 1/4″ and 1/2″ cable is priceless! Keep them with easy access in your truck, UTV/ATV, and barn.
Come-Along – A come-along is a ratcheting cable used to lift and drag heave objects into place.
Lumber Jack – You'll need a large lumber jack for lifting beams, logs, and other heavy objects. It also helps when you get your vehicles or tractor stuck in the mud.
Level – Every homestead builder needs a level, from leveling pipe to wooden structures, barn and cabin building, to running fencing you'll need a good level. Get a large and small hand held level.
Tape Measure – This goes without saying, but we're saying it anyway. Get a couple tape measures for measuring distance, board length, and all other building and maintenance applications.
Carpenter Pencils – Simply used for marking cut lines on boards, studs, posts, logs etc. You could use a nail, but having some carpenter's pencils on hand is just smart.
Wrenchs & Socket Set – Your tractor, car, truck, and other equipment will break down eventually and you'll need to repair them. You'll also find uses for a good socket set inside your home or cabin. Get a good set. Don't buy a cheap set! That bears repeating. DO NOT BUY A CHEAP SOCKET SET! They will not last and you'll lose pieces and sockets because the cases they come in are cheaply built and are not durable. If you buy good quality tools in the beginning it will save you way more money over time. Craftsman tools offer a LIFETIME WARRANTY for defective tools, but you'll most likely never have to replace them.
Screwdrivers – Don't get screwed by not having a good set of common sizes and types of screwdrivers.
Drill Press – This machine is a must have when precision is needed for drilling highly accurate holes in materials of all types. You can get by with a hand held drill, but a drill press is ten times as accurate and the quality of your build or repair will be much better.
Vice – You'll need a way to hold pipe, rebar, planks, boards, posts, and other objects steady while working on them.
Hand Drill – As above, having a quality drill is a must. You never know when you'll need to connect pieces of materials, run wire through a header or footer, drill starter holes, or ventilation holes in your outhouse.
Welder – Every good homesteader knows a welder is a solid must-have tool for your homestead. From regular maintenance to builds and emergency repairs, a welder will save your thousands of dollars in repair bills over the long term. If you don;t know how to weld, learn. It's worth the investment in knowledge and for the savings.
Cutting Torch – You will at some point need to cut metal, whether it's steel tubing, pipe, sheet metal, or steel framing on your tractor, truck, car, or steel building. Having a cutting torch and the knowledge to use it will not only save you money, but lots of time.
4″ Grinder – This is a very versatile tool. You can cut, grind,sand and smooth metal, wood, and concrete materials with ease. If you don't have a grinder, get one.
Miscellaneous Hand Tools – Pliers, wire cutters, vice grips, C-clamps, clamps, scrapers, paint brushes, chisels, and other small hand tools.
This might seem like almost every kind of tool there is known to man but it's simply the basics. This list is far from being comprehensive. There are many, many more tools you'll need on your off grid homestead. Without these basic tools your life will be very difficult. You need to be able to maintain and repair all your equipment and your home or cabin.
Having these tools on hand helps get the job done right and is a time saver by having the right tool for the right job and within reach when the need arises.
It will make your off grid homesteading life much easier and more rewarding.
Want to go completely off-grid and be as self-sufficient as possible? Then you really need this amazing step-by-step guide. It is called The Lost Ways and it contains all the knowledge of our forefathers.
Here's just a glimpse of what you'll find in The Lost Ways:
From Ruff Simons, an old west history expert and former deputy, you'll learn the techniques and methods used by the wise sheriffs from the frontiers to defend an entire village despite being outnumbered and outgunned by gangs of robbers and bandits, and how you can use their wisdom to defend your home against looters when you'll be surrounded.
Native American ERIK BAINBRIDGE – who took part in the reconstruction of the native village of Kule Loklo in California, will show you how Native Americans build the subterranean roundhouse, an underground house that today will serve you as a storm shelter, a perfectly camouflaged hideout, or a bunker. It can easily shelter three to four families, so how will you feel if, when all hell breaks loose, you'll be able to call all your loved ones and offer them guidance and shelter? Besides that, the subterranean roundhouse makes an awesome root cellar where you can keep all your food and water reserves year-round.
From Shannon Azares you'll learn how sailors from the XVII century preserved water in their ships for months on end, even years and how you can use this method to preserve clean water for your family cost-free.
Mike Searson – who is a Firearm and Old West history expert – will show you what to do when there is no more ammo to be had, how people who wandered the West managed to hunt eight deer with six bullets, and why their supply of ammo never ran out. Remember the panic buying in the first half of 2013? That was nothing compared to what's going to precede the collapse.
From Susan Morrow, an ex-science teacher and chemist, you'll master "The Art of Poultice." She says, "If you really explore the ingredients from which our forefathers made poultices, you'll be totally surprised by the similarities with modern medicines." Well…how would you feel in a crisis to be the only one from the group knowledgeable about this lost skill? When there are no more antibiotics, people will turn to you to save their ill children's lives.
And believe it or not, this is not all…
Table Of Contents:
Making Your Own Beverages: Beer to Stronger Stuff
Ginger Beer: Making Soda the Old Fashioned Way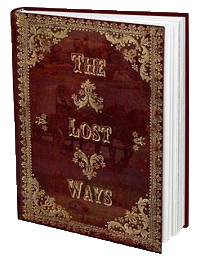 How North American Indians and Early Pioneers Made Pemmican
Spycraft: Military Correspondence During The 1700's to 1900's
Wild West Guns for SHTF and a Guide to Rolling Your Own Ammo
How Our Forefathers Built Their Sawmills, Grain Mills,and Stamping Mills
How Our Ancestors Made Herbal Poultice to Heal Their Wounds
What Our Ancestors Were Foraging For? or How to Wildcraft Your Table
How Our Ancestors Navigated Without Using a GPS System
How Our Forefathers Made Knives
How Our Forefathers Made Snow shoes for Survival
How North California Native Americans Built Their Semi-subterranean Roundhouses
Our Ancestors'Guide to Root Cellars
Good Old Fashioned Cooking on an Open Flame
Learning from Our Ancestors How to Preserve Water
Learning from Our Ancestors How to Take Care of Our Hygiene When There Isn't Anything to Buy
How and Why I Prefer to Make Soap with Modern Ingredients
Temporarily Installing a Wood-Burning Stove during Emergencies
Making Traditional and Survival Bark Bread…….
Trapping in Winter for Beaver and Muskrat Just like Our Forefathers Did
How to Make a Smokehouse and Smoke Fish
Survival Lessons From The Donner Party
Get your paperback copy

HERE
CHECK  OUR survival and prepping solutions
If you found this article useful, please like our Facebook page and stay up to date with the latest articles.
WHAT TO READ NEXT:
HOW TO MAKE YOUR OWN BACON (STEP BY STEP GUIDE)
A RETURN TO THE OLD PATHS: HOW TO MAKE PEMMICAN LIKE THE NATIVE AMERICANS
20 LOST RECIPES FROM THE PIONEERS: WHAT THEY COOKED ON THEIR JOURNEY WESTWARD
SEVEN CLASSIC GREAT DEPRESSION ERA RECIPES GRANDMA USED TO MAKE
POTTED MEAT: A LOST SKILL OF LONG TERM MEAT STORAGE
BACK TO BASICS: HOW TO MAKE AND PRESERVE LARD
THE BEST WAY TO STOCKPILE VEGETABLES OFF-GRID
OLD FASHIONED PRESERVING-GRANDPA'S RECIPE FOR CURED SMOKED HAM
HOW TO MAKE GUNPOWDER THE OLD FASHIONED WAY
SURVIVAL HERBAL RECIPES FROM OUR ANCESTORS
HOW TO PRESERVE MEAT FOR SURVIVAL LIKE OUR GRANDFATHERS
OTHER USEFUL RESOURCES:
The 3 Pioneer Survival Lessons We Should Learn
The Most Effective Home Defense Strategies
Old School Hacks for Off-Grid Living
The Medical Emergency Crash Course
The Smart, Easy Way to Food Independence