For anyone lucky enough to have a shallow water table without bedrock, a do-it-yourself driven well saves thousands of dollars compared to having a bored well drilled.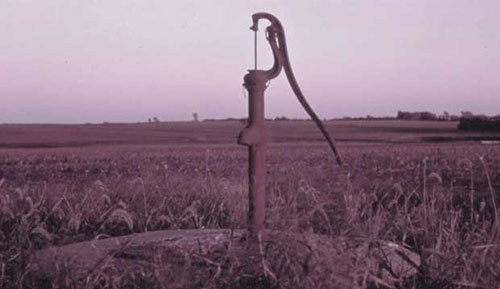 Under ideal conditions, a well can be driven in a few hours and fitted with a pitcher pump, creating an uncomplicated, inexpensive backup or everyday water supply.
Sand point wells (a.k.a. well points or driven wells) were once widespread, but, like so many other unsophisticated tools, went to the scrap heap once electricity, drilling rigs and volumes of deep water became available. "Mechanics of the Household" of 1918 describes sand point wells' easy installation and maintenance as if every household should have at least one. Just as many Americans have never saddled a horse, used a crosscut saw, canned sauerkraut or sewn with a treadle machine, many do not know about sand points. Yet, we should.
Many professional experts now agree the severity of our extreme weather is intensifying, fossil fuels really are irreplaceable, and energy costs are escalating. For a few hundred dollars, a hand pump and driven well could be a lifesaver, and not only for rural folks. Installing one may be less complicated than you think.
DIY Water Well in a Day
Find your water table
Sand points are used in coarse sand or gravel. In clay, earth augers function best. In stone or hard formations, or if water is very deep, wells are drilled. The water table (upper level of saturated soil) fluctuates seasonally. In wet periods, the water table may be above ground. In drought, the water table may sink below the well bottom, "going dry."
To learn about your water table, contact your county's water district or state's natural resources department. Well drillers and neighbors with sand points can tell you about their well depths and yields. Online, check with Water Systems Council or U. S. Geological Survey. You may also need a permit.
How to install a sand point well
Through the years, Mother Earth News published several good articles about sand points, including "How to Dig a Well" in 1970 and "Water Development for Homesteaders," in 1971 by Ken Kerns, who says, "If driving conditions are good, a 4-inch diameter casing can be driven to as deep as 50 feet." Readers Digest "Back to Basics" book of 1981 says depths of 150 feet can be achieved "with equipment." Typically, however, driven wells are installed no more than 30 feet deep with a 1 1/4" or 2" pipe and simple tools. Also in Mother Earth, Steve Maxwell writes in 2012 in "Homestead Water Sources and Options" that 50 feet can be reached with perfect hydrogeological conditions.
Basically, a driven well is installed by hammering a sand point and pipe directly into the earth to tap groundwater that may be literally right under your feet. The sand point, a perforated pipe of 24 to 60 inches with a heavy steel point (the water intake), is screened to keep out larger dirt particles. The screen, available in various opening sizes depending on soil, must be strong enough to withstand hammering and abrasion. Two good sources for installation information include Merrill Manufacturing and Wisconsin DNR.
Drive pipe, couplings and cap
The drive (rigid) pipe, or well casing, must also be heavy-duty. Threads of ordinary thin-wall pipe and couplings may strip or shear or the pipe may break at the threads. A drive cap protects the threads. It may be helpful to use a short section of rigid pipe and coupling below the drive cap, which is easier to remove than the cap after repeated blows.
Hammering methods
This pipe is hammered into the ground by repeatedly dropping a heavy weight (a driver) onto the pipe generally in one of four ways: The driver is guided inside the pipe to strike the pipe cap, the driver is guided outside of pipe (as pictured here) to strike the cap, the driver strikes a clamp outside the pipe, or a long, thin driver strikes the sand point base inside the pipe. The last technique eliminates compressive loading on the pipe and makes heavy drive pipe unnecessary. A maul can be used, but besides being grueling, is difficult to drive squarely.
The weight can be driven by hand using a tool resembling a T-post driver, or the weight can be raised and lowered with a tripod and pulley. Or, if dropping a weight inside the pipe, the weight can be lowered with a rope and no tripod. Just be sure to tie off the rope securely so it is not accidentally dropped down the well (this is from personal experience with another project).
After the first pipe is driven into the ground, the pipe cap is removed and another section of pipe (with threaded coupling and pipe compound) is added. It is easiest to work with 5-foot pipe sections. If using 10-foot pipe and a T-post driver, first dig a 3-foot deep hole to stand in as the pipe is driven down. This hole must later be filled. Another option is to stand on a ladder or platform as sections are added. Again, this can make hammering awkward.
Hitting water
To determine when you have hit water, lower a weighted string down the pipe. You will hear when it hits water. Drive down about 5 more feet to allow for seasonal water level changes. Do not drive down too far or you may push your sand point past the water-bearing formation. Leave enough pipe extending from the ground to be at a comfortable working height with the pump you intend to use, about 2-3 feet. This also helps protect the well from surface contamination. The system also must be flushed to remove dirt.
Next, attach your pitcher pump or suction pump. Begin pumping. Within a few strokes, you'll have water coming out the spout. The muddiness will disappear in time.

Uses for sand point wells
According to "Self-Help Wells" by the United Nations Food and Agriculture Organization, sand point wells have many uses. For instance, while the well diameter is normally small and the yield relatively low, several driven wells may be coupled to a single pump. Because driven wells are quickly constructed, they may be used temporarily and pulled up when no longer needed. Driven well points can dewater excavation sites. A driven well point may be used to finish a hole that was excavated to the water table by another method such as an auger.
Investing now in something as simple as a sand point well, if at all possible, is wise. After all, you can only store so much water.
Source: theprepperjournal.com
Want to go completely off-grid and be as self-sufficient as possible? Then you really need this amazing step-by-step guide. It is called The Lost Ways and it contains all the knowledge of our forefathers.
Here's just a glimpse of what you'll find in The Lost Ways:
From Ruff Simons, an old west history expert and former deputy, you'll learn the techniques and methods used by the wise sheriffs from the frontiers to defend an entire village despite being outnumbered and outgunned by gangs of robbers and bandits, and how you can use their wisdom to defend your home against looters when you'll be surrounded.
Native American ERIK BAINBRIDGE – who took part in the reconstruction of the native village of Kule Loklo in California, will show you how Native Americans build the subterranean roundhouse, an underground house that today will serve you as a storm shelter, a perfectly camouflaged hideout, or a bunker. It can easily shelter three to four families, so how will you feel if, when all hell breaks loose, you'll be able to call all your loved ones and offer them guidance and shelter? Besides that, the subterranean roundhouse makes an awesome root cellar where you can keep all your food and water reserves year-round.
From Shannon Azares you'll learn how sailors from the XVII century preserved water in their ships for months on end, even years and how you can use this method to preserve clean water for your family cost-free.
Mike Searson – who is a Firearm and Old West history expert – will show you what to do when there is no more ammo to be had, how people who wandered the West managed to hunt eight deer with six bullets, and why their supply of ammo never ran out. Remember the panic buying in the first half of 2013? That was nothing compared to what's going to precede the collapse.
From Susan Morrow, an ex-science teacher and chemist, you'll master "The Art of Poultice." She says, "If you really explore the ingredients from which our forefathers made poultices, you'll be totally surprised by the similarities with modern medicines." Well…how would you feel in a crisis to be the only one from the group knowledgeable about this lost skill? When there are no more antibiotics, people will turn to you to save their ill children's lives.
And believe it or not, this is not all…
Table Of Contents:
Making Your Own Beverages: Beer to Stronger Stuff
Ginger Beer: Making Soda the Old Fashioned Way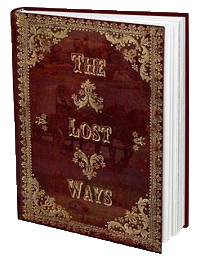 How North American Indians and Early Pioneers Made Pemmican
Spycraft: Military Correspondence During The 1700's to 1900's
Wild West Guns for SHTF and a Guide to Rolling Your Own Ammo
How Our Forefathers Built Their Sawmills, Grain Mills,and Stamping Mills
How Our Ancestors Made Herbal Poultice to Heal Their Wounds
What Our Ancestors Were Foraging For? or How to Wildcraft Your Table
How Our Ancestors Navigated Without Using a GPS System
How Our Forefathers Made Knives
How Our Forefathers Made Snow shoes for Survival
How North California Native Americans Built Their Semi-subterranean Roundhouses
Our Ancestors'Guide to Root Cellars
Good Old Fashioned Cooking on an Open Flame
Learning from Our Ancestors How to Preserve Water
Learning from Our Ancestors How to Take Care of Our Hygiene When There Isn't Anything to Buy
How and Why I Prefer to Make Soap with Modern Ingredients
Temporarily Installing a Wood-Burning Stove during Emergencies
Making Traditional and Survival Bark Bread…….
Trapping in Winter for Beaver and Muskrat Just like Our Forefathers Did
How to Make a Smokehouse and Smoke Fish
Survival Lessons From The Donner Party
Get your paperback copy HERE
CHECK  OUR survival and prepping solutions
If you found this article useful, please like our Facebook page and stay up to date with the latest articles.
WHAT TO READ NEXT:
HOW TO MAKE YOUR OWN BACON (STEP BY STEP GUIDE)
A RETURN TO THE OLD PATHS: HOW TO MAKE PEMMICAN LIKE THE NATIVE AMERICANS
20 LOST RECIPES FROM THE PIONEERS: WHAT THEY COOKED ON THEIR JOURNEY WESTWARD
SEVEN CLASSIC GREAT DEPRESSION ERA RECIPES GRANDMA USED TO MAKE
POTTED MEAT: A LOST SKILL OF LONG TERM MEAT STORAGE
BACK TO BASICS: HOW TO MAKE AND PRESERVE LARD
THE BEST WAY TO STOCKPILE VEGETABLES OFF-GRID
OLD FASHIONED PRESERVING-GRANDPA'S RECIPE FOR CURED SMOKED HAM
HOW TO MAKE GUNPOWDER THE OLD FASHIONED WAY
SURVIVAL HERBAL RECIPES FROM OUR ANCESTORS
HOW TO PRESERVE MEAT FOR SURVIVAL LIKE OUR GRANDFATHERS
OTHER USEFUL RESOURCES:
The 3 Pioneer Survival Lessons We Should Learn
The Most Effective Home Defense Strategies
Old School Hacks for Off-Grid Living
The Medical Emergency Crash Course
The Smart, Easy Way to Food Independence
How to Survive the Coming 100 Years Long Drought
Linda Holliday lives in the Missouri Ozarks where she and her husband formed Well WaterBoy Products, a company devoted to helping people live more self-sufficiently off grid, and invented the WaterBuck Pump. A former newspaper editor and reporter, Holliday blogs for Mother Earth News, sharing her skills in modern homesteading, organic gardening and human-powered devices.