Today I'm going to share with you a century old recipe that helped the American soldiers, ''doughboys'' as they were called, during WWI. One big problem for feeding the troops on the front was the safety of the supply lines, which were targets for bombs and other sabotage. Every soldier had reserve rations designed to sustain them when the supply lines were broken or when they were too far from the supply depots. The rations still contained hardtack in that period. Here is a recipe recommended by the American Red Cross for the families who wanted to send their soldier a shippable treat.
Read also:
Red Cross War Cake
The original recipe, promoted by the American Red Cross, comes with a recommendation: "Cake keeps fresh for a long time and can be sent to men at the front."
Ingredients:
1 cup orange juice or rum for soaking raisins
8 ounces raisins (about one package), chopped, soaked in orange juice or rum, and drained before use
2 cups brown sugar
2 cups hot water
2 tablespoons lard (butter may be substituted today, but lard helped the cake stay fresher.)
1 teaspoon salt
1 teaspoon cinnamon
1 teaspoon cloves
1 tablespoon finely grated orange zest
4 ounces pecans or walnuts, chopped
1 tsp baking soda
3 cups flour.
Directions:
Put sugar, hot water, lard, salt, cinnamon, cloves, and raisins, nuts, and grated zest in a large pot. Bring to a boil over medium heat, stirring frequently, then reduce the heat to low and cook at a simmer for 5 minutes. Remove from heat and cool in a large bowl. Preheat oven to 350°F. Mix flour and baking soda then add to the liquid part. Stir well. Take 2 small loaf pans and grease generously. Pour your mix in the loaf pans and bake for 45 minutes. Check with a knife when ready. If the knife comes out clean when you poke the cake than it is ready to take out of the oven. 4 to 6 serves.
This lost super-food vanished with the Incas over 6 centuries ago. This mysterious dish was just recently rediscovered by NASA who has been giving away rations of it to our brave men and women in their month-long space missions.So, if it managed to save the Incas centuries ago and it still works for our astronauts today, you can bet your last dollar it will keep you and your family well fed in any crisis. Find out more about it HERE 
Invented by the natives of North America, pemmican was used by Indian scouts as well as early western explorers. These people spent a great deal of time on the go and depended on having portable, high-energy, highly nutritious, and filling foods that would last for long periods of time.Pemmican was light, compact, high in protein, carbohydrates, vitamins, and if done properly can last anywhere from a few years (decades) up to a lifetime without refrigeration! Learn how to make it!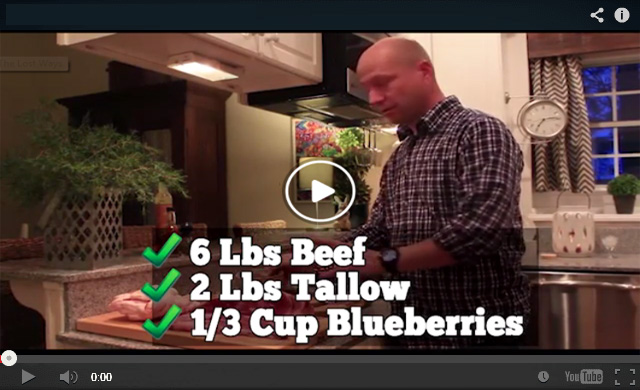 WHAT TO READ NEXT:
HOW TO MAKE YOUR OWN BACON (STEP BY STEP GUIDE)
A RETURN TO THE OLD PATHS: HOW TO MAKE PEMMICAN LIKE THE NATIVE AMERICANS
20 LOST RECIPES FROM THE PIONEERS: WHAT THEY COOKED ON THEIR JOURNEY WESTWARD
SEVEN CLASSIC GREAT DEPRESSION ERA RECIPES GRANDMA USED TO MAKE
POTTED MEAT: A LOST SKILL OF LONG TERM MEAT STORAGE
BACK TO BASICS: HOW TO MAKE AND PRESERVE LARD
THE BEST WAY TO STOCKPILE VEGETABLES OFF-GRID
OLD FASHIONED PRESERVING-GRANDPA'S RECIPE FOR CURED SMOKED HAM
HOW TO MAKE GUNPOWDER THE OLD FASHIONED WAY
SURVIVAL HERBAL RECIPES FROM OUR ANCESTORS
HOW TO PRESERVE MEAT FOR SURVIVAL LIKE OUR GRANDFATHERS
OTHER USEFUL RESOURCES:
The 3 Pioneer Survival Lessons We Should Learn
The Most Effective Home Defense Strategies
Old School Hacks for Off-Grid Living
The Medical Emergency Crash Course
The Smart, Easy Way to Food Independence