Over the years, we've talked at length on how fish are a great addition to your prepper food supply and taught you how to catch a fish without a hook, how to make a fishing spear, and even ways to use up every ounce of your catch. Now, we're going to cover some fine points on the smoking of fish.
As we speak, I'm throwing some salmon steaks in to broil. Good eating! Firstly, you have some of your best protein in the form of seafood or freshwater fish. The meat is high protein, packed with Omega-3 fatty acids, and it supplies forms of essential nutrients that are very beneficial in strengthening your cognitive abilities and preventing things such as Alzheimer's disease.
Off-Grid Cooking: How To Smoke Fish
In a wilderness environment, you can easily erect a three-posted tepee out of green wood, and a "platform" of green sticks on which to smoke your fish, or you can skewer them on a pole and dry them out over an open fire. This video gives great instructional information on how to smoke using this method. Without refrigeration, you want to eat those within 24 hours. In this article, we're going to deal with more conventional methods, as they are more readily available and simpler to use.
You can smoke with an oven, but the preferred method is with a barbecue grill (Brinkman being the best kind, as it has multiple levels). Take your charcoal down to gray coals, and above this place a pan of wood chips that have been soaked in water for at least 30 minutes. Hickory and mesquite chips are good for this. The object is to make smoke with the chips, and not fire. You should smoke the fish for about 30 minutes, and make sure the edges of the grill don't allow the smoke to escape.

Do you long for that authentic smoked bacon? Or the taste of juicy mouthwatering ham and link sausages that you just don't find on supermarket shelves? Well, if you want to enjoy all that and feel like a kid again, waking up in your grandma's house… while ensuring your family is well fed no matter what the future brings, then…read THIS!
For the fish, after they're cleaned, gutted, and scaled, season them down. I prefer Old Bay seasoning for all my fish, but you can use lemon, pepper, and natural hickory smoke flavor. Make sure your rack of fish is close to the smoking wood chips…just over top of it for maximum output. Remember: you're smoking it hot, not "cold smoking" it, which is not cooking it. When you're finished, you want to refrigerate the fish.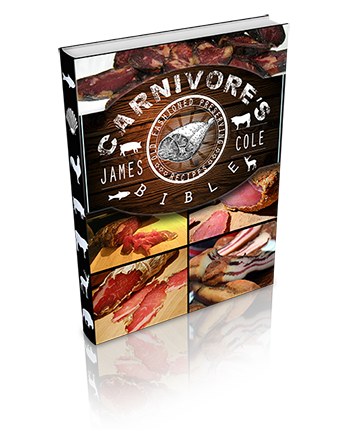 Hot smoking by this method cooks the fish, and the smoke flavors the meat. This is not to be confused with dehydrating, which is not the same as dehydrating meat such as beef into jerky. There are many stove top-type smokers up there that can be used on the kitchen stove. Just be sure to provide plenty of ventilation when you use it: you should have a good exhaust fan with your stove.
Smoking can also help your meat to last longer should you decide to freeze the fish after you're done. In the end, you'll come out with a good piece of meat that has been cooked without any added oils or breading…high protein and healthier for you. Try it out. Bass and crappie are in season, and flounder are running now on the East Coast. Smoke some, and get some good quality protein and practice for when you're next in the woods and land that trout.  JJ out!
Source: readynutrition.com
WHAT TO READ NEXT:
HOW TO MAKE YOUR OWN BACON (STEP BY STEP GUIDE)
A RETURN TO THE OLD PATHS: HOW TO MAKE PEMMICAN LIKE THE NATIVE AMERICANS
20 LOST RECIPES FROM THE PIONEERS: WHAT THEY COOKED ON THEIR JOURNEY WESTWARD
SEVEN CLASSIC GREAT DEPRESSION ERA RECIPES GRANDMA USED TO MAKE
POTTED MEAT: A LOST SKILL OF LONG TERM MEAT STORAGE
BACK TO BASICS: HOW TO MAKE AND PRESERVE LARD
THE BEST WAY TO STOCKPILE VEGETABLES OFF-GRID
OLD FASHIONED PRESERVING-GRANDPA'S RECIPE FOR CURED SMOKED HAM
HOW TO MAKE GUNPOWDER THE OLD FASHIONED WAY
SURVIVAL HERBAL RECIPES FROM OUR ANCESTORS
HOW TO PRESERVE MEAT FOR SURVIVAL LIKE OUR GRANDFATHERS
Useful resources:
THE LOST BOOK OF REMEDIES-All Medicinal Plants and Lost Cures of North America
THE LOST WAYS-Learn the long forgotten secrets that helped our forefathers survive famines,wars,economic crisis and anything else life threw at them
EASY CELLAR-AMERICA'S NATURAL NUCLEAR BUNKERS: FIND THE CLOSEST ONE TO YOUR HOME
THE LOST WAYS 2-This lost super-food will bulletproof you against any food shortage or famine
BLACKOUT USA-EMP survival and preparedness guide
DIY HOME ENERGY-Follow the step-by-step guide from A to Z and you will have a working system to reduce your electricity bills and save energy
MY SURVIVAL FARM-This hidden survival garden will keep you well fed when SHTF
CARNIVORE'S BIBLE -THE REAL HOMEMADE AND HEALTHY MEATY TREATS OUR GRANDPARENTS USED TO MAKE…