Biltong  is a great survival food that has his origins in Southern Africa and it's a variety of dried and cured meat. You can use a big variety of meats to produce biltong like beef , game meats, chicken, fish or even ostrich. First you have to cut out the fillets of meat.
The fillets must be cut into strips or flat pieces following the grain of the muscle. Biltong is similar to beef jerky in a certain way because both are cured-dried meats. The difference between biltong and beef jerky is that biltong is sliced after the drying  process  not  before like the beef jerky.
Ingredients for biltong
The modern day recipe may include:
Balsamic vinegar or malt vinegar
Bicarbonate of soda
Dry ground chili peppers
Onion powder
Preparation
The best way to prepare biltong is by marinating the meat in a vinegar solution (balsamic or cider vinegar work very well too) for a few hours. After soaking the meat must be drained of excess liquid. Meanwhile prepare the spice mixture that consists of equal amounts of :
Whole slightly roasted and roughly grounded coriander
Black pepper
Rock salt
Barbecue spice
Mix all the ingredients then ground roughly together. Sprinkle the mix all over the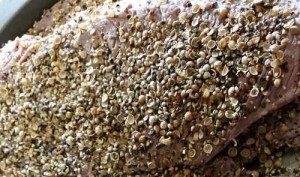 meat fillets and rub well to obtain an evenly distributed layer. After this process the meat must rest for a few hours or refrigerate overnight in order to absorb the flavors.
The next step is to pour off any excess of liquid.
The drying process
The drying process can be achieved in three ways:
You can dry out the meat in cold air.
On a cardboard or in a wooden box
In a climate-controlled dry room
In colder climates biltong can be dried with the help of an electric lamp but care must be taken to ventilate as mold can form on the meat spoiling it.
A traditional slow dry will take 4 to 6 days but you can dry the biltong in an electric fan-assisted oven too. Set the oven to 100-160 degrees F and leave the door open in order to eliminate the moist air. You'll have the same result as the traditional drying after 4-5 hours. The point is to eliminate as much moisture as possible. A longer drying process will prolong the shelf life from 2 to 3-4 years. Biltong can be eaten as a snack, added to stews for the great taste, sandwiches or make biltong-flavored potato chips.
If you have any other tip about biltong please write a comment in the section bellow.
Learn how to preserve for up to a year your own cured smoked hams, bacon, link sausages, jerky, cured and smoked fish and many other with Meat for Life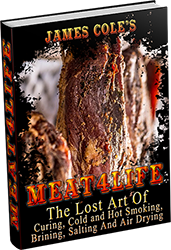 Here's just a glimpse of what you'll find inside Meat 4 Life:
You'll discover the ancient meat preservation method that will make your mouth water. Enjoying the delicious sweet-smoky taste of beef, pork, or link sausages for months to come… without ANY refrigeration, chemicals, preservatives, or additives!
And you can prepare everything in your back-yard (or balcony) in one afternoon– I promise it will be more relaxing than taking the day off to go fishing.
You'll also learn how to get rid of the toxic canned food from the supermarket… and preserve your own healthy & delicious vegetables and fruits. All you need is Rick's secret canning trick to instantly kill bacteria and parasites…
… and eliminate ANY toxic preservatives so you can keep your food in perfect condition for a full year, with all nutrients and vitamins intact.
Get your copy HERE
Stay safe,
James
CHECK  OUR survival and prepping solutions
If you found this article useful, please like our Facebook page and stay up to date with the latest articles.
WHAT TO READ NEXT:
A RETURN TO THE OLD PATHS: HOW TO MAKE PEMMICAN LIKE THE NATIVE AMERICANS
20 LOST RECIPES FROM THE PIONEERS: WHAT THEY COOKED IN THEIR JOURNEY WESTWARD
SEVEN CLASSIC GREAT DEPRESSION ERA RECIPES GRANDMA USED TO MAKE
POTTED MEAT: A LOST SKILL OF LONG TERM MEAT STORAGE
BACK TO BASICS: HOW TO MAKE AND PRESERVE LARD
THE BEST WAY TO STOCKPILE VEGETABLES OFF-GRID
OLD FASHIONED PRESERVING-GRANDPA'S RECIPE FOR CURED SMOKED HAM
HOW TO MAKE GUNPOWDER THE OLD FASHIONED WAY
SURVIVAL HERBAL RECIPES FROM OUR ANCESTORS
OTHER USEFUL RESOURCES:
The 3 Pioneer Survival Lessons We Should Learn
The Most Effective Home Defense Strategies
Old School Hacks for Off-Grid Living
The Medical Emergency Crash Course
The Smart, Easy Way to Food Independence
How to Survive the Coming 100 Years Long Drought