Being a prepper, you will need to have food pantry staples that last long periods of time. You do not want to stock your food pantry only to have to restock your supply in 6 months.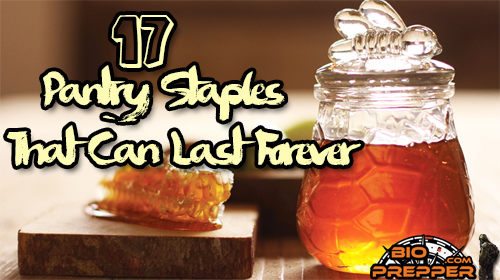 While you will not need to check constantly your food supply for expiration dates and ensure that the food is still in good condition, you can focus more on your survival skills and your SHTF plan. Honey isn't the only food that doesn't have an expiration date. As long as you're storing these foods properly, they're probably safe to eat no matter how long you've had them.Depending on your circumstances, the ideal survival stockpile might contain a lot of canned items, or you might prefer to stick with mother nature's own recipes for longevity, those ingredients which require no special seals. Here are some great long term food storage examples we wanted to share.
Honey
A few foods can last indefinitely without refrigeration or any special packaging. For example, honey found in ancient Egyptian ruins has proven edible after thousands of years. The crystallized form of sugar simply requires reheating to restore a fluid consistency. Honey is one of the best things you can store due to it's unlimited shelf life. Honey never goes bad and its properties makes it the most precious thing: is a good natural anti-septic, can treat burns(applied directly to the wound) and is a great energy booster. Even if it crystallizes or the color changes slightly, don't throw it out — it's still perfectly safe to eat.
Peanut Butter
Peanut butter can maintain its freshness for up to two years and is the best source of energy you can find due to its high content of protein and fat.(be sure you are not allergic to peanuts)
Powdered Milk
If you plan to have milk on your table after SHTF then you should stock up some powdered milk. While it's not as refreshing as the fresh stuff when it comes to drinking, powdered milk is quite useful for cooking and baking.It can be rehydrated to put on cereal, made into pudding, and as an add- into almost any kind of soup to make it a cream soup. Store it in a sealed container in a cool, dark place, and it will have an indefinite shelf life.
Rice
For a more substantial staple, white rice can last indefinitely without spoiling or breaking down. Yes, it might smell a little old (due to the starchy covering it has but I'm presently using really old rice successfully. All you need to do is rinse it well to remove the starch and voila…tasty rice. Also, you can mix a little of old and a little of new if you like. Brown rice, on the other hand, will turn rancid after several months due to its higher oil content.Wild rice does not have this same set of problems, because it is actually grass seed, not rice. Store whole non-ground grains, and a grain grinder of sufficient quality, instead of storing ground grains, flours, meals, or cereals that use processed grains.
Tip: I put all my Grains, Flours, Rice, Powdered Milk in the freezer for at least 72 hours to kill any eggs or larvae before I seal them in Mylar bags and then into buckets for added protection.
Salt. An essential supplement in any diet, salt is also useful as a natural remedy and is a multipurpose household item.It keeps well in cool, dry places and you can prevent it from clumping by dropping a few grains of rice at the bottom of the shaker.
Distilled White and Apple Cider Vinegar.
Both will keep really well for a very long time. Keep them tightly capped after opening and store them in cool, dry places.They are staples in the kitchen but they are also great multipurpose items
Pure vanilla extract
Pure vanilla costs a good deal more than its imitation counterpart, and for good reason. Not only is there a huge difference in taste, but pure vanilla also lasts a lot longer.
Pemmican
Invented by the natives of North America, pemmican was used by Indian scouts as well as early western explorers. These people spent a great deal of time on the go and depended on having portable, high-energy, highly nutritious, and filling foods that would last for long periods of time.
Pemmican was light, compact, high in protein, carbohydrates, vitamins, and if done properly can last anywhere from a few years (decades) up to a lifetime without refrigeration!
Pemmican consists of lean, dried meat which is crushed to a powder and mixed with hot, rendered fat. Back in those days the natives made it with bison, deer, or elk but nowadays it is usually made with beef. Crushed, dried berries can be added as well.
You can find the full recipe with a video tutorial to prepare your own pemmican HERE.
Cornstarch
Cornstarch is a go-to thickener for pudding, sauce, and gravy. Most recipes use only a couple tablespoons, yet cornstarch is usually sold in large packages, but don't worry — this is totally okay since it doesn't have an expiration date. Just remember to keep the lid completely sealed and store it in a cool, dark place.
Coffee / Instant Coffee
Have you ever tried to quit drinking coffee, after years of counting on it to get you up in the morning and through the day? If not you, someone in your party is likely to consider coffee (or simply caffeine) an essential, and may be tired, lethargic, and have headaches without the stuff. Coffee doesn't have to be a top priority, but being able to grab it will be something more than one person in your party is likely to be thankful for. It's a quick mood booster and good for morale. And it's also something that could be traded like a commodity during a crises situation.
Popcorn
When stored properly, popcorn can last indefinitely. Plus, it's whole grain, low in fat, and high in fiber.
Sugar
Sugar is another sweetener with no expiration. This includes all varieties — white, brown, and powdered. Be sure to store it in an airtight container to prevent moisture from dampening the sugar.
Dried fruit
Dried fruit are not only good for their long shelf life but also for their nutritional qualities. They are a great source of potassium, fiber and make a great energy booster due to their content of sugar.
Pasta.
Everybody loves pasta. I use to stock up on Italian pasta because it is made with durum wheat(grano duro) flour and this gives a longer shelf life. Pasta can be mixed up with almost anything to get a wonderful meal.
Sea vegetables / Powdered Super Greens
A popular item selling in health foods stores today are the sea vegetables that come in powdered form, or pill. In a time of catastrophic disaster, most communities are going to be hurting for fresh produce. Sea vegetables are a super food, packed with vitamins and nutrients and health benefits that help boost immunity, provide tissue repair and wound healing, and can even have anti-fungal and anti-bacterial properties. What this means is that sea vegetables like kelp and chlorella and others are super foods. Though I list sea vegetables as number ten, they should probably be the number 1 survival food on this top ten list. The reason again is that fresh produce is likely to be in short supply or disappear completely in several areas, in a widespread emergency.
As a bottled supplement, these can go a long way to provide essential vitamins and minerals, and an assortment of beneficial health properties, in a time of emergency. So, it is the powdered supplement with a long-term shelf-life that I recommend as a key survival food.
Bouillon Cubes.
They are basically dehydrated vegetables and animal fat, with a high salt content.They will elevate a plain meal to something more palatable in no time and they will keep well for a really long time. Just make sure to keep them in a cool and especially dry place, since humidity will affect their flavor and stability.
Hardtack
Hardtack, a cracker formed of plain flour and water, will also keep for decades. What it lacks in flavor it makes up for in durability, making it a common food during the American Civil War.Throughout history bread has been a vital staple of life. Archaeological evidence suggest that pre-neolitic cultures cooked a very simple flat bread on hot stones. Hardtack is one of the first survival foods used by sailors.Hardtack was also called the ship's bisket, sea bisket or ship's bread. This bread was not made to be enjoyed, it was made out of necessity. Ship's captains faced a continuous challenge having enough food on board to feed a large crew for a long journey. Food spoilage was really their greatest concern so the hardtack is really born out of necessity, it's a means of food preservation. If it was prepared properly and stored properly it would last for a year or more. In addition, the bisket form helped in portability and dividing the rations to the crew.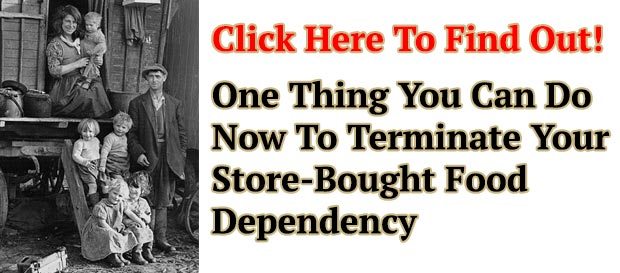 CHECK OUT OUR survival and prepping solutions
If you found this article useful, please like our Facebook page and stay up to date with the latest articles.
WHAT TO READ NEXT:
A RETURN TO THE OLD PATHS: HOW TO MAKE PEMMICAN LIKE THE NATIVE AMERICANS
20 LOST RECIPES FROM THE PIONEERS: WHAT THEY COOKED IN THEIR JOURNEY WESTWARD
SEVEN CLASSIC GREAT DEPRESSION ERA RECIPES GRANDMA USED TO MAKE
POTTED MEAT: A LOST SKILL OF LONG TERM MEAT STORAGE
BACK TO BASICS: HOW TO MAKE AND PRESERVE LARD
THE BEST WAY TO STOCKPILE VEGETABLES OFF-GRID
OLD FASHIONED PRESERVING-GRANDPA'S RECIPE FOR CURED SMOKED HAM
HOW TO MAKE GUNPOWDER THE OLD FASHIONED WAY
SURVIVAL HERBAL RECIPES FROM OUR ANCESTORS
OTHER USEFUL RESOURCES:
The 3 Pioneer Survival Lessons We Should Learn
The Most Effective Home Defense Strategies
Old School Hacks for Off-Grid Living
The Medical Emergency Crash Course
The Smart, Easy Way to Food Independence