We're going to delve in the exciting and fascinating world of herbal tinctures.  There are many reasons for making tinctures.  The foremost are: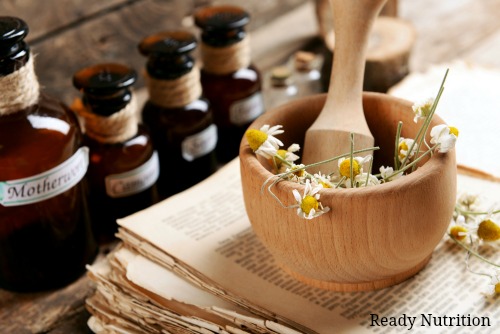 They are simple and relatively inexpensive, and they are an excellent way for you to preserve the naturopathic herbs that you wish for your supplies on a day-to-day basis and for when the SHTF.  We're going to give you the basic fundamentals here that you need to get started.
Natural Medicine: How to Make Your Own Tinctures, Part 1
Basic Terminology
Let's cover a few basic terms you'll need to keep in mind:
Menstruum – a solvent, in this case with tinctures, alcohol and water that you use to extract the soluble and viable components and constituents of an herb.
Marc – taken from the French marcher, as "to trample," this is the solid and insoluble matter remaining after you extract an herb's soluble components.
Tinctures – primarily alcohol or water/alcohol solutions that are created from dried or fresh plants, although they can also be made from vinegar, wine, or glycerin as a base.  Glycerin is a special case, though, as the solutions you make are referred to as glycerites orglycerates, as they have properties that vary from a standard tincture that we'll cover in Part 2.  The USP (United States Pharmacopoeia) only recognizes tinctures with either alcohol and water or alcohol alone.
Herb Ratios
Now you're going to need some ratios for herbs.  The International Protocol adopted in Brussels, Belgium in 1902 established these ratios of herbs to menstrua, that is to say, the amount of herb and the amount of menstruum (solvent) for it:
Tinctures of dried plants represent the activity of 20 grams (g) of dried herb in each 100 cc of tincture.  This yields a 20% or 1:5 weight volume (w/v) tincture.
Tinctures of dried toxic or intense plants hold the activity of 10 g of dried herb in each 100 cc of tincture. This is referred to as a 10% or 1:10 w/v tincture.
Tinctures of fresh plants represent the activity of 50 g of fresh herb in each 100 cc (a 50% or 1:2 w/v tincture). The menstruum used in this case is undiluted ethyl alcohol, as with grain alcohol (190 proof).  Note: "proof" when you divide the number by 2 yields your percentage/concentration of alcohol, in this case 95%.
Example: What this means is that if you tincture a dried Dandelion tincture and take 100 cc (the ccs are equivalent to milliliters, or ml) at a 1:5 ratio, you will receive the same actions as if you ate 20 grams (g) of the dried dandelion.
The weight (the weight of the herb) to the volume (of the menstruum) is the w/v methodyou should be using.  This by far is your most accurate method for delivery of the component parts of the herb.
When tincturing fresh herbs, you want to macerate (chop) them into small pieces.  For driedherbs, you want to grind them into a moderately coarse powder (mcp).
We're going to give you what you need to get started, and in the second part we'll cover the finer parts of dosage calculation and adjustments of the menstruum.  For right now, we're going to use that straight-up 190 proof grain alcohol as your solvent to create the tincture solution.  JJ uses this for most of his creations, bringing us to other reasons to tincture:
Tinctures will usually preserve the med the longest in your herbal solutions, on average at least 3 years…the longest preservation method there is available from your own hands.
Tinctures with high alcohol contents (you can look up a chart on the Internet) do not freeze, or freeze at ridiculously-low temperatures, such as 75 degrees below zero. With that 95% alcohol content in the grain alcohol, your tincture will not freeze, thereby saving your bottle and saving you a tincture and a lot of grief.
Making the Tincture
Here are the steps to tincturing your herb:
Chop your fresh herb/grind your dried herb.
Place it into a large jar that can be sealed up tightly, filling it to the top with fresh, and ¾ full with the dry.
Add your menstruum. With the fresh, all the way to the top.  With the dried, about ¼" above the top of the herb.
Clean off your rim and lid of the jar, and then put on your lid, and tighten it securely.
Agitate/shake your jar (JJ does it 100 times in the morning, 100 times before beddy-bye), never unsealing the lid…and do this for 14 days. You need to keep this jar in a cool, dry place where no light hits it…in a cupboard will do nicely. Do not open the jar before the 14 days are done!
After the 14 days, decant your liquid carefully into a brown or blue bottle or bottles. Take your marc and press it (a coffee filter works for this…double 'em up if needed) and pour the liquid from this into your tincture bottle(s).
Filter the liquid if desired (JJ does not: get all of that good, agitated residue…it'll help)
Bottle your newly-made tincture, cap it tightly, and label it.
Your label should include who made it (that's you!), the date it was completed, and
Exactly what herb (common name and scientific name), as well as the ratio and what the menstruum is made from.  You can utilize the w/v method to accurately learn how much herb you're placing in your jar prior to agitation, as well as the volume of liquid menstruum to come up with your ratio in accordance with what was mentioned in the w/v paragraph above.
That'll get you started!  You need to research your herbs thoroughly prior to conducting your exercises.  Here are 30 of the most popular herbs to start with. There are many variables, and yes, you need to learn as many of them as you can, especially contraindications and potentially poisonous substances.  Next time we'll cover some dosage calculation and the finer points of crafting yourself a good supply of herbal aids.  Until next time, keep shaking those jars and keep them in the dark!  JJ out!
Source: readynutrition.com
Saving our forefathers ways starts with people like you and me actually relearning these skills and putting them to use to live better lives through good times and bad. Our answers on these lost skills comes straight from the source, from old forgotten classic books written by past generations, and from first hand witness accounts from the past few hundred years. Aside from a precious few who have gone out of their way to learn basic survival skills, most of us today would be utterly hopeless if we were plopped in the middle of a forest or jungle and suddenly forced to fend for ourselves using only the resources around us. To our ancient ancestors, we'd appear as helpless as babies.In short, our forefathers lived more simply than most people today are willing to live and that is why they survived with no grocery store, no cheap oil, no cars, no electricity, and no running water. Just like our forefathers used to do, The Lost Ways Book teaches you how you can survive in the worst-case scenario with the minimum resources available. It comes as a step-by-step guide accompanied by pictures and teaches you how to use basic ingredients to make the most of the plants that surround us and can be used when medicines are not available.
Disclaimer: Please keep in mind this article is for informational purposes only, and does not diagnose, treat, prescribe, or advise any actions or undertakings regarding illness or injury.  Only your physician is qualified and certified to make such decisions.  Consult him or her prior to taking any actions with the information presented here.
Jeremiah Johnson is the Nom de plume of a retired Green Beret of the United States Army Special Forces (Airborne). Mr. Johnson was a Special Forces Medic, EMT and ACLS-certified, with comprehensive training in wilderness survival, rescue, and patient-extraction. He is a Certified Master Herbalist and a graduate of the Global College of Natural Medicine of Santa Ana, CA. A graduate of the U.S. Army's survival course of SERE school (Survival Evasion Resistance Escape), Mr. Johnson also successfully completed the Montana Master Food Preserver Course for home-canning, smoking, and dehydrating foods.
Mr. Johnson dries and tinctures a wide variety of medicinal herbs taken by wild crafting and cultivation, in addition to preserving and canning his own food. An expert in land navigation, survival, mountaineering, and parachuting as trained by the United States Army, Mr. Johnson is an ardent advocate for preparedness, self-sufficiency, and long-term disaster sustainability for families. He and his wife survived Hurricane Katrina and its aftermath. Cross-trained as a Special Forces Engineer, he is an expert in supply, logistics, transport, and long-term storage of perishable materials, having incorporated many of these techniques plus some unique innovations in his own homestead.
Mr. Johnson brings practical, tested experience firmly rooted in formal education to his writings and to our team. He and his wife live in a cabin in the mountains of Western Montana with their three cats.