Most people don't walk around with the weapons they feel most comfortable with on their body. For instance, walking around with a rifle or a bow would definitely be noticeable and slow you down a bit.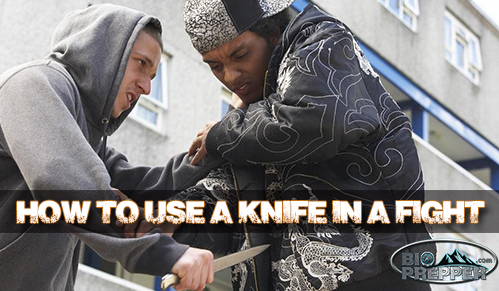 A knife fight isn't about fighting at all. Instead, it's about defending and surviving. When you need to fight with a knife, you need to learn how to protect yourself as well, which includes learning more about precision, balance, and intelligence.
Evaluate Your Attacker
When in a knife fight, the most important thing you must do is evaluate your attacker. You should only use your knife if you have no other choice. For instance, if you fear for your life or someone else has initiated the knife in an altercation in a threatening manner. A knife should only be used to avoid a fight and then to defend yourself. Make sure you evaluate the following situations before attacking with a knife.
If engaged in an altercation with an attacker – look at their hands. If they have a knife or another weapon, use yours. If they don't, do not use yours.
Draw Your Knife Safely 
Always pull your knife safely. It's important to make sure the blade of a knife points away from your body. Maintain a grip on the handle. Always extend the blade up, away, and out from your body, which allows you to assume a naturally defensive posture.
Grip Knife Properly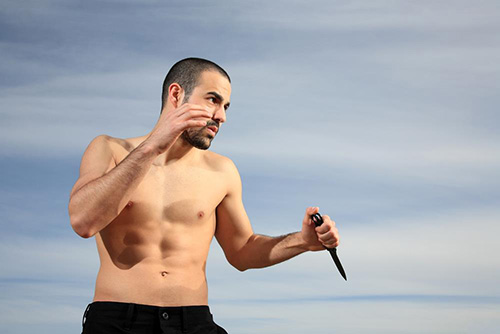 Nothing is more important than the way a person grips their knife – especially during a fight. There are many different types of blade grips, but the most prominent are forward and reverse grips. Practice drawing and holding your knife in the most natural way possible. Keep in mind what your fighting style, weight, and strength of your blade is. Learn more about forward and reverse grips below.
Forward grips allow you to hold the knife by the grip. With this knife, your fighters will wrap completely around the blade facing away from you and straight up. Variations on the grip have to do with where you put your thumb. The most basic hammer grip lets you wrap the thumb around the grip to help you secure it in your hand.
Reverse grips are held in much the same manner as forward grips, but with the blade pointing down and toward the ground. It is possible to hold a knife with a reverse grip pointing towards you, but it is not recommended for beginners.
Keep Body Behind Knife
Keeping your body behind your knife and having the right stance is the foundation of engaging and maneuvering. A forward fighting stance is the best form to adopt when using a knife to protect yourself. Make sure your weight is equal to each foot. Keeping the weight on the balls of your feet is important. Make sure the front knee is slightly bent, and your elbows are near your side. Keep your hands up to protect yourself.
Your lead hand should be in the front. Use your lead hand to assist in cutting by controlling the enemy's weapon hand. It's also important to keep your chin tucked to keep it protected from cuts.
Move the Body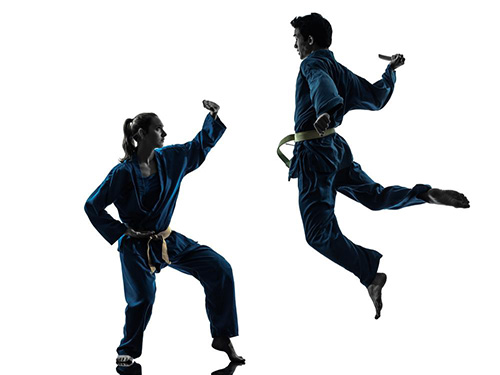 By having a mobile stance and never standing flat footed, you will always be moving. If possible, use your mobile stance to help you escape. When engaged in a knife fight, you can usually move a few different ways: circling right or left, backward, or forward.
Use the Knife as a Distraction
When engaged in a knife fight, you should know that your attacker probably isn't interested in attacking you. This is especially true if you pulled your knife and looked like you know what you're doing with it. For example, if someone pulls a knife on you and you pull your knife, it may be enough to end the fight right there and then.
Stay Out of Striking Range 
This goes with always moving. If you're able to stay out of striking range in a knife fight, you'll be less likely to be hurt.
Try to Disarm Your Attacker
If the chance presents itself, try to disarm your attacker. But, never use your other arm to do this. It opens you up to being attacked.
Remember the best way to win a knife fight is never to be involved in one. But, by knowing what to do during an attack, you can mentally prepare yourself for a bad situation if it happens.
If you found this article useful, please like our Facebook page and stay up to date with the latest articles.
Check out our survival and prepping solutions HERE
WHAT TO READ NEXT:
A RETURN TO THE OLD PATHS: HOW TO MAKE PEMMICAN LIKE THE NATIVE AMERICANS
20 LOST RECIPES FROM THE PIONEERS: WHAT THEY COOKED IN THEIR JOURNEY WESTWARD
SEVEN CLASSIC GREAT DEPRESSION ERA RECIPES GRANDMA USED TO MAKE
POTTED MEAT: A LOST SKILL OF LONG TERM MEAT STORAGE
BACK TO BASICS: HOW TO MAKE AND PRESERVE LARD
THE BEST WAY TO STOCKPILE VEGETABLES OFF-GRID
OLD FASHIONED PRESERVING-GRANDPA'S RECIPE FOR CURED SMOKED HAM
HOW TO MAKE GUNPOWDER THE OLD FASHIONED WAY
SURVIVAL HERBAL RECIPES FROM OUR ANCESTORS
Author Bio:
Brandon Cox is the founder of StayHunting, who is passionate about all things of hunting and fitness. Through his hunting website, he would like to share tips & tricks, finest tech that will excite all of the intricacies of hunting whether you be an amateur or a professional